TMN reveals all-female judging panel for 30 Under 30 Awards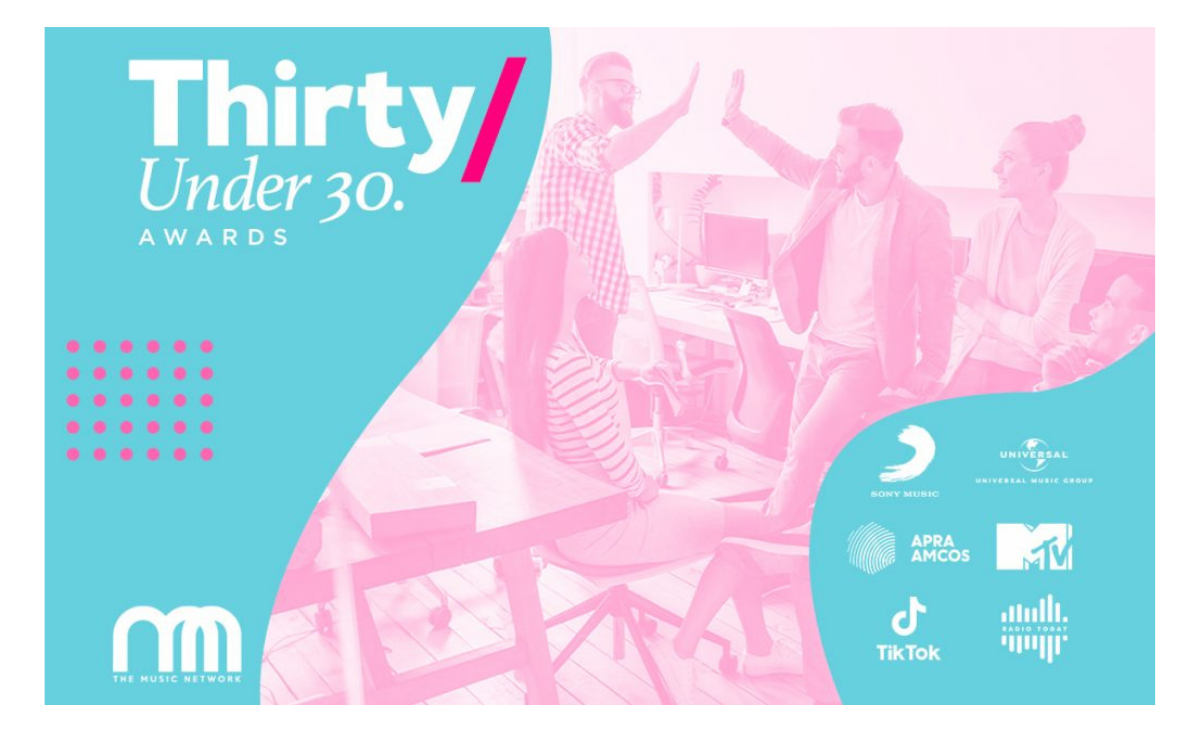 TMN has unveiled the judges who will trawl through the 30 Under 30 entries to uncover the brightest young minds on their way to transforming the music business.
And this year, the all-star judging panel is 100% female.
This is no coincidence. TMN decided it needed to do more to level the playing field in the music industry, and this move enables more senior women, and up-and-comers, to have a seat at the table.
The all-female judging panel will not only select the winners of this year's TMN 30 Under 30 Awards, but they're also telling you what they want, ahead of time, to help you with your entry.
Below, you'll find the list of the judges, as well as their tips and tricks for making your entry stand out and what they'll be looking for.
To enter the TMN 30 Under 30 Awards, visit the Take 2 Media awards platform and start your submission (you can start it now, and finish it later). It's free to submit your entry until 11:59pm AEST on April 5.
Then, from April 6 – for the late-comers and stragglers – there is a one-off entry fee of $49 until entries officially close at 11:59pm AEST on April 18, 2021.
The national awards program is supported by APRA AMCOS, MTV, Radio Today, Sony Music Australia, TikTok and Universal Music Australia, and offers future industry leaders the chance to showcase their achievements and propel their careers forward.
---
---
TMN 30 Under 30 Judges 2021
Alicia Reynolds, GM of artist development & media, EMI Music Australia
Anna Fitzgerald, director of publicity & promotions, TMRW Music Group
Annabelle Herd, chief executive officer, ARIA
Bec Brown, managing director, The Comms Department
Beth Appleton, general manager and SVP marketing Australasia, Warner Music Australia
Caroline McKnight, manager of national education & outreach, APRA AMCOS
Catherine Haridy, director, Catherine Haridy Management
Hannah Pehi, head of people and culture Australasia, Warner Music Australia
Irene Hulme,​ head of national content, NOVA Entertainment
Jane English, managing director, Wise Music Group – Australia & New Zealand
Mardi Caught, head of The Annex, The Annex
Maria Amato, CEO, Australian Independent Record Labels Association
Meg Williams, former co-director, Intertia Label Group
Mikaela Lancaster, managing director ANZ, Spotify
Millie Millgate, executive producer, Sounds Australia
Milly Petriella, director member relations, APRA AMCOS
Monique Bour, music & programming manager (MTV Group & CMT ANZ), ViacomCBS Australia & New Zealand
Natalie Waller, head of ABC Music & Events, ABC
Nicole Richards, general manager, Island Records Australia
Paige X. Cho, senior music strategist, Bolster Group
Poppy Reid, managing editor, The Brag Media
Rachael Tulloch, artist manager, UNIFIED Music Group
Rachel Kelly, creative director & head of sync, Downtown Music Publishing
Sammie Anschau, Queen Bee, Beehive PR
Sarah Hamilton, regional manager Australia and New Zealand, Ditto
Serena Leith, director of marketing, TikTok
Sophie McArthur, vice president of partner development & streaming strategy, Sony Music Entertainment Australia & New Zealand
Sophie Paterson, senior director of audience development & digital communications, Sony Music Entertainment Australia & New Zealand
Victoria Sweetie Zamora, head of labels & promotions, Remote Control Records
Vivienne Kelly, editor, Take 2 Media
---
---
So those are the people who will be looking at your entries, but what is it they will be looking for?
"A job in music isn't just a job; I would love to hear about why you do what you do (your purpose) and a challenge or problem you wish to solve in the music industry (and why) – ultimately, what will be your legacy?

"What is your ultimate career ambition/vision for their future is and why – (what is it about your goal that ignites you)?"

"Know your worth! This is not the time to play into Australia's tall poppy syndrome to ensure you come across humble. Outline all your successes with the kind of confidence that would make Beyoncé blush."

"I'd love to see thinking that reflects innovation in terms of the business model. In the last 12 months the industry has been rocked by change and the need for agility, so would love to see people that reflect that ability to use change for reinvention."

"Don't use corporate jargon in your submission to sound more impressive, be yourself and write as you would speak!"

"Show us your personality and who you are as a person, not just your CV."

"Be you! Everyone's journey is unique. Warts 'n' all. It'd be great to hear how you tackle the challenges presented in the current climate for you and your clients"

"Smart, creative young people drive music culture and change the 'business'. Always have. Recognising and supporting talent can help it flourish, so it's important as an industry to do that where we can. So tell us your story."

"This award will provide a pathway and opportunity to being recognised as a visionary in the local music industry – aim high, think big and most of all, consider the positive impact you will make on artists."
---
---
The Music Network
Get our top stories straight to your inbox daily.