Festivals & Venues: May 9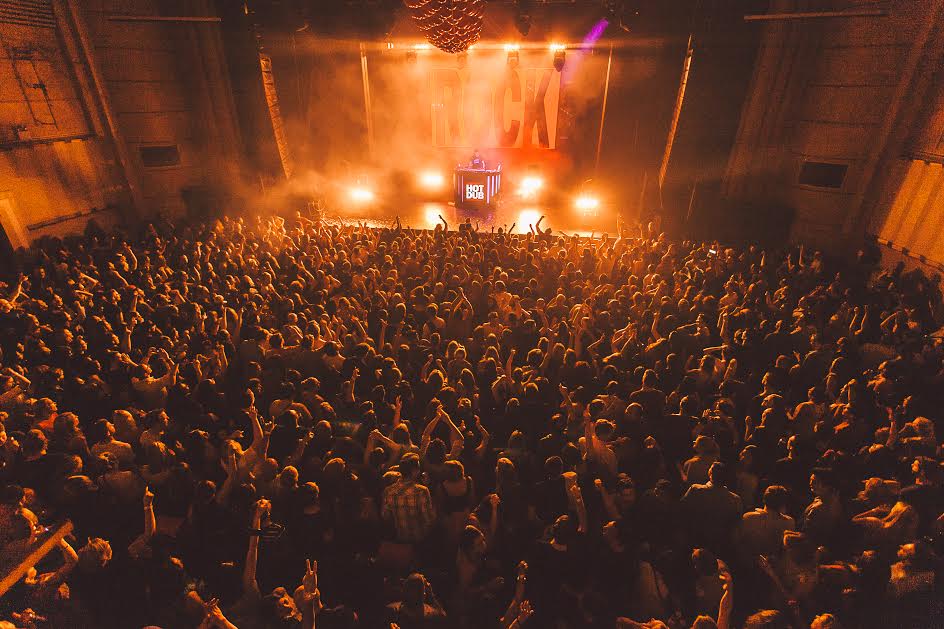 HOT DUB TIME MACHINE EXPERIENCE HEADS TO THEATRES
He launched his own NYE in the Park festival in Sydney and then took his production to wineries across the country with Sneaky Sound System, Touch Sensitive and The Kite String Tangle, reaching a total of 100,000.
Now, Tom Loud takes his one-person audio-visual show Hot Dub Time Machine experience to theatres –Icecream Factory, Perth (June 30), The Tivoli, Brisbane (July 6), The Forum, Melbourne (13) and The Enmore, Sydney (21) stretching to 2½ hours.
The Sydney DJ heads abroad to tour Europe and the US – look out for news in the next few weeks about an international project.

---
SURRY HILLS FESTIVAL NAMES 2018 DATE
The free, family-friendly Surry Hills festival in inner Sydney has announced September 22 as the date for its return, with all funds raised on the day go to community programs presented by Surry Hills Neighbourhood Centre.
It's part of overall celebrations themed 'Spring into Surry Hills' kicking off on September 13, adding "bold, fun and gorgeous" celebrations in Ward Park, along Devonshire Street and surrounds.
It celebrates the founding of SHNCs in the era of the late '60s Flower Power, and the Centre's role in connecting communities, seeding opportunities for locals and creatives to flourish.
Applications are now open for bands, musicians, DJs, video makers, artists, pop-up performers and vendors to apply. Applications close June 9.
Artists and creatives will work with Surry Hills festival producers and community to overlay Devonshire Street and surrounds with projections and pop-up installations, transforming the heart of Surry Hills.
---
CRACKDOWN IN ADELAIDE…
Last Friday, a group of officials from the police licencing enforcement branch, consumer and business services, Safework SA and Adelaide City Council audited eight venues, and were startled to have to issue five infringement notices.
Three of them were for locked or blocked fire doors which, if there'd been a stampede, would most certainly have ended up in fatalities, the officials said.
… AND PERTH
Perth authorities plan to investigate after the WA chapter of the Australian Hotels Association complained that pop-up bars which spring up over the warmer months – and can draw up to 8500, as the Pineapple Club does – were flouting the laws that traditional venues have to abide by.
According to WAToday, the AHA reckoned that many operate way past the three-week period, and many operate past midnight.
The AHA said they had a detrimental effect on trade in the regular venues, threatening jobs and certainty.
---
STRAWBERRY FIELDS RETURNS LOW INCOME TIX
Strawberry Fields, celebrating art, music and the wild outdoors November 16—18, is bringing back its Low-Income Ticket program for a second year.
In 2018, up to 500 tickets will be made available at $165+bf each versus the standard entry price of $280-$330 per ticket.
Lil Mitchell, director of the program said: "We are thrilled at the success of the program's inaugural year as we constantly strive to be a more inclusive festival.
"Strawberry Fields is a space for people to express their creativity and explore music and art, and we don't want anyone to be excluded from the opportunity to join us due
to difficult financial circumstances."
For further details and to see if you are eligible to apply, see: https://www.strawberry-fields.com.au/low-income.
---
BASSINTHE GRASS OPENS BARS EARLIER
Darwin's Bassinthegrass (Saturday, May 19) is opening its bars three hours earlier, at 2 pm. But there'll be a restriction on how many punters can buy in one go.
In the past, thirsty fans would be spotted scooting across to the nearby golf club or casino for a drinkie or ten before the festival bars opened its doors at 5 pm.
---
INDEPENDENT VENUE WEEK EXPANDS TO US
UK's Independent Venue Week, which since 2014 has been putting the spotlight on the importance of independently-run music venues, will be expanding to America this northern summer.
It will run July 9—15 in cities including New York, LA, Austin and Boston, and famous venues such as Middle East in Boston, Pianos in Manhattan's Lower East Side; the 9:30 Club in Washington, D.C.; and Minneapolis' First Avenue.
---
APPLICATIONS OPEN FOR BELLO YOUTH MENTORING
Applications are now open for the Bello Winter Music Youth Mentorship Program where younguns under 19 get mentored by established names on the bill.
This year's mentors are Tony Rowley of Titan Sky for the band category, Ash Bell for singer-songwriters, Sal Kimber the vocal category, and Xani Kolac of The Twoks the Under-15s.
Apply at www.bellowintermusic.com
---
BALI ATTRACTING FESTIVALS
Bali seems to be the new black for Australian festival promoters, who see Australian tourists a ready audience for their Aussie-centric bills.
The Drop is showcasing Dune Rats, DZ Deathrays, Kaiser Waldon, Paul T, ADS'Y and Dr Willis there in June at Uluwatu.
---
IN THE MOO'D
Groovin The Moo has been drawing some huge crowds –  15,000 in Townsville, Far North Queensland and 20,000 in Bendigo, Victoria.
Police have been giving it the thumbs-up for crowd behaviour. 
Oh, in Townville there were 34 people received 50 drug charges, 128 for drinking alcohol on the way to the site, seven for being nuisances and two thrown out for being pests.
In Bendigo, the tally was two arrested for drug possession,17-year-oldold for drunken behaviour and four hospitalisations for suspected overdoses.
Groovin The Moo though had some shade thrown at it in Bendigo.
The Loddon Campaspe Centre Against Sexual Assault complained to the Bendigo Advertiser it had repeatedly written to promoters to get involved but got no reply.
Moo reeled off a number of groups it worked with to keep patrons safe.
But not before the state premier, Daniel Andrews, got involved in the issue.
"The safety of people attending any event should be of concern to the people arranging that event and charging people to be there," he told the Advertiser.
"There are a number of different things [music festivals] could do around making their venues safer and events safer and there is some cooperation and some partnership with Victoria police, local councils and other [groups]."
---
OPEN WIDE SPACES GETS LARGER
NT's Open Wide Spaces this year drew 2,000 people to its Ross River site, 80 kilometres out of Alice Springs for three days of art, music and culture.
It was a long way off when it was created as a bush doof in 2009 and drew 400 people in its first year.
---
CASULA POWERHOUSE INTRODUCES EQUITY PROGRAM
Casula Powerhouse Arts Centre announced a new Equity Program aimed at making art and culture accessible to people from a diverse range of cultural backgrounds and circumstances by identifying specific CPAC events and offering them for free.
CPAC director Craig Donarski said, "Casula Powerhouse Arts Centre is committed to a philosophy that sees arts and culture enriching the lives of all of our community.
"We want artistic events to be accessible to everyone so we're very proud to be introducing our Equity Program and hope that it helps the community to engage with the incredible arts and culture events we present here throughout the year."
The first two events to be featured as a part of the program are HART (16 May), Ian Michael's harrowing recollection of the Stolen Generations from the perspectives of four Noongar men spanning three generations, and a morning with Christine Anu – In Conversation & In Song (10 Jul).
---
DARWIN'S GARRMALANG DROPS FIRST ACTS
Darwin-based celebration of First Australians' culture, Garrmalang – a partnership between the Darwin Entertainment Centre and Larrakia Nation – this month has music by Dan Sultan, Shellie Morris & Dhupanbul Yunupiŋu and Skinnyfish Sound System, and seminars on the educational aspirations of the communities.
---
SMASHMOUTH HEADLINES WHITSUNDAYS EVENT
The second artist announcement sees Smashmouth announced as a headliner at the Airlie Beach Festival of Music in the Whitsundays (November 9—11) as well as Frankie J Holden & Wilbur Wilde, Diana Anaid and the 25-piece Melbourne Ska Orchestra, lead by Nicky Bomba.
They join Killing Heidi, Ash Grunwald, Dave Dobbyn and The Church.
The Music Network
Get our top stories straight to your inbox daily.