Festivals & Venues: April 5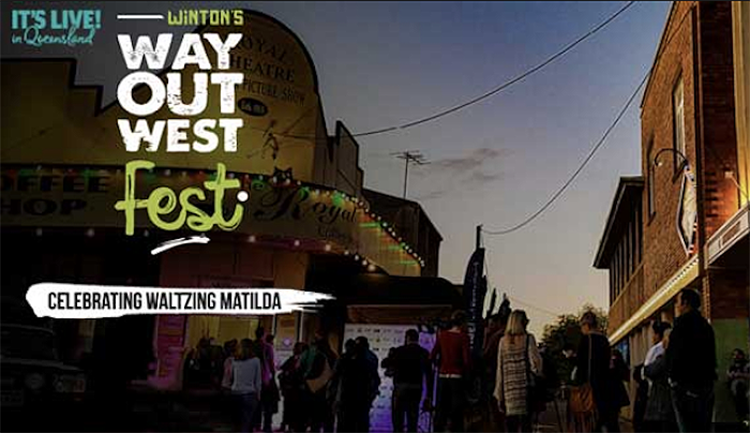 WAY OUT WEST ADDS JESSICA MAUBOY, CHARLIE WORSHAM
Queensland outback festival Winton's Way Out West (April 19-22) has added Jessica Mauboy and US country performer Charlie Worsham.
They join The Living End, John Williamson, Sheppard, Busby Marou, Russell Morris, The Black Sorrows, Pierce Brothers and America's Kip Moore and Lee Brice.
The 6,000-strong crowd will be among the first to see Mauboy exclusively perform her Eurovision entry '#We Got Love' weeks before she heads off to Portugal for the contest.
The festival sees the entire town celebrate the re-opening of the Waltzing Matilda Centre, which has been given a $23 million rebuild after a fire in 2015 destroyed the outback icon.
The centre will be officially opened by Governor-General Sir Peter Cosgrove and Premier Anastacia Palaszczuk.
The music will be staged in eight venues, including North Gregory Hotel where Banjo Patterson is said to have made his first recital of 'Waltzing Matilda'.
Aside from the 6,000 invited to join in "the Queensland outback's biggest ever Pub Choir to sing 'Waltzing Matilda'", QMusic is holding a songwriting workshop.
The event is a tourism drawcard, with the pop-up Johnny Ringo's Outback Pool Saloon with mechanical bull and surfboard, swimming pools (with lifeguards) and an outback race meeting including $10,000 in prizes.
TOUCH BASS SOLD OUT
All five Australian and New Zealand shows of the EDM festival Touch Bass (March 29 to April 1) sold out before it began its run.
The bill included Excision (Canada), Getter (US), Slumberjack (Australia). Habstrakt (France), Brohug (Sweden) and triple J Unearthed winner Godlands.
NEW HOME FOR ALICE SPRINGS METAL FEST
The sixth edition of Alice Springs' heavy metal Blacken Open Air (March 31-April 2) drew as crowd of 600 to see 28 ear-numbing bands from around the country.
170 bands had applied to play, and promoter Pirate of musician collective The Black Wreath says it will be the last in its current format at the Gapview Hotel.
The new one for 2019, still secret, "will evolve into the beast it was always meant to be!"
The music champion added that the gathering will be "nationally unique" and no other heavy metal festival in Australia has staged in a place like that.
The Black Wreath, which started out as a record label, late last year opened its new headquarters in an industrial part of Alice Springs, complete with recording studio, rehearsal room, workshop, screen-printing facilities, film studio, gallery and events space.
NATIONAL FOLK TO MATCH LAST YEAR ATTENDANCE?
The official figures are not out yet, but it is expected that the Easter long weekend's National Folk event in Canberra will have a similar attendance to last year's gathering.
In its 52nd year, the event had 27 acts from around the world to join the Australian contingent, attracting a crowd of between 46,000 and 48,000.
NEWTOWN'S MARLBOROUGH CONTINUES MIDWEEK SERIES
After its success last month, Newtown's Marlborough Hotel continues its free mid-week party series WYD? Wednesdays at Marly Bar throughout April.
Last night featured DJ/ TV host Flexmami, with upcoming sessions a DJ set from Thundamentals (April 11), Flexmami (April 18) and Shantan Wantan Ichiban (April 25).
The venue said, "Taking place across Marly's ground floor and underground nightclub Tokyo Sing Song, the new midweek party series aims to please the hard-working students shaping our future, who sometimes need a mid-week party to revitalise and energise their uni week."
PIANO BAR TO EXPAND?
Geelong's three-year-old jazz and cabaret Piano Bar could be expanding to a second site, at Colac in country Victoria.
Founder and co-owner Andy Pobjoy has submitted a planning permit to replicate the laid-back atmosphere of the original.
In the meantime, the Piano Bar is trialling a singles night on April 12 – a live version of the old TV dating game Perfect Match.
BEYONCE TONING UP FOR COACHELLA 
Beyonce is apparently planning to make up for cancelling her headline slot at Coachella in 2017 when she takes to the stage this year.
TMZ reported that she's booked a LA studio for herself, choreographers and back-up dancers for rehearsals that will last up to 11 hours each, while seven security guys have been hired to keep busybody fans and media out.
Coachella, which also has The Weeknd and Eminem as headliners, takes place over two weekends this month – April 13-15 and April 20-22.
CULT LOCKER LAUNCHES AT THE CURTIN
The Curtin in Melbourne is launching a new underground bi-monthly event called Cult Locker on Saturday April 21.
Thereminist Miles Brown (The Night Terrors) and Requiem's Kate Fox are keeping the vibe to gothic post-punk, industrial and wave from 8pm to 3am.
The Melbourne goth identity will showcase his new "horror disco extravaganza" that is his second album Séance Fiction. Brown has had a hectic 12 months, involving accusations of satanism at Dark MOFO; collaborations with members of the Bad Seeds, Einstürzende Neubauten and High Tension; and scoring a Giallo thriller-style ballet.
HARTS EXPLAINS BLUESFEST BLOW UP
Guitar hero Harts had more than a few eyebrows raised when he smashed his guitar at the end of his second and final Bluesfest show.
He later tweeted, "For those that were there, I'm sure you could see my emotions/built up frustration got the better of me last night.
"Never intended to smash my most beloved instrument, and it definitely wasn't fun doing it.
"But this moment captures a rare glimpse of my reality.
"All the bottled up rejection, failures, and unachieved goals over the last 10 years in music really piles up.
"It's real, and I can no longer hide it all behind a smile," he continued. "I pour my heart and soul into everything I do, and last night a bit of frustration came out too. Life goes on and I will soldier on."
He suggested, "To me, it was definitely a fitting climax / anti-climax to what just MAY be my last major music festival."
He later told triple j's Hack that he wants to move on to make new sounds, which also includes "music without guitars".
POLICE CALL FOR HELP OVER CANBERRA BAR STAFFER BASHING
ACT Police are asking for help as they investigate the assault of a staff member of Canberra's 88mph bar.
The incident took place at 2.55am on March 17 when the staffer asked two people to leave the venue.
An altercation began with one of them, and the staffer was allegedly attacked.
Meantime in another incident in the capital city, a 25-year-old man was given a 15-month jail sentence, wholly suspended, after an incident at Mr. Wolf.
The Supreme Court was told that he was remorseful after seeing footage of him punching his victim so hard that it broke his jaw, and claimed he had no knowledge of the incident.
NO SECURITY CHANGES AT MCG
The Herald Sun reported that Victorian Police have abandoned anti-terrorism plans at the Melbourne Cricket Ground.
Proposals had included body-scanning technology and a "clear plastic bags" policy.
A spokesperson told the paper, "That said, the safe entry and exit of patrons from major events is a key planning consideration,
"Police continually review security arrangements with event and venue management to ensure best practice."
SYDNEY PRODUCERS CALL FOR NEW THEATRE
Sydney theatrical producers including John Frost have called for a new 1,500-1,700 capacity theatre in Sydney to showcase productions from Broadway and the West End, which are currently going to Melbourne instead.
The Music Network
Get our top stories straight to your inbox daily.