New Signings: Zindzi and The Zillionaires, The Buckleys, Interupt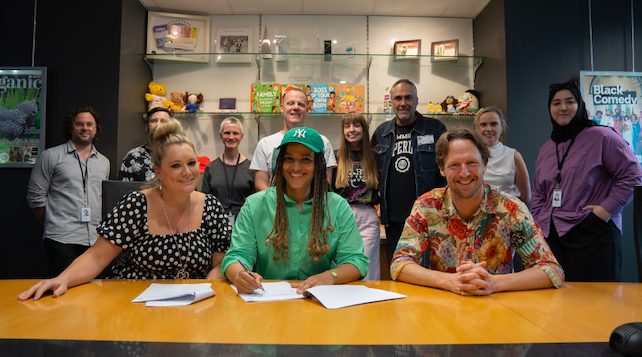 Zindzi and The Zillionaires at ABC Music
Zindzi and The Zillionaires is a children's act formed by Sydney hip-hop and RnB musician and television/theatre actress Zindzi Okenyo.
The 2023 album will feature upbeat songs of friendship, confidence, joy and positivity all set to a mix of RnB, pop, hip hop and rap.
The fluffy creatures The Zillionaires are "rich in joy, love and kindness and everyone is welcome to hang out and be a Zillionaire too."
Natalie Waller, head of music and events at ABC Music, said: "Children's music is a huge part of what we do at the label and the music Zindzi is creating is really pushing the boundaries of kids' music into exciting new territory."
Okenyo added she was "ecstatic" to have found a home at ABC Music .
"The ABC is world class when it comes to children's entertainment, and I am very excited to share the music and joy of this project with families everywhere."
She is well known for the song "Woman's World" from her debut EP "The Wave".
The Buckleys at Jackson Street Agency
NSW siblings The Buckleys assigned live bookings to Sydney-based Jackson Street agency.
Launched in April 2021 by Pat Trotter and Bill Emmett, it has BARKAA, Harmony Byrne, Jazmine Nikitta, Kobie Dee, Mulalo, Romero and 3K on the books.
Trotter tells TMN that a priority is to get Sarah, Molly and Lachlan Buckley major supports.
"We definitely think it's about the right people seeing the band. The Buckleys have already built up a solid reputation and profile."
Part of the strategy is to widen the trio's audience, from country-pop to the rock and indie elements that are already in their music.
Trotter was struck with The Buckleys when he heard their 2019 breakthrough hit "Daydream" on the late Chris Murphy's Petrol Recordings/ Universal Music, and kept an eye on them since.
Their songs were strong and melodic, he said, they looked cool, they had a strong chemistry onstage and oozed with musicality.
"They're still early in their career but they've got all the elements to become household names."
The Buckleys will appear at the Tamworth Country Music Festival on Wednesday, Jan. 18.
They released the "Take It As It Comes" EP in September, written and recorded in Nashville.
Lead single "Oops I Love You" debuted on Australian country radio in the Top 5 – as have all their singles – and is making waves on U.S. radio where they were this week promoting the record and attending the CMA Awards.
Their new documentary, directed by Grant James, recently had its global premiere at the Byron Bay Film Festival.
Interupt at TMRW Management
Western Sydney-based DJ/producer duo Interupt have joined TMRW Management.
Alex De Martin and Josip Mijatovic are already signed to TMRW for recording and bookings.
Formed in 2019, they have hit over a billion streams of their tracks "Power" and "Power (In Your Soul)" in China and exploded on TikTok.
They have collectively ticked over 3.2 billion views on TikTok with over 750,000 creations using their music (and millions more on Instagram Reels and Douyin).
Today, Interupt drop new single "Tell You" featuring U.K. vocalist Abi Flynn, who also features on the original version of "Power".
The two are managed by Jordan Lambert (pictured above, right), also part of TMRW's A&R team
Lambert said: "It's been such a pleasure to get to be a part of the Interupt journey and growth over the recent years; from TikTok views to now playing their first North American show.
"They've really excelled as music producers, artists and people in such a short amount of time and I'm so excited to be working with them ongoing.
"I am super grateful for Josip and Alex in trusting me to help grow their vision as their day to day manager and thankful to TMRW Music and Tim McGee for creating an incredible environment for fostering young artists like Interupt."
The Music Network
Get our top stories straight to your inbox daily.