Travel Week: How do airlines break so many musical instruments?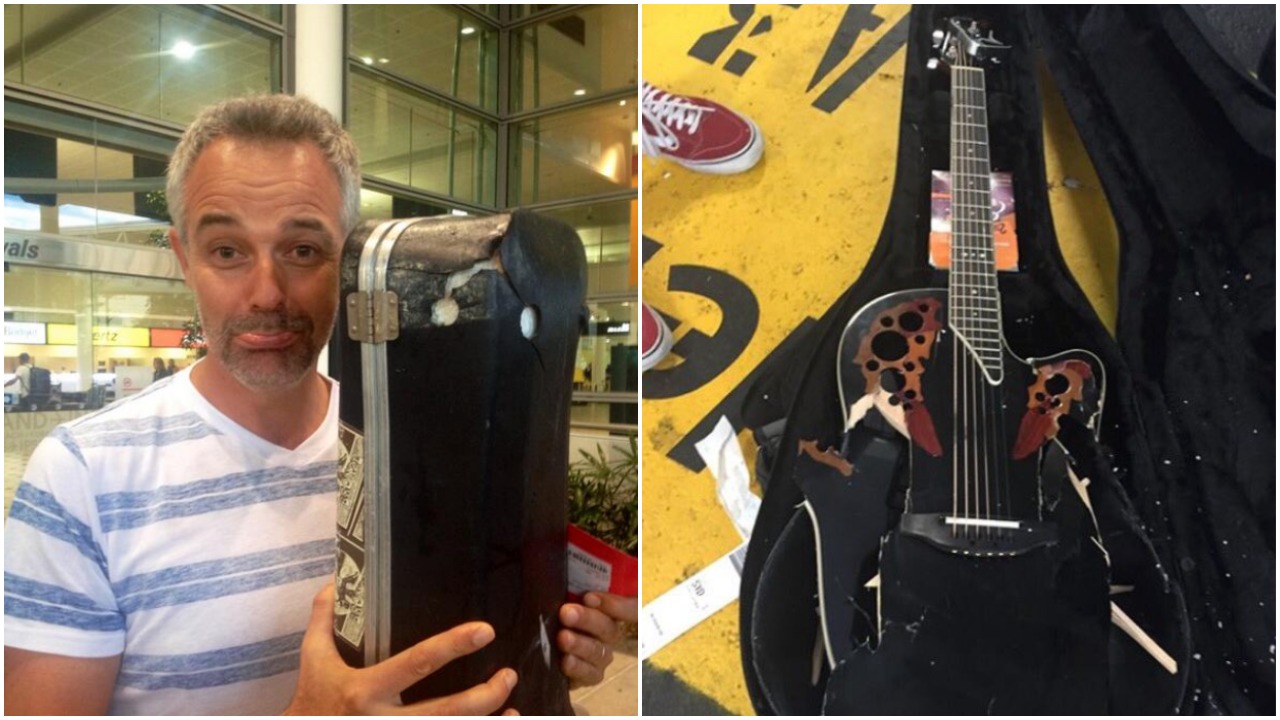 You hear about it every few weeks. Maybe it's a recent phenomenon. Maybe it's always been happening at this rate, and it's thanks to social media that we are all hearing about it more.
Regardless, I'm yet to hear a single acceptable reason for why airlines keep breaking music instruments at such a high rate.
There are no obvious answers to why guitars in metallic cases self-combust at such a rate. Anecdotally there doesn't seem to be any other item being routinely destroyed during transit. People smuggle heroin into countries more secure than Fort Knox, but try to get a guitar from Sydney to Melbourne, I dare you.
Surely it's a PR nightmare for the airlines, and one they would make drastic moves to stamp out. After all, it's clear that airlines are fine with pissing off the general public, with the overselling of seats, delays and cancellations, and running out of dietary requirements mid-flight.
But these are celebrities they are upsetting here. Celebrities with online followings, and profiles that require the media to write about their broken guitars. Musicians are a risky subset to anger at such rates. Even Daddos are not immune.
@camerondaddo is totally devo @VirginAustralia his long life guitar case got damaged! #20years #devo pic.twitter.com/sEOOfr2xnU

— Dani Stevens (@DaniStevens) November 10, 2013
Now, when selecting these stories, I hadn't intended to show bias in regards to airlines, but you'll notice one keeps popping up with alarming regularity. This is just how it seems to be.
In 2015, Virgin Australia lost Lee Kernigan's acoustic in transit, and Alans Billy Hyde had to rush a backup guitar to his show. He was good-natured about it all, even thanking the airline for helping him organise to replace the guitar they lost. This is the best-case scenario I could find.
In January, 2016, Jon English flew Virgin Australia from Coffs to Sydney to perform on a sold-out Harbour cruise. Both his guitar and case were "splintered", and a road case containing a $5,000 keyboard was smashed to bits, to the extent where the metal parts were buckled. This was the second incident in three months of "Virgin Airlines baggage handlers running over our musical instruments with their baggage trailers", as English claimed.
"We take this matter extremely seriously and sincerely apologise to Jon English," a spokesperson for Virgin Australia said in a statement, before going on to point out Virgin's "musician-friendly policies."
You got elephants working as baggage handlers @VirginAustralia? This guitar belonging to Jon English is totaled! pic.twitter.com/YFXVaLFxjJ

— Jane Gazzo (@JaneGazzo) January 10, 2016
In May 2017, Dave Graney's guitar was cracked on a short domestic flight. In March 2018, Linsday McDougall from Frenzal Rhomb asked Virgin Australia this reasonable question: "Any idea why your Brisbane Domestic baggage services isn't answering their phone? I'd love my guitar before our show in two hours time."
In July 2018, Justin Burford from End of Fashion had his guitar lost in transit, and claims Virgin Australia and Delta kept batting the blame back and forth. Last December, Virgin lost Lloyd Cole's pedal board – which is a hard thing to replace at short notice when you're touring from the UK.
Last month, You Am I's Davey Lane posted about how the head of his nice Epiphone guitar was snapped off clean, despite being in a hard road case. This month, baggage handlers smashed Scott Owen from The Living End's double bass in half. Have you seen a double bass? That's quite a feat.
I spoke to someone who works at the airport, who wishes to remain anonymous because they wish to continue working at the airport. One main problem is that the trolleys that are used to lug your gear don't have sides, and stuff often falls off them.
"If I had high-quality guitars, I would never put them on an aircraft, unless I had an indestructible road case," he tells me. "I would have a road guitar that you could afford to lose if the worst was to happen."
Sobering advice. This footage, captured by angry Perth band Miles Away in 2015, is less sobering and more blood boiling. It shows baggage handlers just tossing guitars like they are Craig Nicholls or something. The airline and airport both explained the event away, saying the handler in question was from a "contractor company." That settles that, then.
Music journalist Ross Clelland noted this happens far too often. "Are there just a bunch of angry failed musicians working as baggage handlers at Mascot and Tullamarine?" he asked.
This is an excellent question, and worth considering. Hell, it's the closest we have to a working theory. Is it something about the instruments themselves, and what they represent to various baggage handlers?
Does that acoustic guitar remind someone of the white guy with the plaited dreads that stole their girlfriend in first-year uni? Does the heavily stickered road case trigger the youth slowly slipping from someone's grasp? Does that eye-wateringly expensive violin remind someone of the class divide we are meant to pretend doesn't exist? Does someone just hate Cameron Daddo? It's hard to account for any of this.
Let's end with a violin story.
In 2017, Qantas blocked Norwegian violinist Ole Bohn from carrying his violin on a flight from Santiago, Chile to Sydney, citing their company policy that all violins must be stowed as cargo.
It's understandable. That policy clearly shouldn't be bent, not even for a Guadagnini violin made in 1766! In 2013, a similar violin was sold for $1.4 million. Still, a rule is a rule. "Must be stowed as cargo."
Obviously, Bohn didn't toss the old Guadagnini in with the suitcases, and instead booked another flight with another carrier. But he was ropeable, and fair enough.
"I even hold Gold Status with Qantas," he raged. "Customers should never be treated like this … Qantas has something to learn."
They certainly do. They also broke Cody Simpson's "favourite guitar." He has 7.2 million followers on Twitter. I mean, risk smashing up a 250-year-old violin, by all means, but mess with Miley Cyrus's new boyfriend? That's some bad PR right there.
Now, to make up for all the Virgin bashing, here's an up note.
A big thank u, @VirginAustralia for allowing a friend to take his 150 yr old violin on board by thinking outside the square @richardbranson

— Danielle Gehrmann (@linguawise) May 7, 2012
---
This article appears as part of TMN's Travel Week, exploring key issues, trends and showcasing companies at the intersection of travel and the music industry. To spotlight your business and get involved in future Feature Week editions, get in touch here.
The Music Network
Get our top stories straight to your inbox daily.