Tones And I's 'Dance Monkey': The numbers so far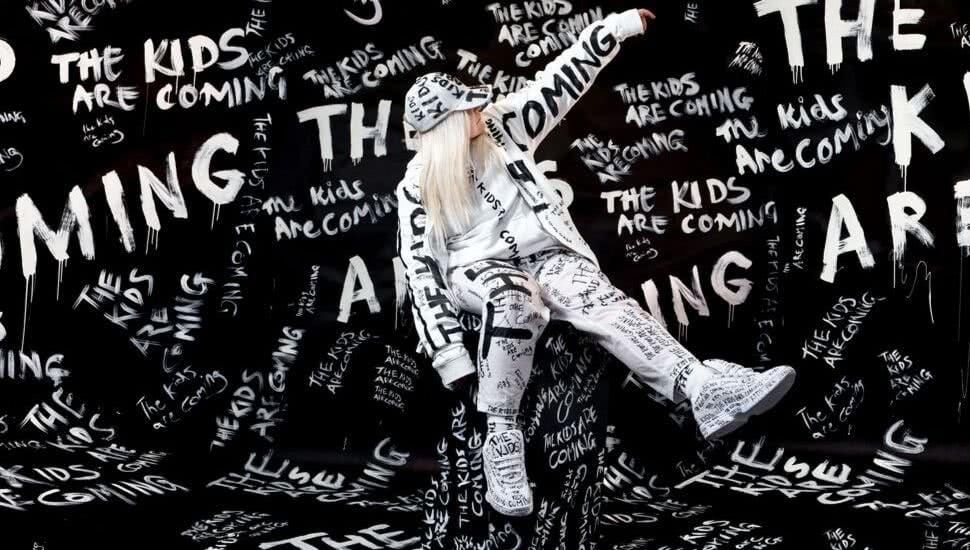 As Tones And I's 'Dance Monkey' beats a path to the record books in Australia, the ubiquitous tune is hitting some massive milestones far from home.
'Dance Monkey' clocked up 130 million streams last month alone and has hit No. 1 in seven countries, including Denmark, Ireland, Norway, Sweden and Australia, where it's owned the ARIA Singles Chart for seven consecutive weeks, a record-equalling mark.
It's also cracked the top ten in Austria, Hungary and Switzerland and gone to No. 3 in Germany, one of the five biggest recorded music markets on the planet.
But wait, there's so much more. 'Dance Monkey' is cutting some funky moves on the U.K. chart. When the Official U.K. Singles Chart was published last Friday, the song entered the top 20 for the first time in its six weeks on the survey, rising 31-19.
Watch Tones And I's 'Dance Monkey':
On the midweek sales chart, published overnight, 'Dance Monkey' moves to No. 17. The U.K. top 10 is now in Tones' sights.
It's a similar story in the United States, the world's biggest music market, where 'Dance Monkey' is at No. 15 on the Billboard Bubbling Under Hot 100, which ranks the top songs that have yet to impact the Hot 100 tally.
The rest of the world is on board. When Apple Music and Shazam launched their inaugural Discovery Top 50 chart last month, 'Dance Monkey' opened at No. 3.
Now it's at No. 2, just below Maya Payne's 'Make up My Mind' and tracking for a global No. 1.
It's already reached the summit of Shazam's Global Top 200 chart, outpacing Shawn Mendes & Camila Cabello's second-ranked 'Señorita.'
That's some rare air.
Watch Tones and I's 'Dance Monkey' at Splendour In The Grass 2019:
Her world tour kicks off tonight (Sept. 17) at the Corner Hotel in Melbourne, and it sold out it days, according to her team at Lemon Tree Music, which co-manages Tones with Artists Only.
She'll kick another goal when she performs with the likes of Paul Kelly and Dean Lewis for the pre-game entertainment slot at the Sept. 28 AFL Grand Final.
Expect 'Dance Monkey' to hang around for a while yet.
This year's entertainment for the Virgin Australia Pre-Game Show at the 2019 Toyota AFL Grand Final is locked in!

Aussie music icon Paul Kelly will headline, supported by Dean Lewis and Tones and I.

More: https://t.co/ALB87XNYjm pic.twitter.com/gdDASq4LBc

— AFL (@AFL) September 5, 2019
All the pieces are in place for Tones' global spree. The former busker's own label Bad Batch is licensed to Elektra for the world ex-ANZ, in a deal struck ahead of the release of her debut EP The Kids Are Coming, which dips 3-5 in its second week on the ARIA Albums Chart.
The Byron Bay-based, Melbourne-raised singer and songwriter's recordings are indie Down Under, via Bad Batch with distribution through Sony Music.
Tones (real name Toni Watson) recently signed with Warner Chappell Music, which administers her works globally, excluding Australia and New Zealand, where she's represented by Kobalt.
The team at Warner Chappell have high hopes for the breakthrough artist.
"We're honored Tones and I chose us as her publisher and look forward to helping shape her blossoming career," said Guy Moot, co-chair and CEO of Warner Chappell Music last month when the deal was announced.
Ryan Press, president, A&R, U.S., Warner Chappell Music noted, "Tones and I is now one of Australia's biggest singer-songwriters, and her rise has been no accident," while David Goldsen, senior director of A&R, enthused: "Her electrifying voice and charismatic lyrics are like nothing else out there. The world is catching on quickly, and she's going to be an important artist for years to come."
In Australia, Tones matches ARIA Hall of Famer Kylie Minogue for endurance.
As previously reported, 'Dance Monkey' draws level with Kylie's '80s hit 'Locomotion' with seven-straight weeks at the national chart summit, the all-time best for an Australian female solo artist.
All eyes are on whether she can take the honour outright, then match and beat the all-time Aussie record, held by Justice Crew with 'Que Sera,' which ruled for nine weeks in 2014.
Don't bet against it.
This article originally appeared on The Industry Observer, which is now part of The Music Network.
The Music Network
Get our top stories straight to your inbox daily.