From Byron Bay busker to global artist, Garrett Kato is the future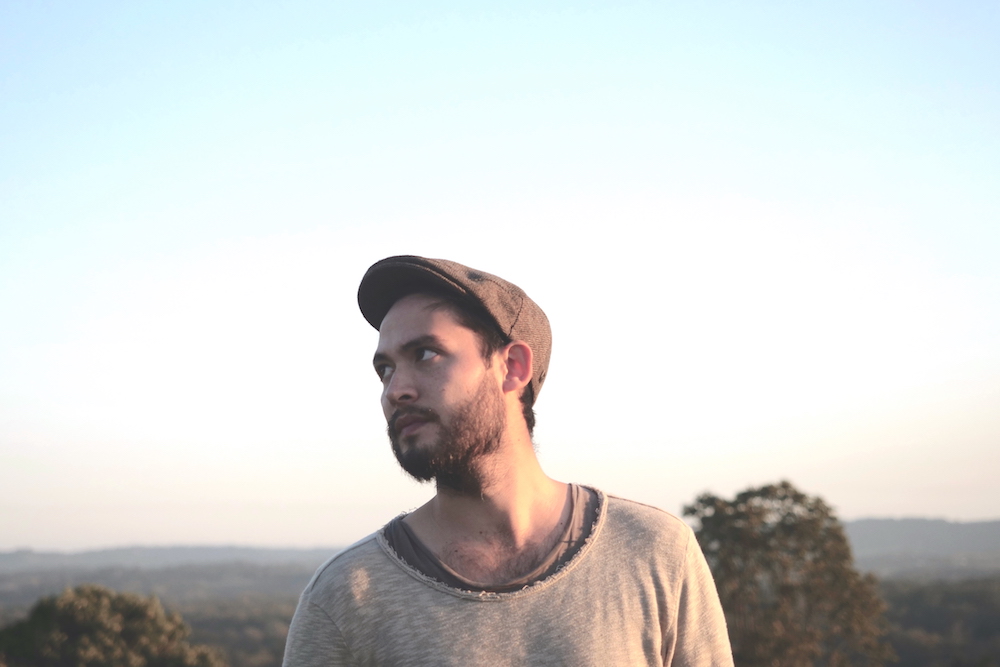 Content warning: This article mentions suicide. If you are contemplating suicide or having suicidal thoughts, please call Lifeline on 13 11 14
Garrett Kato is one of those rare people who sees the success they achieve as almost entirely serendipitous; a series of 'right place, right time' situations that in Kato's case, lead to millions of Spotify streams, a slot on UK's Bestival, a sync on US blockbuster film Bad Moms, and just this month, a record deal with Canada's Nettwerk Music Group – home to Neil Finn and Sinead O'Connor.
Kato has a voice that feels lived in. Like a cabin in the forest that's withstood a hurricane, the smooth vigour of his delivery tells you he's not going anywhere.
In 2018, when the charts are dominated by electro R&B and pop, a busker from Canada who set up shop on the streets of Byron Bay isn't exactly your first stop when curating the lineup for UK festival juggernaut Bestival. But when one of the festival's organisers saw him performing in Mokha cafe, she didn't doubt he could command a stadium of people and offered him a slot on the award-winning festival.
It's the final day of BIGSOUND in Brisbane, volunteers are packing up the showcase and conference branding around us and Garrett Kato is talking about how he left Kate's business card in his pocket for a month before he reached out to her.
"I thought it was the dumbest name for a festival," he laughs at his own naivety. "[…] I was like, 'This woman is one of those crazy Byron ladies that has this imaginary music festival'."
"[…] I was cleaning out my wallet and I [Googled 'Bestival']. I'm like, 'Oh my God, Stevie Wonder is playing this year'. I emailed her and asked if I could play next year."
Kato played Bestival in 2013, sharing the bill with Elton John, Wu-Tang Clan and Snoop Dogg. He took the stage alone with his guitar and spent the bulk of the afternoon signing CDs and meeting a snaking line of the converted.
Kato was raised on Nirvana, Deftones and the Dangerous Minds soundtrack in British Columbia, Canada. He bought his first acoustic guitar straight out of high school and soon became the only artist to make it into the two major FM radio song contests in that year.
"That was the first inkling where I thought, 'Okay, so you're not completely shit at music, you should just do it'. You know what I mean? Every artist needs that."
When he moved to Byron Bay at age 23 it wasn't to pursue a career in music, he was escaping a broken heart. Just two days into what was supposed to be the Great Australian Surf Trip he met his now wife Celeste, who would become the mother of his daughter Lyla.
"There's girls that you date," he offers when telling the story of how Celeste went from housemate to life partner in just a few weeks. "[…] Then you meet someone, a woman, and you're like, 'That's who I want to raise my kids with'. It was a different type of adoration."
It wasn't just newfound love that made him stay. The streets of Byron gave Kato financial freedom to pursue music: on his first day busking he sold 30 CDs in 30 minutes.
"I made like 600 bucks, in half an hour," he smiles. "I called my Dad and asked him to send me some more [CDs]. It was a weird lightbulb moment; I just rode that train for a bit."
Busking became his 9-5 and sparked longtime friendships with some of the industry's most influential figures. Like Angus and Julia Stone's manager Tim Manton who saw him perform on the Splendour In The Grass Buskers Stage and helped him land a showcase for Mumford and Sons' label Communion Records in the UK.
Or Pete Murray, who took him on a 32-date national tour after watching him perform in Byron. Or even Kasey Chambers, who bought his CD on the street and later took him on her co-headline tour with Bernard Fanning in 2016; and then again on her US tour in 2017, where he was also her sound engineer.
But before the aforementioned success, and before an international support slot with Andy Grammar, and before a four-star review from Richard Kingsmill, Garrett Kato wasn't sure if his music would be enough to feed his young family.
In 2014, the singles he had recorded for his second LP That Low and Lonesome Sound were knocked back by triple j, he had been made to wait hours in a major label reception area for a showcase, only to never hear from them again. He had moved out from a sharehouse with his wife and baby and the bills were racking up.
Around the same time, he had sent his self-produced mix of That Low and Lonesome Sound to Sony/ATV Music Publishing.
Stream That Low and Lonesome Sound below:
"Craig Hawker [Head of A&R at Sony/ATV] just called me out of the blue and it was so intense," Kato remembers. "This was at the time where I just had a kid, I had no money, we were renting in Byron and I was in over my head.
"[…] That was a little bit of a sign of, 'I think we can do this'. You should believe in your music and it's going to be alright, you know?"
Six months into the deal and he had landed his first sync, a placement on Hollywood blockbuster Bad Moms.
'Sweet Jane', written for Kato's mother after his grandmother passed away, was used as the soundbed for a gripping one-minute-thirty-second montage in the film where Amy (Mila Kunis) is upset after her children leave to stay with her ex-husband.
Listen to Kato's Bad Moms sync 'Sweet Jane' below:
"People in theatres in America were Shazaming the song and it got Shazamed 400,000 times or something. When you think about that as an independent artist, people checking out your song, streaming it, buying it… It was crazy."
When it rains it pours. Following Kato's sync with Bad Moms, his deal with Sony/ATV saw him land multiple film and TV placements, including one in France for a TV show called Nina. He also produced Ziggy Alberts' breakthrough single 'Runaway', inked a booking deal with Will Watson from PS Music Group, and bought a home for his family of three.
Watch Ziggy Alberts' clip for 'Runaway' below:
Last year, Kato released his single 'Take It Slowly'. The track, recorded in his house in just one take, is an ode to his daughter Lyla, where he asks her not to grow up too fast.
"In the chorus it reassures her that no matter what happens I'm always going to be there for her all the time. I know eventually you are going to choose your own path in life, but I'm going to help guide you through that.
"I thought about it a lot when my daughter was born, what kind of man I am and how can I be the best man I can be for this little girl?"
'Take It Slowly' was featured on multiple Spotify playlists, including The Most Beautiful Songs In The World playlist, which has 1.7 million followers. It's now clocked over 8.1 million streams.
Stream 'Take It Slowly' below:
Life came full circle for Kato when a friend he met while plugging the radio competition back in Canada, reached out to sign him. Garrett's name had come up in the Nettwerk Music Group office and Daniel Sheinberg, Manager of Analytics & International Relations, offered to get in contact.
"He just reached out to me on Facebook Messenger," Kato chuckles, perhaps at the sheer serendipity of it all. "He was like, 'Hey man do you want to talk to me about some things?'
"Secretly I loved Nettwerk as a label, I am a fan of their stuff and it's one of my top five labels that I've wanted to work with."
Garret Kato's new single 'I'll Be Around' is released today through Nettwerk. It's all at once a beautiful anthem for humanity, and weighed down by its heartbreaking muse, the passing of Anthony Lycenko.
Lycenko, a talented producer, engineer, mixer and studio manager at Rockinghorse Studios who'll never truly know the impact he had on the global music community, played an integral role in Kato's career. He helped him land his publishing deal with Sony/ATV, he helped him record his debut LP and he was his sounding board in moments of doubt.
"This song was written for his son, to let him know that even though he is gone, it's going to be alright, that he's going to be watching over him," he says.
Stream 'I'll Be Around' below:
 Lycenko suffered silently with depression and lost his battle to it in August 2017.
"I wish that society wouldn't frown upon it and make people feel ashamed of feeling this way," he says. "It's something that I want to spread awareness about because I think, it's going to get worse, society is putting way more pressure on us."
You can tell Kato considers his next offering carefully, as if he understands the weight of what his music can give. He looks up and says:
"I want [the song] to be a friend when someone needs it, I want them to listen and feel like someone loves you, someone cares about you.
"I think people need that and they need that affirmation in their life, when you're feeling that down in the dumps and wanting a better life, I don't think people should be made to feel guilty for that."
This article originally appeared on The Industry Observer, which is now part of The Music Network.
The Music Network
Get our top stories straight to your inbox daily.