Why we're building the best gig guide app ever made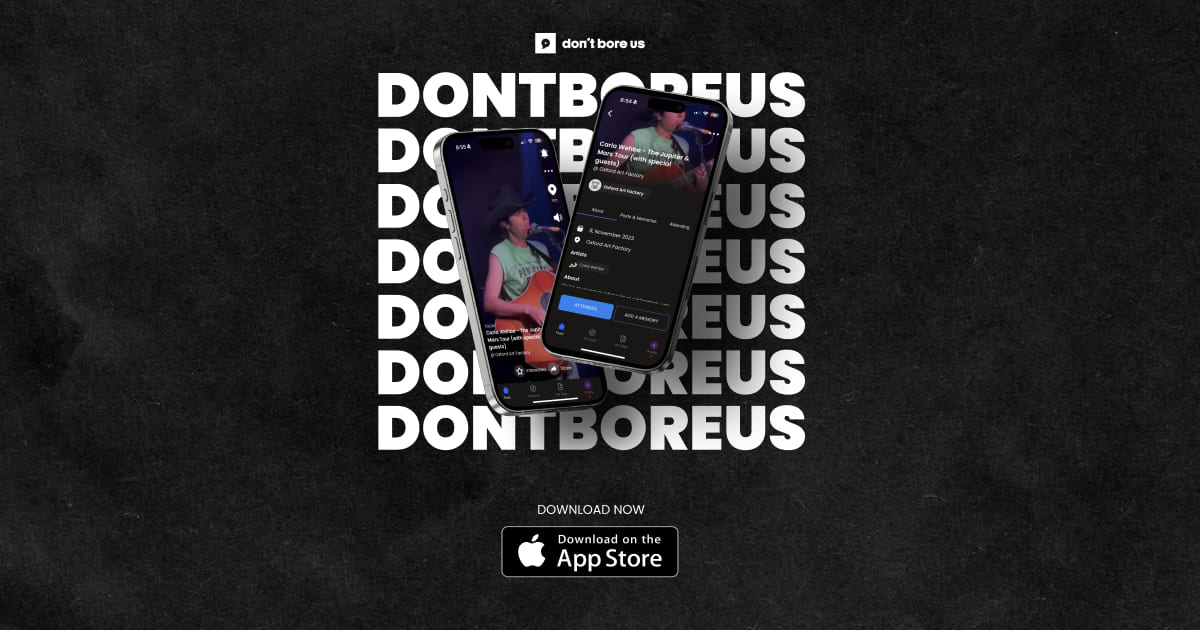 18 months ago we set out to build the best gig guide app ever made.
Today marks a milestone with the launch of 'Don't Bore Us,' now proudly gracing the App Store's front page.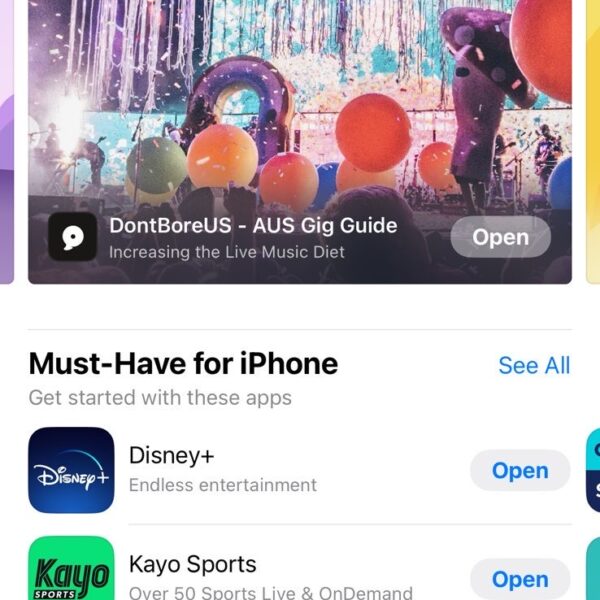 Why embark on this venture?
The crux of the issue lies in the shortcomings of every other gig guide app that exists;
1. Discoverability: The typical user experience is not tailored for live music fans. Current apps show you listings comprised of text and images but require you to exit the platform to listen to the artist and work out if you'll even like them. This rarely happens, most just keep scrolling till they see an artist's name they know.
2. Comprehensive Listings: No existing guide thoroughly covers every gig in every city. They draw from diverse, incomplete sources, failing to provide a centralised, all-encompassing live music resource.
3. Social Integration: Live music is social, any app that is built for live music fans should be too. The products out there don't leverage the communal aspect of gigs. Knowing where friends are headed could be a significant motivator for attendance and in turn, get more people out to live music.
Building a gig guide app that solves these problems could double annual live music attendance.
Think about, if you're someone who only goes to 2-3 gigs a year, but now that you have this app and we have solved social and discovery issues, it might inspire you to see 4-6 gigs / year that you otherwise wouldn't have.
Our Mission
The mission of Don't Bore Us is to increase the world's live music attendance. More live music benefits the society's mental health, the economy and our music industry.
These are hard problems to solve
Discoverability
Streaming and social platforms have solved the discoverability problems for the recorded music industry. Now every day I'm discovering new rappers from all over the world I love – something that was a lot rarer 15 years ago when the old method of discovery was online message boards, anecdotal recommendations and radio. 
However live music still hasn't solved discoverability, if you're an incredibly talented unknown artist, how can you convince a stranger to buy a ticket to your show if they've never heard of you before?
Incomplete Data
A gig guide app without every gig in every city is useless. I want to see what is on everywhere in the city before I make my decision (or worse, assume nothing good is on after reading through an incomplete data set) but no gig guide app currently does this because it's a very hard technical problem to solve. 
Each gig guide app on the market relies on either user entry or APIs from the major ticketing companies. Both solutions leave their users without the full picture of live music. 
Social Disconnection
I always wanted a live music app where I could add my friends and see what gigs they're going to so that it would encourage me to go out to more live music. If I'm going to a gig and my friend sees that I am, they're more likely to reach out and come along, than just stay home that night. 
We've innovated a video feed that showcases artists as soon as their gig listing appears, addressing discoverability head-on. You'll actually see and hear exactly what the artist is like without having to leave the platform.
Our app catalogs every gig in Australia, our initial market. Proprietary technology overcomes the need for user submissions or full API dependence.
Though in it's early stages, social features are live. You can add friends, view their gig plans, and extend invites.
Looking ahead, our roadmap
Our #1 focus of the next few months is of course fixing any bugs as they're discovered and improving the user experience of the app as more fans download it.  However we have two main focuses once this initial housekeeping is complete;
Improve the recommendation engine on the feed, we want a feed fully personalised to your music taste based on what you listen to and what gigs you've been to in the past.
Release a rewards programme so fans get points for attending live music and can spend them in our store to get free tickets and merch.
Don't Bore Us Fundraising
To date, we have built Don't Bore Us from the cashflows of The Brag Media but we are in the process of spinning it off to it's own entity and will look to raise capital once we feel like we have nailed the user experience and can see strong organic user growth signals.
Hopefully this will happen early next year.
Get Verified on Don't Bore Us
For artists and managers, claiming your profile on 'Don't Bore Us' is straightforward:
1. Download the app (currently iOS exclusive).
2. Locate your Artist Profile, access the Options Menu, and opt to 'Claim this Account'.
3. Submit the necessary details, and our team will manage the verification process.
Want to help and give us feedback?
We have a Signal chat going with some of our early beta testers, feel free to join here if you'd like to help us and be part of our early community.
The Music Network
Get our top stories straight to your inbox daily.