Twitter Super Follows & Communities will be huge money for artists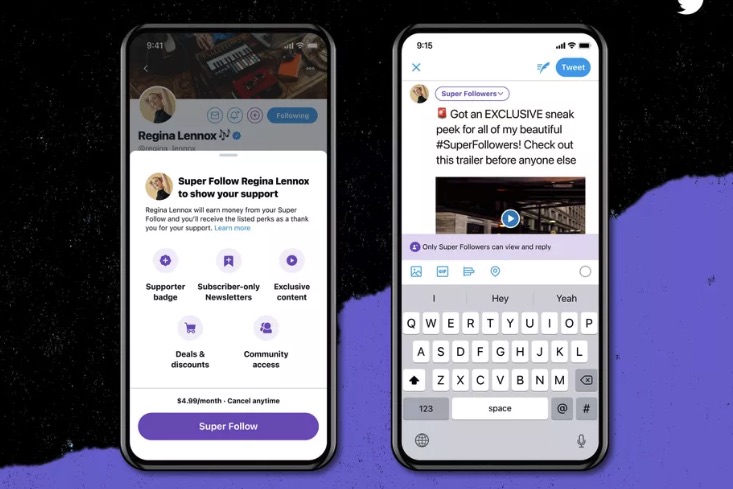 Twitter has announced two massive new products to rollout this year:
Super Follows: The ability for artists to charge their followers for access to additional content. Think maybe, Patreon?
Communities: The ability to create and join groups based around specific interests. Think maybe, Facebook Groups?
Twitter has been the sleeping giant in big tech. A hugely popular platform with very little innovation and revenue. It's always been the company which has had the most unrealised potential.
Well, maybe 2021 is the year they get off the bench and start rolling out products which truly add value for creators and artists.
Twitter Super Follows
Patreon has been hugely successful for creators, and recently surpassed a $1 Billion dollar valuation. However the biggest barrier for many artists is they don't want to move their fans to a new platform. The fact that Patreon is a wholly independent business means artists need to make fans download a new app and ensure they check it regularly. It's an ask too big for most.
Super Follows will give artists a payment feature to charge followers and give them access to extra content. That could be bonus tweets, access to a community group, a subscription to a newsletter, or a badge indicating your support.
If you're an artist who can sell 15k tickets around Australia, you might assume 5% of those fans would be willing to spend $5/month to have access to exclusive merch drops, early ticket sale access, closed group conversations with the artists etc.
That would mean the artist would be making an extra $45k per year from Super Followers, on top of all the extra exclusive merch and tickets they can sell their top of funnel fans.
For artists who sell 15k tickets around the country, Twitter Super Follows could mean an extra $100-$200k per year if nurtured and commercialised correctly.
Twitter Communities
Facebook Groups are big. However, Facebook is quickly losing favour with the younger generation so growing your artist through Facebook Groups and Memes is becoming less effective year on year.
Where is the alternative for these intimate groups? There is Reddit, however their user base is only 52 million daily users compared to Facebook which has 1.82 Billion, so it's not ideal unless your band appeals to specific niches.
Herein lies the opportunity for both Twitter and artists. Twitter Communities might be artists' next battle front.
It will be awesome to see what managers and artists do with this new product as it rolls out, and who is able to get the most traction employing their strategies.
Ignore Twitter Communities at your own peril.
There's no timeline yet for when either of these features will launch. Twitter listed them as "what's next" so it's a 'watch this space' type scenario.
This article originally appeared on The Industry Observer, which is now part of The Music Network.
The Music Network
Get our top stories straight to your inbox daily.