The Wiggles winning the Hottest 100 wasn't good or funny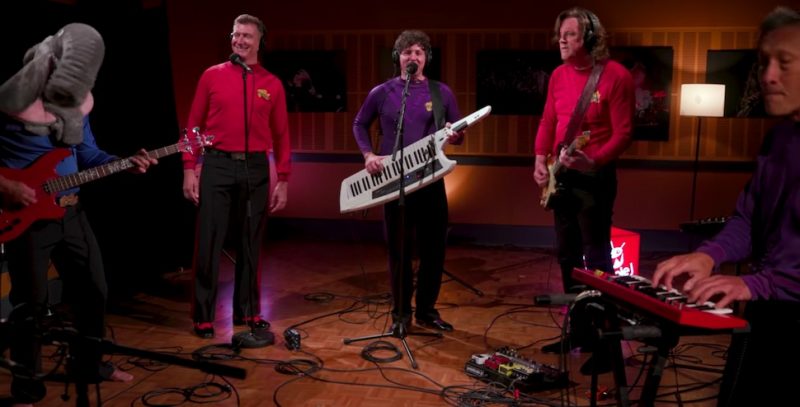 A cover, with only about 1 million plays on Spotify (prior to the countdown) won the triple j Hottest 100. How did this happen?
There are two possible explanations.
Option One: People sincerely loved the cover, and voted for it based on their nostalgia for The Wiggles and their love of Tame Impala original.
Option Two: It was a joke vote. e.g. "lol how funny would it be if The Wiggles got into the Hottest 100, let's vote for it".
To work out if The Wiggles vote was sincere or simply a joke/meme vote – we can look at the data. With only approximately 1 million plays on Spotify prior to the countdown (compared to the 6.7 million that Gang of Youths got who placed at #6), we can see the obviously disproportional placing here.
The data shows that The Wiggles won, not because it was genuinely one of triple j's listeners' top 10 favourite songs of 2021, but because people thought it would be funny to vote for them.
Why it's not funny or interesting or cool
This meme / joke vote does not makes sense for four main reasons;
The Wiggles aren't underdogs: Depending on what metric you look at, The Wiggles could be the most successful and richest Australian band ever – they are deservingly really rich. They have built an empire, an incredible business with awesome content and music – it's truly inspiring. To peg The Wiggles as an unlikely success / underdog joke vote therefore doesn't make sense.
It wasn't a protest vote: The Wiggles song winning cover wasn't some anti-mainstream narrative tune, protest track or even an anti-triple j vote like the "Taylor Swift" voting block back in 2015.
It wasn't a satire vote: The song wasn't a funny / joke song, it was a sincere (and good) cover.
The emotional vote doesn't even make sense: It's not like everyone was voting for The Wiggles because they meant so much to them their whole life. Most original members are gone and all that is left are salaried staff. Who were they voting for? The Wiggles corporation?
Why The Wiggles winning is not good for the Australian contemporary music scene
As we've established above, the data shows that for most people, this was a joke vote not a sincere vote. That means, most voters wasted 10% of their vote on an uninteresting / unfunny meme vote that resulted in the two key consequences.
1. MAY-A missed out
How many Wiggles voters (jokers) loved this MAY-A song but sacrificed voting for MAY-A for this uninteresting meme? Looking at the Spotify data, MAY-A's single has 5x the plays that The Wiggles' cover did, so it's obvious that MAY-A would have been sincerely in more people's top 10 songs of 2021 than The Wiggles cover.
The impact of this can't be understated. The Hottest 100 is enormous for Australian artists commercially. Placing in the countdown means an artist ends up in many different playlists which results in instant lift in revenue. Plus, they are naturally included in more Australian festivals and press opportunities.
This has a massive knock-on effect too. For the manager who signed an artist that gets their first taste of Hottest 100 success it means their business grows. They hire more people and the whole industry takes another step forward towards growth.
On the label side, the A&R who signed them might get promoted, receive a raise or maybe even a bigger budget to go and sign more artists off the back of the success of this signing.
New artists breaking the Australian market is good for the whole industry, not just the artists themselves.
Essentially, The Wiggles 'meme vote' robbed us of another one of these moments.
2. We could have had our first Indigenous artist get #1
In just three years, a Redfern-born Kamilaroi man has gone from an unknown artist, to a Los Angeles-based pop star dominating almost every chart and streaming service. The Kid LAROI (real name Charlton Howard) has deep historical cultural ties with First Nations peoples but Indigenous or not, what he has achieved as an Australian artist is extremely rare and near unimaginable.
His song 'Stay' placed at #2 in the Hottest 100.
This meme vote robbed Australia of our first ever Indigenous artist getting #1 – a creative injustice of epic proportions.
As an aside, I wonder how many of these joke voters were so pro-triple j changing the date of their countdown, loved The Kid LAROI single, but sacrificed their vote for him in lieu of The Wiggles cover.
The Wiggles win was ultimately good for the ABC (triple j's parent company)
There's no doubt about it though, this is a great outcome for the ABC who own The Wiggles' masters.
The cover is sincerely fantastic (although not the best song to have been released in 2021). They gave The Wiggles (who are not a triple j artist) a platform on Like A Version as a surprising and unexpected stunt – and it paid off handsomely.
Everyone loved the video, we shared it, talked about it and it racked up 3.6 million views; it was brilliant radio, and with ABC owning The Wiggles assets it makes the whole thing a stroke of commercial genius.
I am genuinely impressed with how perfectly full circle this is, and it reinforces how influential triple j are as national tastemakers.
I do believe streaming will eventually kill radio, but if that eventuates – triple j could be the last brand standing in the world. The ears in the triple j building are second to none, perhaps the most influential tastemakers for their respective territory on the planet.
Furthermore, they continue this cut-through success and influence with their funding constantly under threat and all on minimal budgets.
The Australian music industry is very lucky to have triple j; without it I can't imagine how much less prosperous domestically and globally our industry would be. A lot of us reading this might not even have a job if triple j didn't exist as we know it.
The consequences of democracy
Make no mistake, the fact that the Hottest 100 is purely publicly voted is a great thing.
In 2015, I would have been bummed if Taylor Swift won the Hottest 100 off the back of a similar meme campaign, but I think a bigger crime was triple j banning her that year. I suspect triple j regret that decision in hindsight based on how much international mainstream music they play now vs then, and how often all the current presenters tweet their love for Tay Tay.
Democracy is far from perfect, and can lead to dumb things like The Wiggles winning the Hottest 100. But the alternative, of perhaps a few select gatekeepers deciding who wins, is far worse.
There are two options I can think of which may have avoided this:
The Wiggles should have never been given the Like A Version spot in the first place: However I don't think this option is a fair criticism. The cover was great and it made for brilliant radio. The producers aren't there to consider this unlikely outcome when producing a radio show – they are there to make brilliant segments which they did here. So, I think it would be hard to argue for them to not allowed this.
Maybe Like A Versions should not be eligible for The Hottest 100: There is already an eligibility criteria for The Hottest 100 so maybe excluding Like A Versions could future proof the same issue occurring again. This might also be better for the Australian music industry as Like A Versions never go on to become global hits in of themselves, so it would open up more spots in the countdown for artists to place and use as a platform to push their careers globally.
Conclusion
I love The Wiggles, their commercial and creative success is a massive inspiration
I love triple j, without them our industry would be a shadow of itself
The Wiggles winning the Hottest 100 was bad for the Australian music industry
The joke vote wasn't even funny
The eligibility criteria of the Hottest 100 needs to be updated
This article originally appeared on The Industry Observer, which is now part of The Music Network.
The Music Network
Get our top stories straight to your inbox daily.