Power and the Passion: Peter Garrett Talks Storytelling, Conservation For Clearer Keynote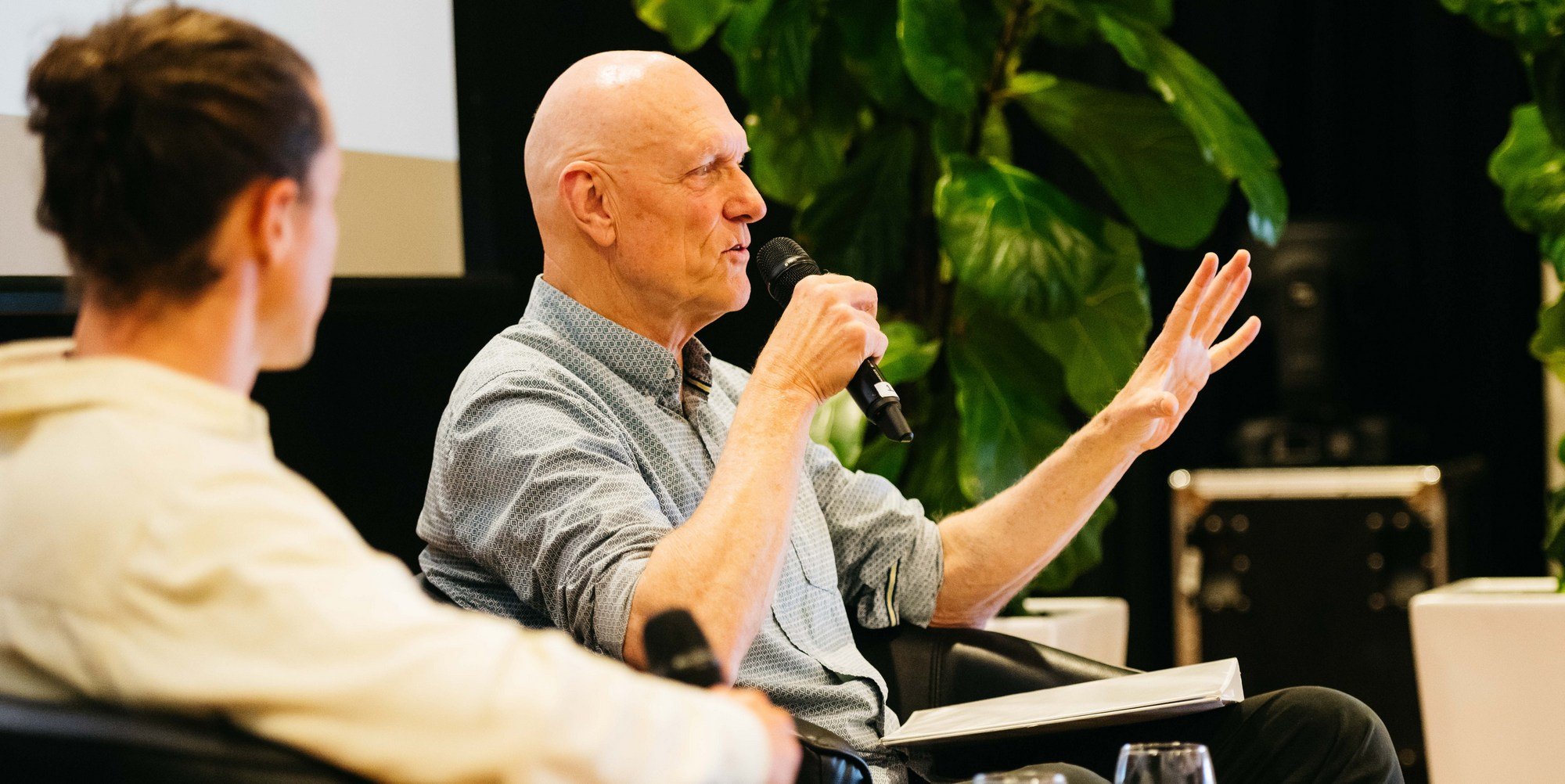 The tall tale that is Peter Garrett can't be told without communicating his appetite for activism and art.
The Midnight Oil frontman is the answer to the ultimate pub quiz question; the leader of Australia's premier rock band over several decades who carved out a second life as a politician. Few folks can claim to be an ARIA Hall of Famer who served as a federal cabinet minister under two prime ministers.
Ten years after his exit from politics, Garrett put on his green hat once again last Friday, Nov. 10 for the inaugural Clearer Workshop at the historic Kiama Pavilion, where he delivered a keynote on the environment, sustainability, and the eternal power of song.
Here are five key points from Garrett's talk.
We've always had the music in us
Perched in our lofty position at the top of the tree, humans have been a proper letdown.
It's our connection to art that keeps us grounded, Garrett reckons.
"People are still unable to resolve conflict without using force, human populations have become remarkably successful and dominate the planet. We're the most successful species by far, capable of high levels of communication, creating great works of beauty, acting in an altruistic fashion.
"How is it that that came, the best part of humans, emerged in that way? How is it that it came about particularly as a part of human nature is conditioned to survival of the fittest?"
Part of the answer, he explains, "is that we started off dancing, singing, and telling stories." The people who would be musicians, music certainly is in "there for them. But even for those who aren't. It's in all of us."
Constructive criticism is a disguised blessing
Garrett recounted his pre-Oils days, as a student studying law-arts in Canberra. He'd spotted an ad in the newspaper. Rob Hirst and Jim Moginie were seeking out a singer. "I thought, 'okay, this is good, I'm going give this a crack."
Garrett returned to his native Sydney and enlisted the services of a singing teacher.
"I didn't want to go out and work on a building site, like I'd normally done. But I knew I had to do it to make a bit of money." The teacher put Garrett on the spot, played at the piano and asked the youngster to sing along. "I proceeded to massacre, you know, do a particularly bad job."
And the teacher said, 'Well, look, I'm going to save you all your effort, and the heartbreak. You're not a good singer. You're not going to be a successful singer. You've studied law, maybe concentrate on that."
That person taught Garrett "the best lesson." And they "taught me a lesson about teaching, as well."
Garrett persevered, learned the hard way.
"The fact is that we all can sing, maybe not in a way that's acceptable to the current fads and fashion," he continued. "I had to learn in front of people who booed and hissed and threw beer cans and carried on. And so off we went. And then eventually we worked that thing through."
Music is the fabric that connects us.
"The same thing goes for storytelling. I believe the same thing goes for dance. And that if you put yourself in a quiet place with a group of friends, and people that left their phones behind him, put them in the fruit bowl, and you just allow a half a day or a day to go along this way. Eventually, that's what happens." Music happens.
Enjoy what you do. Always
Happiness is the ultimate gauge of success. Garrett and the Oils figured that out early on.
"People have a lot of difficulty understanding why Midnight Oil kept on writing, how it could stay as a band and make a living from it and have an audience and fans." Garrett notes.
"We felt, not in a sort of really formal, deliberative way, but we just felt organically that the only way we can handle being on the bus in the States for six months, or sleeping in cars, and doing all the stuff that you have to do to start was if we really loved the sounds that we were making. And we really believed in the words that we were singing, if we believed in that more than anything else, and we kept on playing as much as we could, try and get better at going anywhere to play to anybody, then everything would be okay.
"And we measured our success. We didn't even talk about success. We measured what we were doing. by were we able to come up with another piece of music and take it out and play it to someone at a club or a pub or a school or wherever, which meant something to us and which we thought might connect with them."
The climate is a crisis
"When you talk about the climate crisis, you have to ask yourself the question, how on God's earth are we going to arrest the likely consequences that we're already seen of a warming world," Garrett insists.
"And in doing that, what are the causes of action that are open to us, because it's very clear that we will breach 1.5 degrees above the amount of global warming that scientists believe gives us a roughly habitable and stable planet. And that instability, you just have to turn on SBS any night of the week" for evidence.
The answers come from our elected leaders and a tax on big polluters, Garrett reckons.
"We have to force our governments to act, we have to persuade them to act, we have to demand that they act, we have to make them act. And we cannot allow them in any country to continue business as usual."
Artists tend to care about the climate issue, notes Garrett, who gave a shout out to Green Music Australia and its tireless work.
Musicians make the best activists
Artists, with their gift for storytelling, confidence, an audience of believers and the platform to spread the word, are perfectly-formed activists.
"We really want to encourage musicians, as a former activist, as a former politician, to be in that place, in that space," Garrett says.
Through "non violent activities, civil disobedience, contesting the trajectory that we're on, will make us more human," he explains. "And it's the best thing we can do for the country. It's really important for my generation, as boomers, to recognise how selfish and how poorly we have managed so far, and how we broke one of the sacred contracts and sacred assumptions that we all had."
It's an unspoken deal that, he continues, that if you bring someone else into the world, try had to make it a better entry than your own experience.
Other speakers at the inaugural Clearer conference and workshop event included live entertainment legend Michael Chugg, Ash McGregor (triple j), Mary Whitehead (Media Arts Lawyers), Casey O'Shaughnessy (Select Music, agent) and others.
Clearer raised the curtain on the debut Clearly Music, Art and Wellness Festival, a day-long fest at Kiama Showgrounds featuring performances from Xavier Rudd, Skegss, Ruby Fields, Gretta Ray, Peter Garrett and the Alter Egos, and more.
Presented by Lets Go Dancing & Henry Clive, Clearer is the brainchild of founder Dom Furber and founder of Be Here Nowra and the Baseline Happiness Project Barron Hanson. For more on Clearly, click here. 
The Music Network
Get our top stories straight to your inbox daily.