Women dominate Music Victoria Awards, 4 wins for Sampa The Great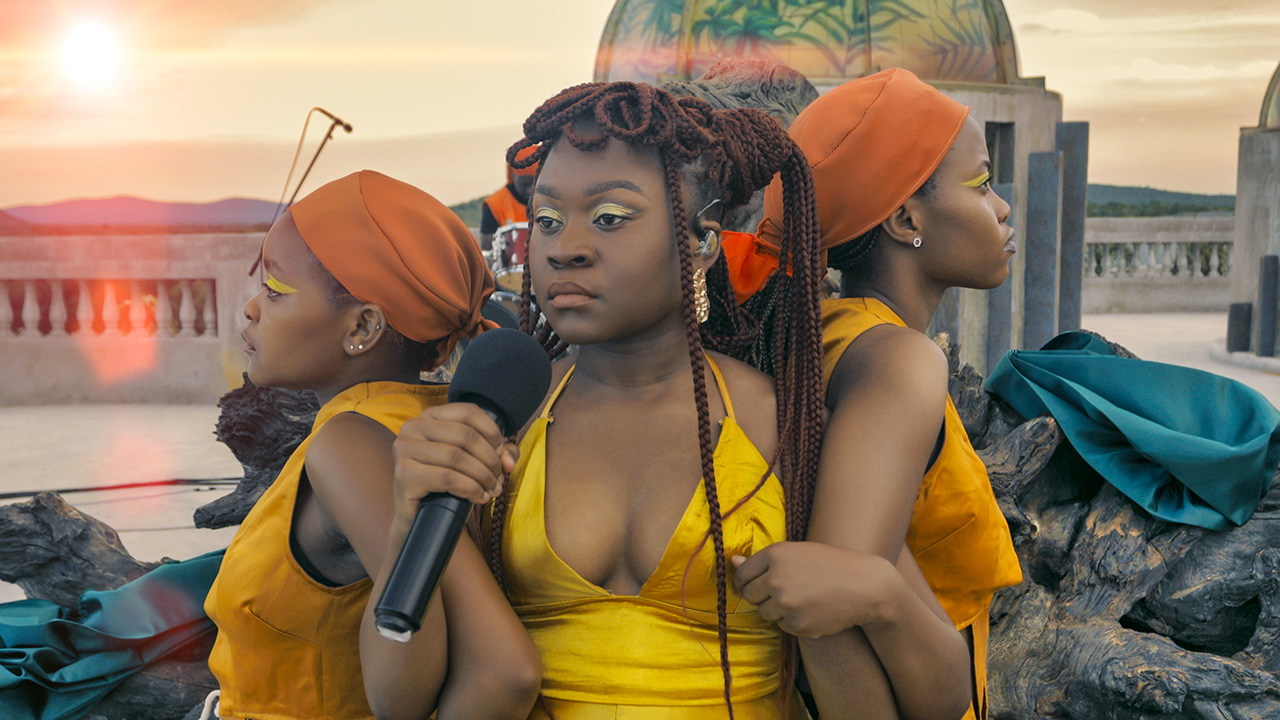 Women dominated the 2020 Music Victoria Awards, highlighted with four wins for Sampa The Great and three for the Amy Taylor-fronted Amyl and The Sniffers.
Booker, journalist and promoter Mary Mihelakos was inducted into the hall of fame, while the inaugural outstanding woman in music trophy went to Sarah Hamilton for her work on One Of One, an organisation she co-founded that celebrates women and people in the music industry.
The awards, held last night (December 9) at the Melbourne Recital Centre, was launching pad for the Melbourne Music Week Extended program, expanded this year to three months to allow more showcases in this COVID year.
The awards, co-presented by community radio stations RRR 102.7FM and PBS 106.7FM, always have a built-in dynamism from the way they spotlight the achievements of the country's most buoyant live scene.
This time, there was an extra zing as winners spoke about the joy of going back to gigging.
The live performances came from Alice Skye, Elizabeth, Rolling Blackouts Coastal Fever and Simona Castricum.
Sampa's trophy tally was for best album, best solo artist, best soul, funk, gospel or RnB album and best song for her hit 'OMG'. "It was the song for me that allowed me to express the music that I grew up listening to," she said.
She additionally won $3000 in cash from APRA AMCOS.
Amyl and The Sniffers took best band and best live act while Amy Taylor was crowned best musician – getting a special cheer for her fuck-you speech to those who wouldn't accept her as a musician.
Journalist Jo Roberts and musician Kim Salmon inducted Mihelakos.
Roberts recalled some of the ways she expressed her love for musicians – founding the Aussie BBQ at SXSW, touring the Buried Country of indigenous country musicians after reading Clinton Walker's book of that name, and dancing onstage six times with The Stooges on three continents.
Paul Kelly inducted the late bluesman Chris Wilson with a marvellous poetic speech which recalled their first tour together of the US where they found "rivers of music", and of his vast record collection of music from all ends of the globe, which he squeezed through his body to create a multitudous (sic) music, a music of contradiction and tension."
Wilson's wife Sarah Carroll and sons Fenn and George accepted the induction.
Outgoing CEO of Music Victoria, Patrick Donovan, was thanked for founding the awards 16 years ago and using his persistence to get Daddy Cool and Painters & Dockers to reunite for the awards and gain $120,000 worth of sponsorship prizes for winners.
This year's awards drew 23,000 votes, 15% from overseas, and had 127 judges.
They were hosted by community radio's Lyndelle Wilkinson and Chris Gill, and broadcast on YouTube and Channel 31 TV.
---
2020 Music Victoria Awards Winners
PUBLIC VOTED CATEGORIES
Best Album: Sampa The Great – The Return
Best Band: Amyl and The Sniffers
Best Song: Sampa The Great – 'OMG'
Best Solo Artist: Sampa The Great
Best Musician: Amy Taylor (Amyl and The Sniffers)
Best Breakthrough Act: Pinch Points
Best Live Act: Amyl and The Sniffers
INDUSTRY-VOTED WINNERS
Best Regional/Outer Suburban Act: The Teskey Brothers (Warrandyte)
Archie Roach Foundation Award for Emerging Talent: Kee'ahn
Best Blues Album: Lloyd Spiegel – Cut and Run
Best Country Album: Tracy McNeil & The GoodLife – You Be The Lightning
Best Electronic Act: Sleep D
Best Experimental or Avant-garde Act: Robin Fox
Best Folk Album: Fiona Ross & Shane O'Mara – Sunwise Turn
Best Heavy Album: Diploid – Glorify
Best Hip Hop Act: Birdz
Best Intercultural Act: Black Jesus Experience
Best Jazz Album: Vanessa Perica Orchestra – Love Is A Temporary Madness
Best Reggae and Dancehall Act: Dub FX
Best Rock/Punk Album: Cable Ties – Far Enough
Best Soul, Funk, Gospel or RnB Album: Sampa The Great – The Return
INDUSTRY AWARDS WINNERS
Best Small Venue (under 500 capacity): The Gasometer Hotel, Collingwood
Best Large Venue (over 500 capacity): Forum Melbourne
Best Festival: Golden Plains
Best Regional/Outer Suburban Venue (Over 50 gigs per year): Barwon Club Hotel – Geelong
Best Regional/Outer Suburban Venue (Under 50 gigs per year): Theatre Royal – Castlemaine
Outstanding Woman In Music: Sarah Hamilton (One Of One)
Best Producer: Joelistics: Mo'Ju & Joelistics Ghost Town EP
HALL OF FAME INDUCTEES
Mary Mihelakos (industry)
Chris Wilson (musician)
The Music Network
Get our top stories straight to your inbox daily.