Mushroom Group Preps 50th Anniversary Celebrations With 'Once In a Lifetime' Concert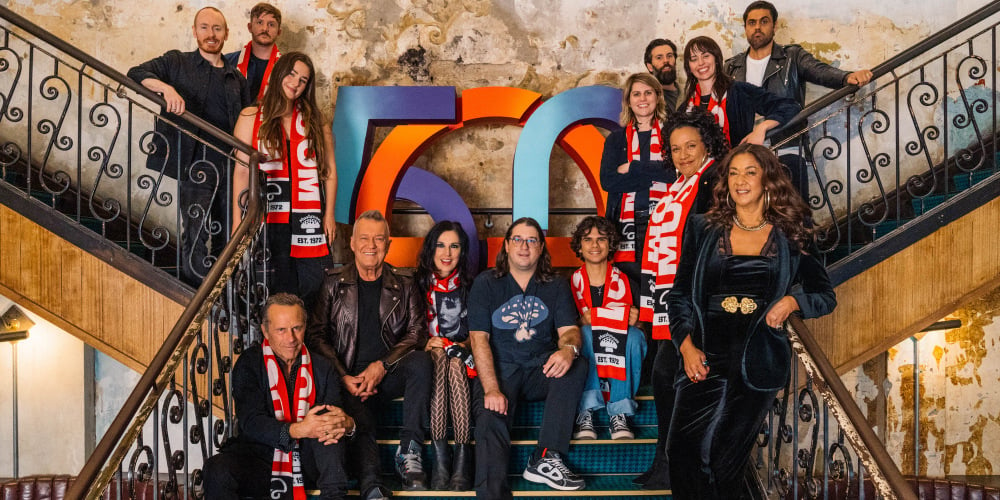 On its 50th birthday, Mushroom Group is handing out the presents.
The independent music empire built by the Gudinskis will this year celebrate its milestone with a raft of music events, including an all-star concert, commemorative merch, reimagined recordings and the release of a long-awaited documentary on the group's late founder, Michael Gudinski.
In a surprise to no-one, a "blockbuster" Mushroom 50 concert will be the centrepiece of the year-long party and is set for November. The line-up, venue and ticket details to be revealed.
Speaking with The Music Network during a keynote interview at Bigsound 2022, group CEO Matt Gudinski said the concert won't be a copycat of Mushroom 25.
"We have major plans," he said on stage at the music industry powwow last September.
When the company celebrated its 25th anniversary, with a concert at the MCG, Nov. 14, 1998, it was, at the time, the most attended, ticketed concert in Australian history, with 73,000 in the stadium.
Ed Sheeran recently broke that old mark at the MCG, twice, appropriately with shows produced by Mushroom Group's Frontier Touring. 
"I don't plan to replicate that," Gudinski said at the time, "but we have a number of really exciting ideas in the works."
Those ideas are finally detailed, led by the concert; "this will be a once in a lifetime event," is how Matt Gudinski describes it.
Among them, a feature documentary capturing the career of Michael Gudinski and his impact on Australia's music scene and culture. The film will enjoy a cinematic release, with details to be announced in the coming weeks.
Before that, a sizzle reel which boils down 50 years of action in 90 seconds. The clip, which can be streamed below, features a who's who of artists who've worked with Mushroom Group's two-dozen companies, including cameos by Kylie Minogue, Ed Sheeran, Mark Seymour and Missy Higgins.
The Melbourne-based indie music powerhouse will also issue a series of reimagined singles, featuring stars covering Mushroom classics.
Launching the series today (March 23) is The Temper Trap's reimagining of The Church's "Under The Milky Way," the 1988 ARIA single of the year and a U.S top 40 hit.
Further down the line will be cuts from Missy Higgins, Bliss n Eso, Paul Kelly and more. 
The project will culminate in a Mushroom 50 album, an "the entire collection of songs, serving as the definitive compilation of reimagined Mushroom music," reads a statement. 
"Mushroom Group's legacy is something we're extremely proud of and we have big plans to commemorate it," comments Matt Gudinski, in a statement issued Thursday morning.
"So many amazing people and artists have formed part of our story and this anniversary is about celebrating our history and future."

From today, a range of limited-edition Mushroom 50 merchandise is available buy, from vintage tees to hats and more.
Visit mushroom50.com.
In 2023, we celebrate 50 Years of Making Noise. Yep, we're turning the big 5-0 and we're planning on kicking up our heels in true Mushroom style.

There's a bunch of exciting activities in the pipeline including new recordings of iconic Mushroom singles, limited edition merch… pic.twitter.com/3eaiPWWuN5

— Mushroom (@MushroomGroup) March 22, 2023
The Music Network
Get our top stories straight to your inbox daily.