Music Festivals Prove Successful As Major Tourism Draws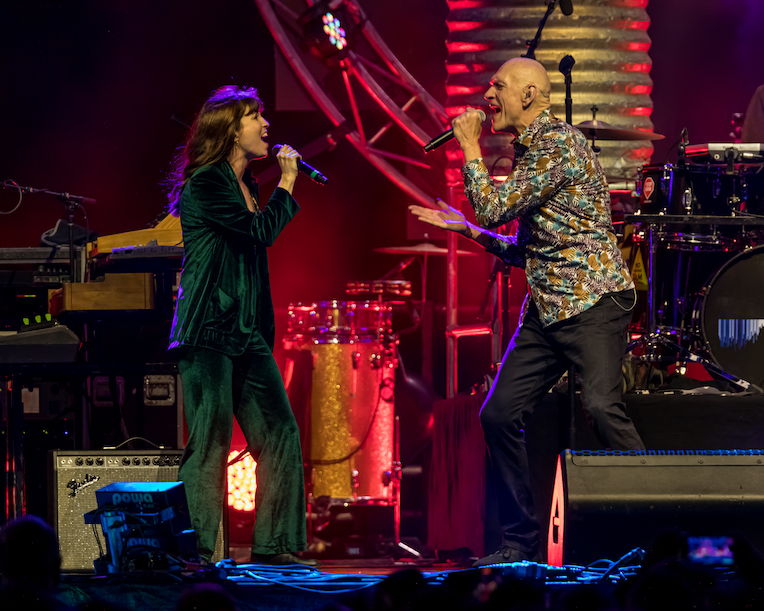 Music festivals, including the Broken Hill Mundi Mundi Bash, continue to be strong contributors to economies and tourism.
Darwin Festival released impressive figures for 2022, Broken Hill Mundi Mundi Bash in Outback NSW got off to a strong start, and the South Australian Government launched a tourism initiative in the shape of Harvest Rock festival.
Numbers from the Northern Territory Government showed that Darwin Festival drew more than 62,000 to free and ticketed performances, as well as at Festival Park.
Almost a quarter of ticket buyers came from outside the Territory or overseas.
The festival opened on Aug. 4 and winds up on Sunday (Aug. 21).
It covered music, theatre, comedy, dance, cabaret, visual arts and family entertainment. Over 62% of shows were sell-outs.
The breathtaking high-production opening Bungul, a 90-minute celebration of Gurrumul's final album "Djarimirri (Child of the Rainbow)" with the Darwin Symphony Orchestra and Yolŋu dancers and musicians, drew over 4,500.
This year's attendance figures were twice as that of the COVID-19 plagued 2021.
The three-day Mundi Mundi Bash, meanwhile, drew 8,000 to its opening day with Midnight Oil and Missy Higgins.
It is delivered by Sydney-based promoter Greg Donovan and supported by the NSW Government via Destination NSW.
When the concept was first announced, it was forecast it to generate visitor expenditure of $5.4 million over three years, but that is going to be exceeded.
Photo credit: Matt Williams
The Broken Hill City Council reported that the inaugural Mundi Mundi Bash which drew 10,000 in April 2022 already spun $3.5 million into Broken Hill.
Anne Andrews, council's executive manager for growth and investment, called it "a huge boost for the economy and a higher return on investment for event sponsors and investors".
There was a strong tie-in with future tourism. City-slicker punters can indulge in outback past times such as sand volleyball, dunny door painting, scenic helicopter rides and camel rides.
Pre-marketing for Mundi Mundi Bash accentuated how the spectacular Mundi Mundi Plains were used for Midnight Oil's "Beds Are Burning" video and the "Mad Max" movies.
Sunset at Mundi Mundi in Broken Hill. Photo credit: Matt Williams
Harvest Rock, the new Adelaide music, food, wine and art festival, is supported by the SA Government, via the SA Tourism Commission.
It is one of the events in the inaugural Bloom tourism campaign to promote SA events and festivals held from September to November.
Harvest Rock is set to attract between 20,000 to 25,000 a day, 40% from outside SA, and inject $10 million into the state economy.
Held on Saturday, Nov. 19 and Sunday 20, it hired Splendour and Falls promoter Secret Sounds to pull acts to make it a tourism haul.
It includes one-off sets by Jack White and Kurt Vile, and Crowed House to close. The bill includes the Black Crowes, Texan trio Khruangbin, Groove Armada, Sam Fender, Tones and I, Genesis Owusu, the Avalanches, the Teskey Bros, Goanna, The Living End, the Lumineers and Angus and Julia Stone.
The food is curated by renowned chef Jake Kellie of Arkhé and former head chef of Singapore's Burnt Ends, and destination bars curated by Australian wine critic, Nick Stock.
The SA Government's investment is not known, but it seemingly sees Harvest Rock as high priority, given a behind-the-scenes ruckus.
The festival takes over Rymill and King Rodney Parks, which are connected by Bartels Road which would need to be closed for the duration.
An application was submitted in May, but councillors continued to drag their feet.
Secret Sounds' Jessica Ducrou addressed the council before a special vote, saying the festival faced cancellation without the road closure.
Work began on it 12 months ago, "spending hundreds of thousands of dollars in pre-event preparation with the understanding we could use this venue", she explained.
"We have financially committed to $5 million worth on international artists and domestic artists of which we will be required to pay, regardless of the outcome of this evening's meeting," she said at the time.
However Adelaide City Council voted 8—2 against the closure.
At that stage, Premier Peter Malinauskas stepped in and over-ruled the council by reclassifying Harvest Rock as a major event. That gave the Government the power to close the road for 72 hours.
"It is necessary to ensure we are doing everything we can to support our city's recovery as we emerge from the pandemic," he commented.
The Music Network
Get our top stories straight to your inbox daily.