Matt Gudinski, Roger Field, Vanessa Picken Lead Australian Contingent in Billboard's Int'l Power Players List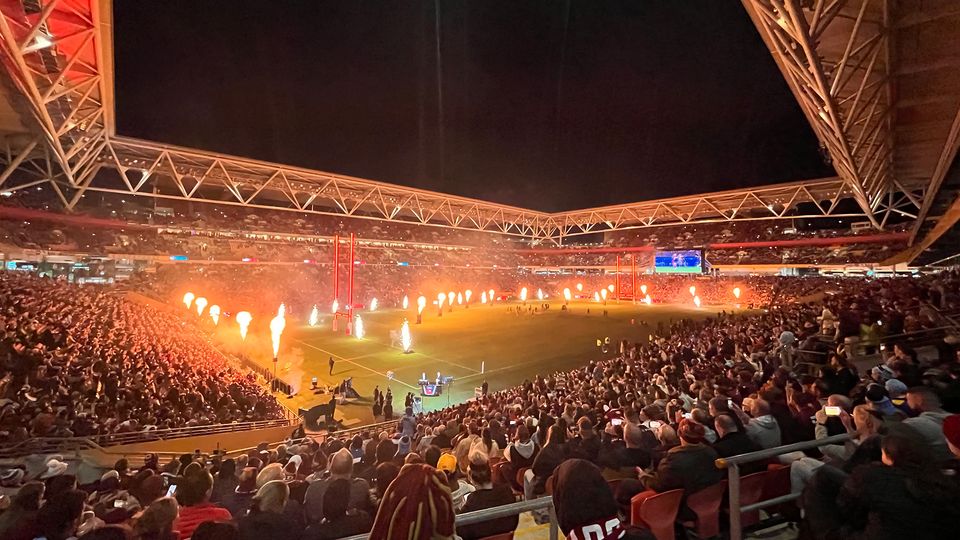 The gangbusters comeback of Australia's live music market has been recognised by Billboard Magazine, with several homegrown concert organisers and venue operators namechecked in the trade title's International Power Players List.
Matt Gudinski, CEO of Mushroom Group, the Melbourne-based independent music giant; Live Nation chief Roger Field; and the head of the three major music companies in these parts head-up the Aussie delegation in Billboard's 2023 list, which identifies executives nominated by their businesses and peers and chosen by its editors.
It's a healthy homegrown contingent, with local execs saluted from across the industry, including streaming and tech, publishing, and more.
Gudinski, whose Mushroom Group is enjoying its 50th anniversary, highlights "the strong return of live music and our record breaking Ed Sheeran Mathematics tour which delivered the biggest ticketed show in Australian history at the MCG with close to 110,000 in attendance," and points to the relaunch of the recorded music division of Mushroom globally in partnership with Universal/Virgin as reasons to celebrate.
He's joined in the list by colleagues Dion Brant, Frontier Touring CEO; and Susan Heymann, Frontier Touring COO; while Roger Field, president, Asia Pacific, Live Nation also gets the nod.
Peter Loxton COO, commercial, ASM Global, Asia Pacific, is cited in Billboard's list, thanks to his work with ASM Global Asia Pacific, which has led to the venue management company's development of Brisbane Live, an 18,000 seat multi -purpose arena for the Queensland capital and named as a 2032 Olympic venue to host swimming and potentially basketball finals.
Loxton and ASM APAC have also been working on new projects for Gold Coast, Hong Kong and the Middle East Gulf region.
Following his promotion with an additional south east-Asia brief, BMG's Heath Johns is tapped, joining several music publishing figures.
Also named is the high-flying international Australian-born music publishing professional Kim Frankiewicz, executive vp of worldwide A&R, Concord Music Publishing; and Jaime Gough, managing director, Concord Music Publishing Australia and New Zealand.
New Zealand-born Gough leads Concord's activities on both sides of the Tasman following the acquisition in 2022 of Native Tongue, the indie publishing business founded by his father, Chris.
Andrew Hajgato, label manager of Australia for Concord Label Group, is also mentioned.
On the digital side, German-born, Australia-based Ingrooves managing director, Asia-Pacific, Virgin Music Group Nina Rabe-Cairns; and Hazel Savage vp of music intelligence, SoundCloud, are included.
Sulinna Ong, the Australia-raised global head of editorial, music, Spotify, a keynote speaker at Music Matters 2022 in Singapore, gets the thumbs up for her leadership at the giant streaming platform.
The three music majors are repped by Vanessa Picken, chair/CEO, Sony Music Entertainment Australia and New Zealand; Dan Rosen, president, Warner Music Australasia; and Sean Warner president, Universal Music Australia & New Zealand.
All execs tallied by Billboard have "primary responsibility for markets outside the United States," according to the New York-based music industry publication, "which account for the overwhelming majority of the world's recorded-music sales."
In this post-pandemic, streaming world, the international music industry is no longer a side bar to the United States, the world's biggest music market.
Global revenue in 2022 was up by 9% year-on-year to US$26.2 billion, to the IFPI, which recently published its Global Music Report 2023.
That's the eight consecutive year of growth, powered by music fans around the globe. 
International acts and their recordings now dominate the federation's top 10 rankings and all 62 markets which are scrutinised for the report were up — including Australia, the No. 10 ranked market — for just second time that phenomenon has happened.
Read more here. 
The Music Network
Get our top stories straight to your inbox daily.