Brisbane Arena, Gabba Rebuild Approved as Government Chips-In $7bn Olympic Funding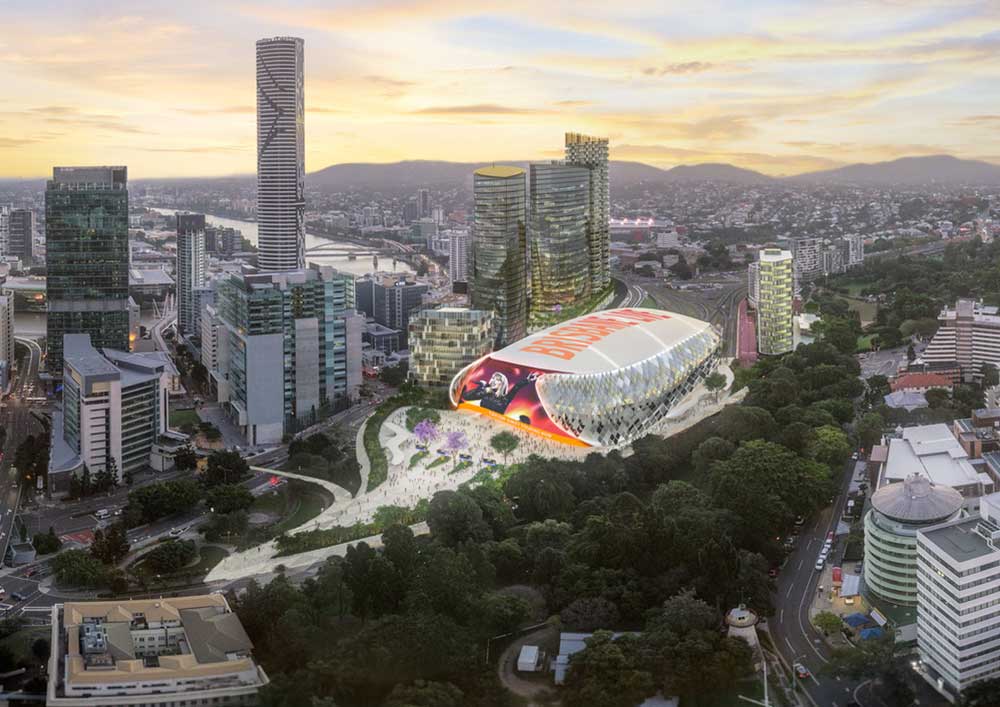 With the calendar counting down to the 2032 Olympic Games, a proposed, multi-billion-dollar arena and precinct in central Brisbane will become a reality.
Prime minister Anthony Albanese and Queensland premier Annastacia Palaszczuk have green-lit the multi-purpose arena project at Roma Street — a development that makes Brisbane a two-arena town.
A "state-of-the-art" entertainment and sports venue will be constructed at a derelict site at Roma Street, which sits on the train line between Brisbane's Central and Milton Station — where locals alight for Suncorp Stadium and the iconic XXXX brewery.
This funding commitment from two tiers of government comes after the so-called Brisbane Live entertainment precinct was drawn up in late 2018, and presented — fully-formed — to the public in August 2022, as part of the Cross River Rail project.
The complex on Roma Street was the brainchild of Harvey Lister, chairman and chief executive of Brisbane-based ASM Global Asia Pacific (formerly AEG Ogden), which had an exclusive early operator engagement agreement with state government to develop the project's business case.
Its blueprint included an arena of 17,000-18,000 seats located on a large deck structure built over railways, roads and property, bounded by Albert Street to the north and Roma Street to the south.
The proposal also included "ancillary facilities to support the arena's operation as well as new public spaces and active transport connections with neighbouring central business district locations," reads a statement from state government.
A new indoor arena at Roma Street.

A new chapter for The Gabba.

For generations of Queenslanders, not just the Games. pic.twitter.com/uuORb4Pn1D

— Annastacia Palaszczuk (@AnnastaciaMP) February 17, 2023
The proposed Brisbane arena site is part of a $7 billion commitment from government, a funding agreement for the Olympic and Paralympic Games that would leave a legacy of events infrastructure in the Sunshine State for generations to come.
From that river of cash, a controversial redevelopment of "the Gabba," on the south side of the River City's CBD.
The site at Woolloongabba will be fully demolished and rebuilt to support "long-term professional sport and entertainment needs," reads a statement from the Palaszczuk government.
And from that rubble, a new 50,000 seat stadium with an estimated pricetage of $2.7 billion.
The Gabba hosted the Brisbane leg of Adele's tour in 2017, and is a recognised Test cricket venue and the home of the Brisbane Lions AFL franchise.
Live Nation and its consortium partners Oak View Group are lining up to present a vision for the proposed new Brisbane arena.
"Together, we know we can transform this Brisbane precinct into Australia's premier entertainment destination for generations to come," comments Roger Field, president, Live Nation Asia Pacific, in a statement.
"The announcement couldn't be more timely after Live Nation have delivered a record summer of live entertainment in Queensland with the likes of Red Hot Chili Peppers, and with Harry Styles to come in a few weeks, P!nk in 2024 and many more major acts yet to be announced. With a new and improved venue, Live Nation is dedicated to supporting Brisbane's vision as a leading city for blockbuster live events," adds Field.
Through the $7 billion redevelopment deal, the Commonwealth will contribute around $3.5 billion, including $2.5 billion for the Brisbane Arena, and a further $1 billion for the new venues and facility upgrades, according to the ABC.
Brisbane won the rights to host the summer games when the IOC announced in 2021 that the Qld capital was the "preferred candidate city," thanks to the city's proven track record for organising international events, with the Commonwealth Games (two, including the Gold Coast), an Expo and the Goodwill Games in its good books.
And critically, the Sunshine State already has up to 90% of the essential pieces of infrastructure in place, including the 13,500-capacity Brisbane Entertainment Centre, which opened its doors for the first time in 1986.
The Music Network
Get our top stories straight to your inbox daily.