King Stingray, Genesis Owusu, Daniel Johns Win Big at 2023 AIR Awards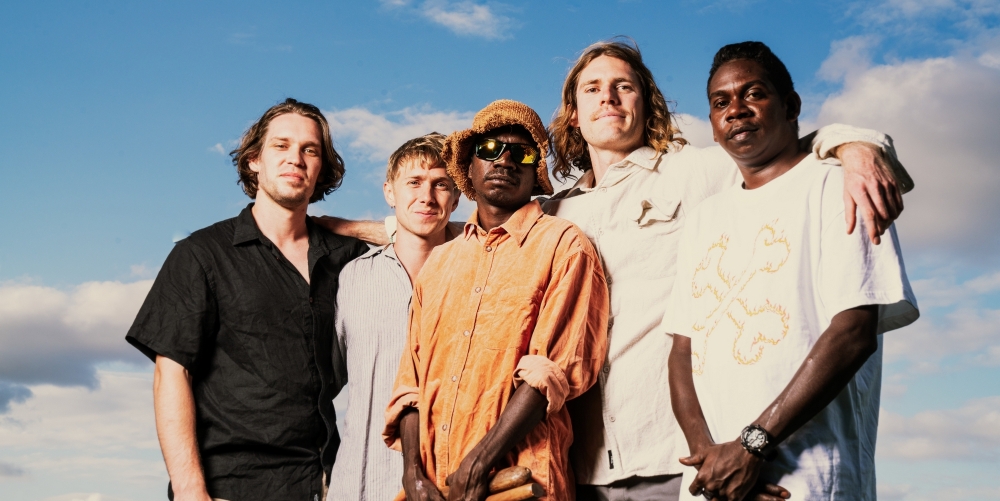 With three trophies, King Stingray dominated the 2023 AIR Awards, held Thursday night, Aug. 3 at Adelaide's Freemasons Hall.
Continuing a fine run of form at awards ceremonies, the Stingers converted three of four nominations, taking home best independent rock album or EP, independent album of the year (both for King Stingray) and breakthrough artist of the year.
Another artist who has hogged the music industry's silverware in recent years is Genesis Owusu, who this time nabbed independent song of the year for "Get Inspired," while best independent pop album or EP went to Daniel Johns for his ARIA Chart-leading solo effort FutureNever.
Other winners included Dope Lemon (best independent blues and roots album or EP with Rose Pink Cadillac), Donny Benét (best independent jazz album or EP for Le Piano), Northlane (best independent heavy album or EP for Obsidian), Confidence Man (best independent dance/electronica album or EP category for TILT), and Cub Sport (best independent dance/electronica or club single with "Always Got The Love").
Jesswar was on hand to collect the trophy for best independent hip hop album or EP for Life's Short, Live Big. While collecting the award, the Fijian Australian artist gave a shoutout to "all the women in the room and the non-binary folk. I feel like women in this industry have done so much for us."
Andy Golledge, Wanderers, Yours Truly and Jem Cassar-Daley performed on the night, while Dylan Lewis and Jessica Braithwaite teamed up once again as hosts.
The feelgood moment of the event belonged to Dr. Catherine Crock, founder of Hush Foundation, who collected the 2023 Outstanding Achievement Award, sponsored by Merlin, which includes a $5,000 winner's cheque for continued development.
Crock, a healthcare professional whose enterprise uses music to heal, was nominated by AIR members.
"It's been such an amazing project for me," she told the audience, after the production team played a reel of Hush's important work.
"This morning I was working in the operating theatre… and tonight I'm here."
Working in healthcare is both a privilege and a pressure, she explained. "Every day we've got music playing in the Royal Children's Hospital. It helps us as a team to work better together." What music can do "to lift that environment is quite extraordinary."
Crock left the stage to a standing ovation.
in recognition of her work revolutionising healthcare through music and the arts and for establishing the @HushFoundation_ – read more about the Hush Foundation here: https://t.co/rFVQMArJ0P #AusIndies | #indieconaus | #ADLCoM

— AIR (@ausindies) August 3, 2023
The prestigious best independent label was awarded to Chapter Music, which receives a marketing campaign valued at $3,000, providing access to Moshtix's audience reach.
Also, the inaugural winner of the independent marketing team of the year went to I Oh You, winner of the best independent label in 2022, and Mushroom Marketing for the Confidence Man/TILT campaign, while the inaugural independent publicity team of the year was Genna Alexopoulos for the Teen Jesus and the Jean Teasers/Pretty Good For A Girl Band campaign.
The annual AIR Awards "celebrate the success of the extremely talented and resilient artists and labels of the Australian independent recorded music sector," explained AIR CEO Maria Amato at the top of the show.
Major sponsor of the awards, the fulcrum of the Indie-Con, held this time at Adelaide's Mercury Cinema, is the South Australian Music Development Office.
Visit air.org.au for more.
2023 AIR Awards winners:
Best Independent Blues And Roots Album Or EP: Dope Lemon – Rose Pink Cadillac
Best Independent Hip-Hop Album Or EP: Jesswar – Life's Short, Live Big
Best Independent Country Album Or EP: Andy Golledge – Strength Of A Queen
Best Independent Jazz Album Or EP: Donny Benét – Le Piano
Best Independent Classical Album Or EP: William Barton / Veronique Serret – Heartland
Best Independent Children's Album Or EP: Teeny Tiny Stevies – How To Be Creative
Best Independent Dance, Electronica Or Club Single: Cub Sport – Always Got The Love
Best Independent Punk Album Or EP: Teen Jesus And The Jean Teasers – Pretty Good For A Girl Band
Best Independent Heavy Album Or EP: Northlane – Obsidian
Best Independent Dance Or Electronica Album Or EP: Confidence Man – TILT
Best Independent Rock Album Or EP: King Stingray – King Stingray
Best Independent Soul/RNB Album Or EP: Felivand – Ties
Best Independent Pop Album Or EP: Daniel Johns – FutureNever
Breakthrough Independent Artist Of The Year – Presented By PPCA: King Stingray
Independent Song Of The Year: Genesis Owusu – Get Inspired
Independent Album Of The Year: King Stingray – King Stingray
Independent Marketing Team Of The Year: I Oh You, Mushroom Marketing – Confidence Man, TILT
Independent Publicity Team Of The Year: Genna Alexopoulos – Teen Jesus And The Jean Teasers, Pretty Good For A Girl Band
Outstanding Achievement Award – Sponsored By Merlin: Dr. Catherine Crock
Independent Label Of The Year – Sponsored By Moshtix: Chapter Music
The Music Network
Get our top stories straight to your inbox daily.