Melbourne, Sydney kick off global protests for #JusticeAtSpotify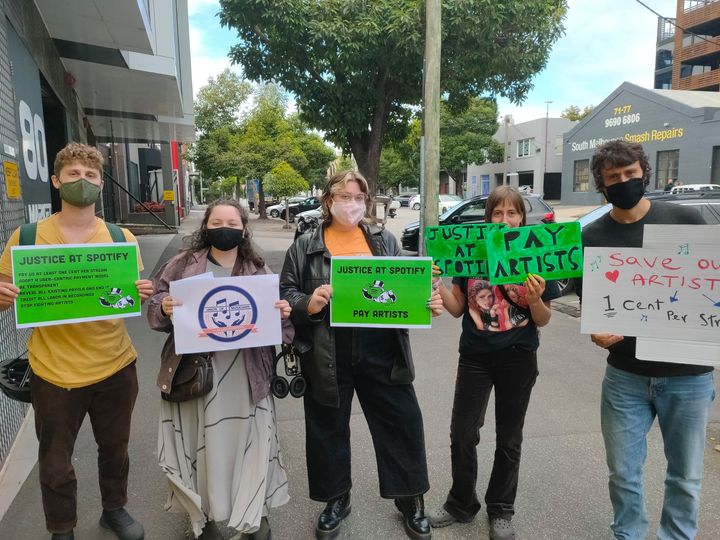 Rallies in Australian cities Melbourne and Sydney kicked off a rolling series of #JusticeAtSpotify protests this week in over 30 cities around the world.
Organised by the Union of Musicians and Allied Workers (UMAW), rallies were held at 1pm local in each city outside Spotify offices, with musicians, DJs, producers, road crew and industry workers.
The UMAW launched #JusticeAtSpotify last October, with demands the streaming service – which last June had a market valuation of US$50 billion – raise its royalty rate from USD $.0038 to one cent per stream for all artists.
Organisers are also calling on the music streaming giant to adopt a user-centric payment model, and show more transparency by making all closed-door contracts public.
"Spotify has long mistreated music workers, but the pandemic has put the exploitation into stark relief," UMAW organiser Mary Regalado said, who plays in the punk band Downtown Boys.
"The company has tripled in value during the pandemic, while failing to increase its payment rates to artists by even a fraction of a penny.
"Musicians all over the world are unemployed right now while the tech giants dominating the industry take in billions. Music work is labour, and we are asking to be paid fairly for that labour."
The #JusticeAtSpotify protests were held in 10 US cities including New York, San Francisco, Los Angeles and Chicago, as well as London, Paris, Milano, Oslo, Singapore, São Paulo, Stockholm, Toronto, Amsterdam and Berlin.
Over 28,000 artists including Thurston Moore, King Gizzard and the Lizard Wizard, Frankie Cosmos, Deerhoof and JD Samson have lent their signatures to a petition.
As has been widely reported, Spotify has enraged musicians with some moves.
These included comments by its CEO Daniel Ek that musicians needed to work harder to increase their streams, and an offer last November to musicians and labels to push recommendations in return for a promotional royalty rate.
Fairer streaming deals is just one of the aims of the UMAW.
"We will continue to organize around issues such as demanding fairer deals from streaming services, ensuring musicians receive the royalties they are owed, establishing more just relationships with labels, and creating safer guidelines for venues," the union said.
"We believe that the only way to transform music is to collectively take resources and power from the few wealthy companies that dictate our industry."
The Music Network
Get our top stories straight to your inbox daily.