Jaguar Jonze, Sahara Herald Among Winners at 2022 AWMAs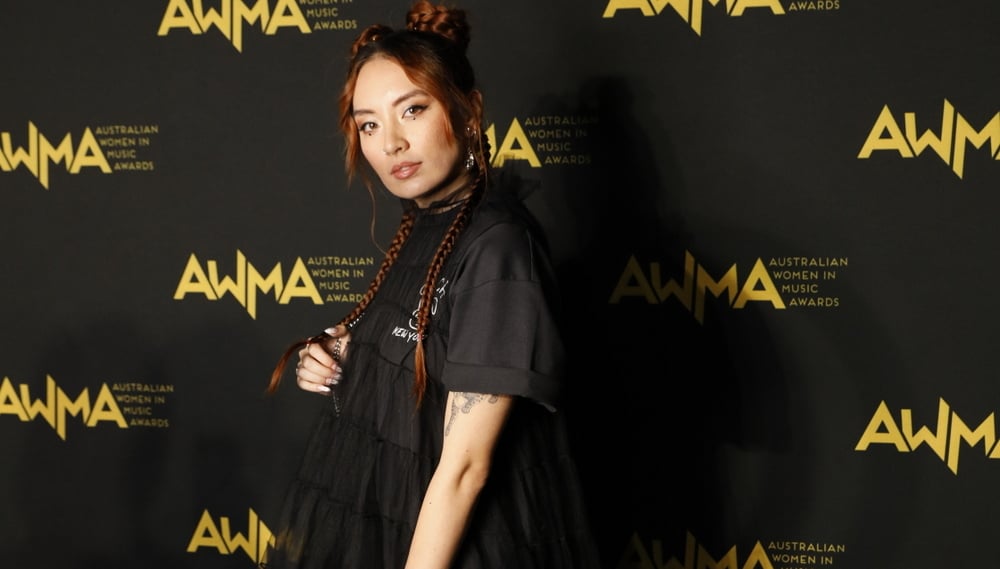 Frontier Touring's Sahara Herald, artist Jaguar Jonze, music industry whistleblower Tamara Georgopoulos, and the Brag Media's Poppy Reid were among the honorees Wednesday night (May 18) at the 2022 Australian Women In Music Awards, held for the first time at Brisbane's Tivoli.
Herald, tour director at Mushroom Group's concerts giant, was on home soil to collect the music leadership award, one of the top accolades on the night.
"It's not a secret, the last two years for the live industry that I work in behind the scenes, has been really fucking hideous. It's been really tough. But I've been really held up particularly by the women I work with," she explained, singling out her colleague Susan Heymann, COO of Frontier Touring and Chugg Entertainment, who was also in the room.
In an emotional moment, Herald paid tribute to three important men "who held me up professionally," and who were lost during those years: her father, Mushroom Group founder Michael Gudinski and Big Day Out co-founder Ken West.
"They gave me opportunities and they empowered women, they recognised them and gave them credit. I wish there was more of it and I hope there will be. Men need to be part of this conversation for change."
Speaking of her own battles with addiction, which were documented in Support Act's Tune Ups series, Herald explained, "part of leadership is not just being brave or strong, it's being vulnerable and speaking truth, having empathy. And integrity and accountability, and holding the fucking door a little wider for the others."
Later, Jonze was joined on stage with Georgopoulos to receive the inaugural change maker award, recognition for their brave and tireless work exposing wrongdoing in the music industry.
"We still have so much work ahead of us," Jonze explained.
"This work won't be achieved by giving me an award. If you ask me for what I really want, after my sacrifice, trauma and advocacy, it is opportunity, ongoing safety, freedom, equality and justice. I want our leaders and influencers and gatekeepers to have integrity, fulfill their responsibilities and take accountability."
She did accept the award "on behalf of all the survivors and allies who have risked everything to fight before me and beside me, both in public and behind the scenes," and called on others to consider "what would you do with your power, will you take the challenge and be part of the change?"
Other key winners included Poppy Reid (music journalist award), Leigh Carriage (humanitarian award), Emily Ulman (creative leadership award), Casey O'Shaunessy (live production touring award) and Eliza Hull (diversity in music award).
Tina Arena was on hand to present the inaugural "Tina Arena Special Impact Award" to Dina Bassile, for her pioneering work creating disability access for live music and arts events.
"It's rather strange to be up here presenting the Tina Arena Award, seeing as I'm still living and breathing," Arena quipped. She went on to say "it's our duty to speak up" in the face of wrongdoing, and to "do it with love."
The legendary multiple ARIA Award-winning singer doubled up for a performance of "I Honestly Love You," an early '70s hit for Olivia Newton-John, who was inducted into the AWMA Honour Roll.
Recipient of the #AWMA music journalist award, the stellar @heypoppyreid joins us backstage ?? pic.twitter.com/8CTv1ACYlZ

— WomeninMusicAwardsAu (@WomenInMusicAus) May 18, 2022
The evening's formalities were kicked off by Queensland Premier Annastacia Palaszczuk, MP, who sat with event organiser Vicki Gordon and Labor MP Tony Burke, both of whom addressed guests from the stage.
Palaszczuk remarked that she and Burke had attended the recent Bluesfest in Byron Bay. "He loves music. Let's hope he becomes (federal) minister," she said to applause. "It's time, it's time," she added, alluding to both the start of the awards proper, and, with the federal election looming, the famous ALP campaign from 1972.
The state leader also made it clear that she wants the awards and the AWMA conference to stay in Brisbane.
Industry guests watching on included ARIA CEO Annabelle Herd; APRA CEO Dean Ormston; APRA chair Jenny Morris; Sony Music Publishing Australia managing director Damian Trotter; and Marianna Annas, Universal Music Publishing Australia VP, commercial & creative, a finalist in the category for the music leadership award.
The AWMAs, which returned after skipping 2020 and 2021 due to the pandemic, is "the change maker," said Vicki Gordon.
"Since 2018, our impact has been felt widely across the sector, igniting collaboration and support nationally, for diverse female creatives and music practitioners," she told the audience. "Our goal is not simply to create change as a symbolic gesture, but to build deep, sustained and enduring change that happens when individual and communities all come together to support each other in a positive way."
AWMA is a "space for solutions to be proposed, for successes to be acknowledged and for genuinely diverse contributions to be heard," Gordon continues in a statement. "Through AWMA we have effectively raised the collective voice demanding equitable access, safety and recognition for women in the Australian music industry. We are well and truly focussed on the future."
.@DizzyDoolan and @Barkaa__ getting it done #AWMA pic.twitter.com/VTHLasMZTq

— WomeninMusicAwardsAu (@WomenInMusicAus) May 18, 2022
2022 Australian Women In Music Award winners:

HOTEL X ~ FILM MAKER AWARD
Lucy Knox

EXCELLENCE IN IMAGE MAKING AWARD
Cindy Vogels

MUSIC PHOTOGRAPHER AWARD
Cybele Malinowski

FENDER MUSIC AUSTRALIA ~ EMERGING ARTIST AWARD
Martha Marlow

APRA AMCOS ~ SONGWRITER AWARD
Tania Doko

JUSTICE ELIZABETH FULLERTON ~ EXCELLENCE IN CLASSICAL MUSIC AWARD
Genevieve Lacey

LIVE PRODUCTION TOURING AWARD
Casey O'Shaunessy

SCHOOL OF AUDIO ENGINEERING ~ STUDIO PRODUCTION AWARD
Alice Ivy

LIVE CREATIVE PRODUCTION AWARD
Kait Hall

SETTLEMENT SERVICES INTERNATIONAL ~ DIVERSITY IN MUSIC AWARD
Eliza Hull

TWITTER AUSTRALIA ~ MUSIC JOURNALIST AWARD
Poppy Reid

BRISBANE CITY COUNCIL ~ ARTISTIC EXCELLENCE AWARD
Elena Kats-Chernin

AWMA HONOUR ROLL
Dame Olivia Newton-John AC DBE

THE INDUSTRY OBSERVER ~ MUSIC LEADERSHIP AWARD
Sahara Herald

NOVA ENTERTAINMENT ~ CREATIVE LEADERSHIP AWARD
Emily Ulman

LEMON TREE MUSIC ~ HUMANITARIAN AWARD
Leigh Carriage

INAUGURAL TINA ARENA ~ SPECIAL IMPACT AWARD
Dina Bassile

QUEENSLAND GOVERNMENT ~ LIFETIME ACHIEVEMENT AWARD
Deborah Cheetham AO
CHANGE MAKER AWARD
Jaguar Jonze (Deena Lynch)
Tamara Georgopoulos
This article originally appeared on The Industry Observer, which is now part of The Music Network.
The Music Network
Get our top stories straight to your inbox daily.