Green Music Australia's campaign to ban single-use plastic bottles is going global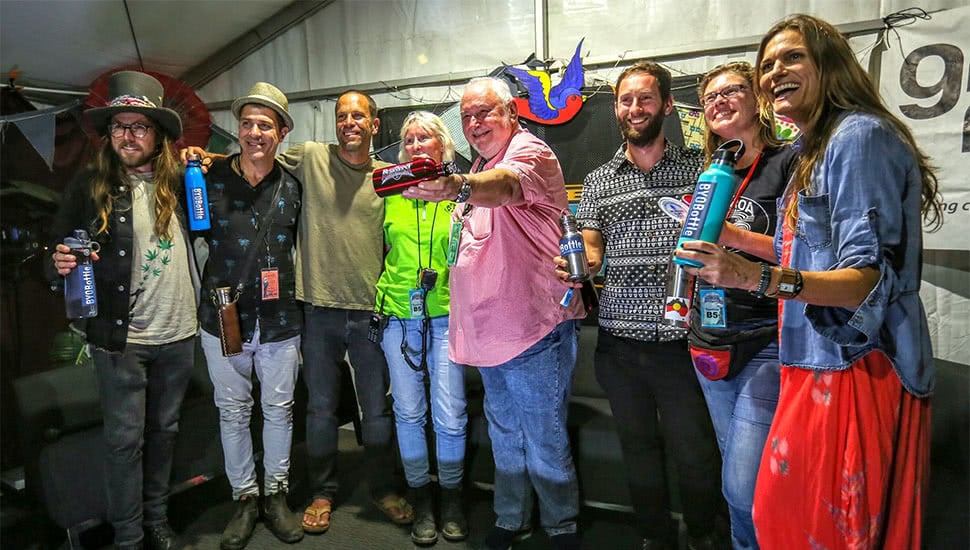 Image: Green Music Australia/Facebook
Green Music Australia's campaign to ban single-use plastic bottles in the music industry has picked up steam, going global thanks to some of the biggest names in music.
For the last three years, Green Music Australia's BYOBottle campaign has seen an ever-growing amount of artists lend their support to the cause by vowing to go plastic bottle-free while touring.
Gaining the support of huge names like Paul Kelly, Missy Higgins, Midnight Oil, Birds Of Tokyo, Montaigne, and more, festivals such as WOMADelaide, BIGSOUND, Falls Festival, and Splendour in the Grass are also on board.
Now, the cause has received a global boost, with Jack Johnson and the Sustainable Concerts Working Group (SCWG) lending their support to this noble cause.
Announced during a press conference at this year's Bluesfest in Byron Bay, the BYOBottle campaign urges artists and fans to bring reusable water bottles wherever possible, thereby eliminating the amount of single-use plastic in the process.
"It's so exciting to see this campaign take off internationally," explained Berish Bilander, Co-CEO of Green Music Australia.
"Just last year, we managed to help Australia's music scene avoid over 1 million plastic bottles and cups. And we can expect to see these number multiply as big name acts like Jack Johnson, Bonnie Rait, Ben Harper, Maroon 5, Wilco, and many more join the campaign."
"There's a growing public awareness of the health and environmental impacts of single use plastic, despite the huge marketing budgets corporations continue to spend on promoting throw away culture," Mr Bilander continued.
"By ditching disposables, the music scene is using its social power to push back, and accelerate the shift to reusable solutions."
"Last year, nearly 2000 people signed our petition to end single-use plastic water bottles in the music scene, and 98% of punters we talked with believe plastic free initiatives are the way to go."
In a seperate press statement, Jack Johnson also discussed his support of this now-global campaign.
"There is a powerful wave of momentum building to reduce plastic pollution," Johnson explained. "BYOBottle is a campaign that the entire music industry can unite around, and everyone I've been talking with is excited to join and be part of a solution."
"Expectations are changing around what makes a positive and successful music event, and sustainability is a huge part of that. I'm excited to help show what concerts can look like if artists work together with fans and venues or festivals to reduce plastic waste."
For more information about Green Music Australia's BYOBottle campaign, be sure to visit their website.
This article originally appeared on The Industry Observer, which is now part of The Music Network.
The Music Network
Get our top stories straight to your inbox daily.