Genesis Owusu, Baker Boy lead Australian Music Prize finalists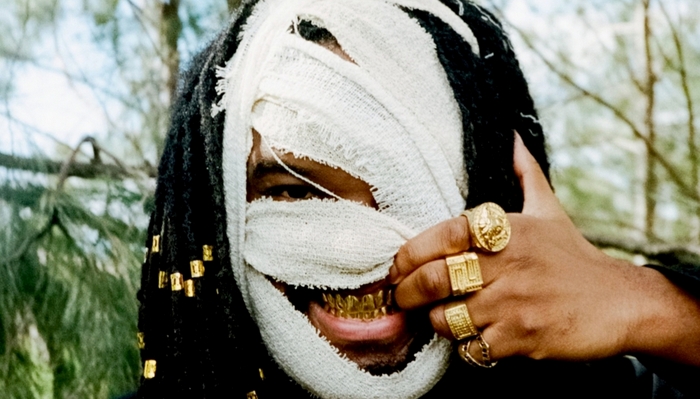 Barely two months on from the unveiling of its full list of nominees, the 2021 Australian Music Prize has today revealed the nine records to have made the shortlist for the 2021 award.
Beginning as a longlist of 464, before being whittled down to 110 albums nominated by judges during 2021, a panel of respected music industry experts have again narrowed down the list to a lean nine, with some of the biggest and most critically-beloved records released across the last year making the final list.

This year's shortlist includes classic albums by the likes of perennial favourites Nick Cave & Warren Ellis, Emma Donovan & The Putbacks, Hiatus Kaiyote, and King Gizzard & The Lizard Wizard, in addition to comparative newcomers such as Amyl and The Sniffers, Baker Boy, Martha Marlow, and Odette.

However, one of the most notable releases on the list comes by way of Genesis Owusu's Smiling with No Teeth, which found itself on the receiving end of four ARIA Awards last year, including Album Of The Year.

"It's a real pleasure to be considered for the Australian Music Prize this year," Kofi Owusu-Ansah (aka Genesis Owusu) said in a statement. "It's so important to have initiatives like this, that really strive to validate and strengthen creativity over everything else."

"This is a VERY strong list," added Soundmerch AMP Founder and Prize Director, Scott B. Murphy. "It's incredibly diverse and truly captures another year of the WORLD'S best music. I sincerely thank the Soundmerch AMP team of judges – their donation of time and passion is much greater than what most people would think."

The winner of the annual Soundmerch AMP will be revealed on Thursday, March 3rd, with the triumphant artist set to receive $30,000 from Soundmerch as part of their prize.
The 17th Soundmerch Australian Music Prize Finalists:
Amyl and The Sniffers – Comfort to Me
Baker Boy – Gela
Emma Donovan & The Putbacks – Under These Streets
Genesis Owusu – Smiling with No Teeth
Hiatus Kaiyote – Mood Valiant
King Gizzard & The Lizard Wizard – Butterfly 3000
Martha Marlow – Medicine Man
Nick Cave & Warren Ellis – Carnage
Odette – Herald
This article originally appeared on The Industry Observer, which is now part of The Music Network.
The Music Network
Get our top stories straight to your inbox daily.