Emily Wurramara and Laura Jean top the community radio charts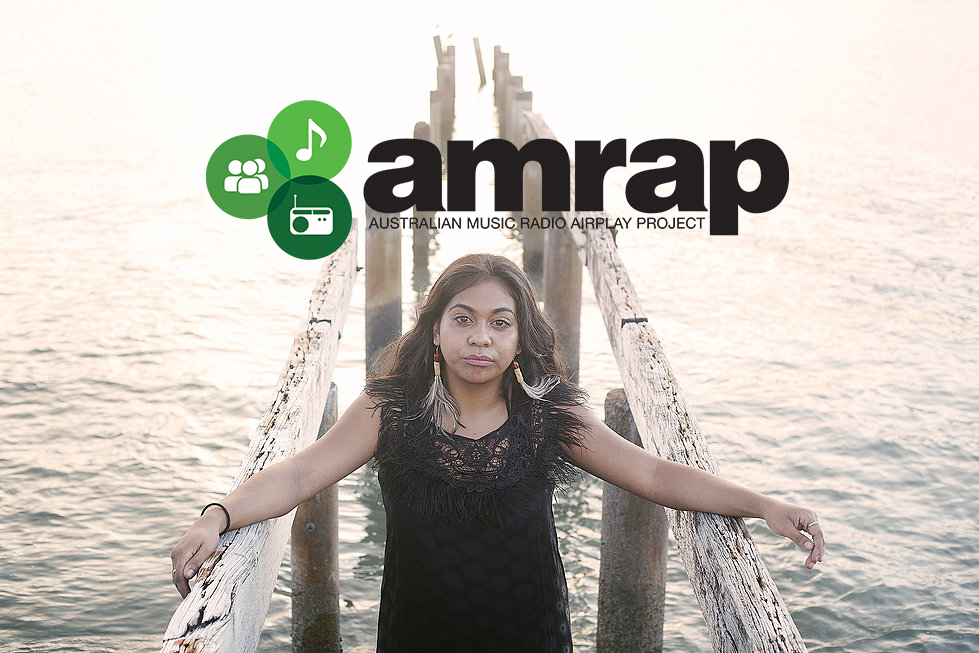 Community radio shows a huge amount of support for Australian music, with almost 40% of music played coming from local artists. Taste-making presenters excel at giving airtime to an incredible spread of what Aussie artists have to offer. The Amrap Metro and Amrap Regional Charts provide insight into what's getting airplay and attention on community radio each week. Here's the lowdown on some tunes charting this week.
---
Moon Rituals – #10 Amrap Metro
Working for several years with Melbourne music Übermensch Mikey Young, Deaf Wish guitarist Sarah Hardiman has taken a surprisingly intimate turn with her solo work as Moon Rituals. Trading the six string in for synths, Hardiman balances measure and mood perfectly on 'Sky Dance', the first single from Moon Rituals' self-titled debut album. Its sparse sense of atmosphere has a curious pull – fitting for a song about unknown forces. 'Sky Dance' is getting great play in Hardiman's Melbourne hometown at 3RRR FM and also as far afield as Perth at 6RTR-FM.
---
Rolling Blackouts Coastal Fever – #2 Amrap Metro & #10 Regional
With seemingly the entire world bouncing along to the Melbourne five-piece – helped along by rave reviews from the likes of Pitchfork, Rolling Stone and The Guardian – Rolling Blackouts Coastal Fever have become the latest example of irresistible Australian guitar-pop taking over the planet. And now on the back of their epic debut Hope Downs finally being released this month, community radio around Australia have catapulted earlier single 'Mainland' back into the Amrap charts. We don't know if we can call it a nostalgia move just yet, but who cares what it is when it sounds so damn good? Stations such as Triple B in NSW's Bellingen, Sydney's FBi and South Australia's Rox FM clearly agree.
---
Rabbit Island – #8 Amrap Metro

Pond's Nicholas Allbrook has gone on record saying the music of Perth compatriot Amber Fresh as Rabbit Island made him 'cry more than funerals' and also compelled him to jump into water naked. Evoking both joy and tears is at the heart of Rabbit Fresh's fragile first single 'Deep In The Big', delicately rendered solely with piano and Fresh's tender vocal. With an album of the same name out soon on champions of lo-fi wonders Bedroom Suck, Brisbane's 4ZZZ FM, Radio Adelaide and Fresh's community radio home at Perth's 6RTR (where 'Deep In The Big' was premiered) may soon have their announcers welling up or dressing down behind the mic.
---
Hugo Bladel – #4 Amrap Metro
The Tasmanian singer's smokingly soulful new single 'Feel the Love' is a tightly wound funk number that plays off like Michael Jackson fronting Daft Punk. Make no mistake – the guy is super slick. 'Feel The Love' is an unashamed crowd-pleaser, and certainly some crowds have already come to the party with Bladel already playing some big festivals in Falls and Party In The Paddock. Community radio are well in the groove to, with Hobart's Edge Radio, Mount Gambier's 5GTR FM  and Brisbane's 4ZZZ FM picking up what Bladel's putting down.
---
Leisure Centre – #7 Amrap Regional
All sweet and full of sunshine, Leisure Centre's future-soul sound is magically unhurried and full of easygoing goodness. After deciding on a well-reasoned name change from The Do Yo Thangs, Lesiure Centre are now more aptly primed to release their debut album Mind Full in late July. 'Getting To Know' shows the band introducing more new things than a name change and a hint that many styles may well be afoot on 'Mind Full'. Victoria's Inner FM, West Australia's H FM and Queensland's Fraser Coast FM are all getting to know Leisure Centre.
---
See the full Amrap Charts at www.airit.org.au.
The Amrap Charts show the top ten tracks ordered for airplay by community broadcasters through the Amrap's AirIt music distribution service. Amrap is an initiative of the Community Broadcasting Association of Australia which distributes new Australian music to community radio stations nationwide & empowers broadcasters to promote new Australian music on air & online.
The Music Network
Get our top stories straight to your inbox daily.