Emily Lazar Doesn't Want to Be the Only Female Mastering Engineer In the Room, So She's Changing It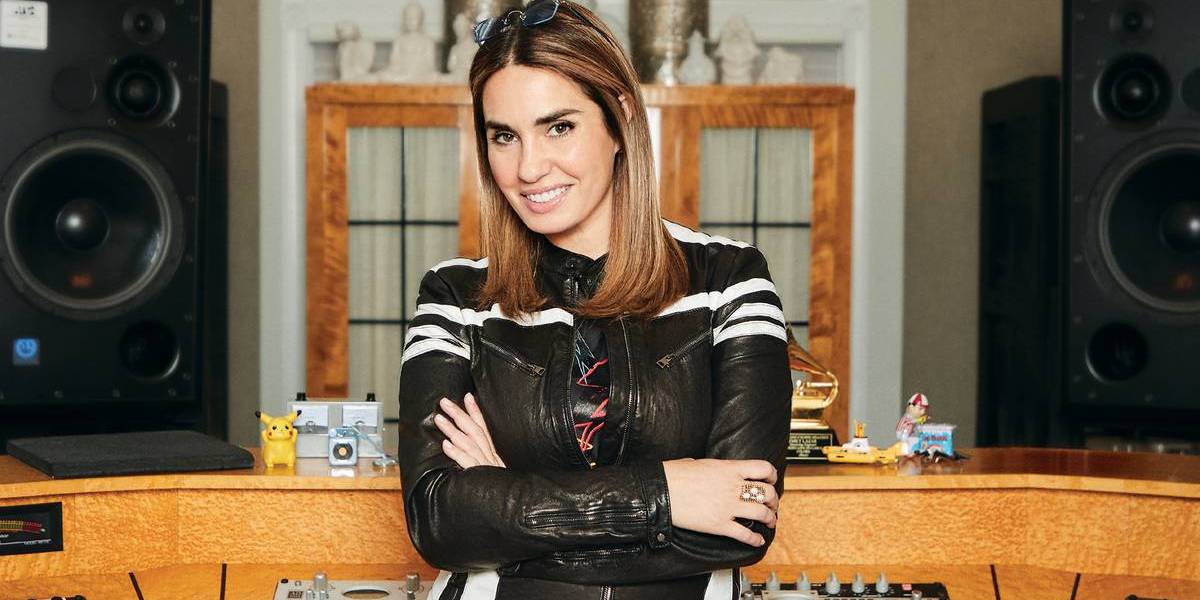 When Jaxsta rounded up the giants of mastering engineers for its annual honors list, one persistent problem leapt off the page – the scarcity of females.
Just one female mastering engineer appears in the top 50 list for 2022, The Lodge boss Emily Lazar, at No. 25, a Grammy Award-winning studio professional who has worked on thousands of recordings, from David Bowie to Jeff Buckley, Coldplay, Sia, Foo Fighters and many more.
Rather than celebrate her lofty standing among her peers, Lazar is pushing for change.
The veteran mixer and mastering engineer is leading the charge to wipe-out the ongoing gender imbalance in the recording industry, through We Are Moving The Needle, a non-profit organisation that empowers women through education, equipment and mentorship.
"We've come up with a plan," Lazar tells The Music Network at the Santa Barbara headquarters of Sonos, the wireless home sound system brand.
That idea is structured around education and access, and "was really instigated by the fact that every time I've been nominated for a Grammy, or I win a Grammy, it's a ceiling-breaking moment," she explains. "And I was like, 'how many times are you going to have that conversation?' That conversation is really geared toward discussing women and not discussing the artistry of what I do, or why I got nominated, or why I won an award at all. It just talks about why there are no women. And so being asked that question 50 million times on red carpets. I was like, 'You know what? I don't have the answer.' I'm not an anthropologist. But I'm gonna go get the answer."
Part of the answer can be found in We Are Moving The Needle, presented March 8, 2021 — International Women's Day — with an advisory "soundboard" including the bright lights that are Brandi Carlile, Maggie Rogers, HAIM, Linda Perry, Liz Phair and Sara Quinn of Tegan and Sara.
Supporting the launch were partners Sonos, Dolby, Universal Audio, Blackbird Academy and The Lodge.
The problems are acute, and were highlighted in the USC Annenberg Inclusion Initiative study on "Inclusion in the Recording Studio," a study that found women account for just 2% of all producers and audio engineers.
The Annenberg Inclusion research "really doesn't tell the whole story at all," reckons Lazar, noting those findings are based on a male/female gender binary. We Are Moving The Needle is designed with inclusion in mind and invites all people to participate.
"I had this crazy idea asleep in my bed one night woke up and went, 'we don't have data, we don't have data, we need data.'"
To capture those metrics, and "dig deep," enthuses Lazar, We Are Moving The Needle has partnered with Jaxsta and joined forces with a coalition of organisations such as Women In Music, SoundGirls and shesaid.so on Fix The Mix, an initiative with a goal to streamline the process of finding and connecting with recording industry professionals who identify as she/her and they/them.
More meaningful data will come, but education and allies are paramount.
Lazar found both in studio owner John McBride, the husband of country star Martina McBride.
McBride operates Blackbird Studio in Nashville, and, several years back, explored the idea of Blackbird Academy, a school to preserve and promote the art of recording.
"He was a pioneer in making sure that this would continue and this legacy would be here for all of us, and that people would really have the skills," recounts Lazar. "And historically, it was a career that was apprentice-based. So you really needed that mentor to look up to and learn from."
There was one glaringly obvious issue.
McBride reached out to Lazar with a proposal. "He called me randomly, and said 'You're a woman in this industry. And one of a few handful. I haven't had a woman apply to come to school in a few years.'" The question was asked, in the politest possible way, "Do you have access to these women? Because I can't find them."
The response was a resounding yes. "We had a great conversation and discussed it. He said, 'I'll give you scholarships,' and I was like, 'done.' And I said, 'you're gonna give me two scholarships at a time because I don't want any woman to be the only woman in the room alone anymore, because that was where I was all the time.'"
Scholarships and grants are now awarded to music technology and recording programs at academies, colleges and universities, and recipients can get their hands on donated recording equipment, support from its mentorship program and apply for dedicated internships and entry level positions.
Two years after launch, the organisation has granted over $300,000 in scholarships. 
If you're looking for a feel-good story, Lazar has them.
Los Angeles-based audio engineer, mixer and keyboardist Andrea Roberts entered the program, and was tapped for Mix with the Masters, an initiative which offers hand-on expertise at a chateau studio in the south of France. She went, she came home and, recently, walked the Grammys red carpet as a nominee on Beyonce's Billboard 200 leader Renaissance as a Pro Tools engineer.
"So that works. We just moved the needle. And just adding one person when the stats are so low, actually changes things, right?" says Lazar. "Even just adding one makes that number jump, because it's so ridiculously low."
Lazar's ambitions don't end there.
Her goal is, in 10 years "to be at 50-50 (male-female) and of that 50% being non-white. "People just need solutions," says Lazar. "It's very easy to do this, if we want to do it."
Read more at wearemovingtheneedle.org.
The Music Network
Get our top stories straight to your inbox daily.