Sonos Presents New 'Era' Spatial Audio Speakers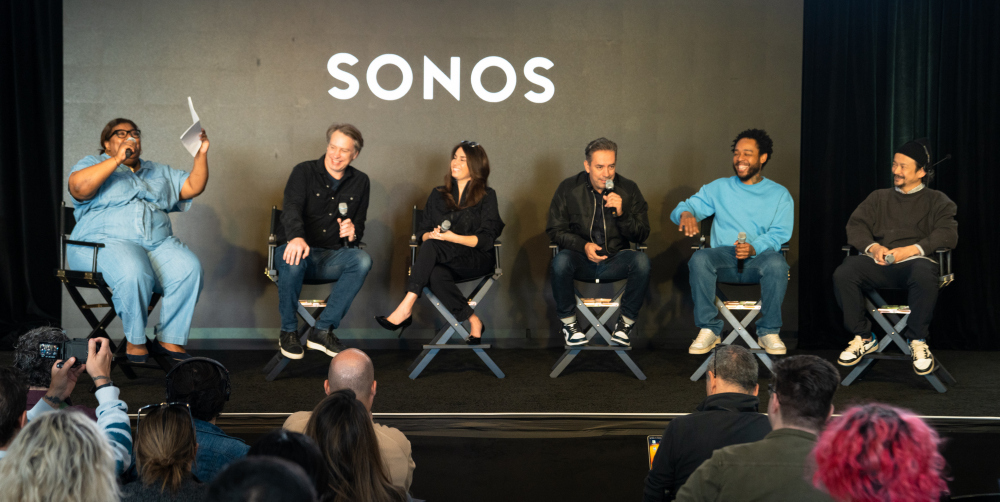 The spatial audio movement has a powerful new advocate in Sonos, the wireless home sound system specialist which today (March 8) unveils its next generation of "immersive" smart speakers.
The Santa Barbara, California-based tech business presents two new additions to the Era family, devices that unlock the studio sound and bring it home.
The jewel of its new product rollout is the Era 300 (US$749), an in-the-house spatial audio speaker featuring Dolby Atmos in an hourglass design, along with Era 100 (US$399), a remastering of the best-selling Sonos One, a device promising next-generation acoustics, stereo sound and deep bass.
Spatial audio is fast becoming a primary format for premium sound amongst artists, producers and engineers.
Creators and audiophiles love it, and streaming giants Apple Music and Netflix have already taken the leap.
Sonos presented its new kit to media last month at its SoCal headquarters, by way of a mini-conference with product demos.
Speaking on stage for a discussion on the "sonic revolution," Grammy Award-winning mixing engineer Manny Marroquin told guests that spatial audio represented "an opportunity" for artists and the consumer.
"It's not going to replace stereo," he explained. "It gives us more colours to play with. Whatever emotion you're trying to express, you can shoot it with steroids."
Other guests on that panel session included award-winning studio professionals Emily Lazar and Giles Martin.
Those spatial audio steroids create an immersive, 360-degree experience, which enables the listener to cut through and locate sounds that, previously, were lost in the mix.
The creative community appears to be all-in.
On Billboard's Year End Chart, 85 of those 100 artists have released music in Dolby Atmos.
Netflix, meanwhile, is bringing spatial audio to 700-plus titles for premium subscribers, through a separate arrangement announced earlier this year with Sennheiser.
And since Apple Music officially launched spatial audio on its platform in June 2021, its subscribers have tuned in – over 80% of them, according to Apple.
With its latest rollout, Sonos also announces it'll add support for spatial audio on Apple Music from later this month, completing the end-to-end experience.
The streamer's spatial catalogue will be compatible with Sonos Era 300, Arc, and Beam (Gen 2) from March 29, 2023 in Australia and New Zealand.
In the lead-up to today's drop, a raft of artists, producers and engineers posted content across their Instagram channels hinting that something is coming, including Terrace Martin, Emily Lazar, Arca, Australian recording engineer Stefan Du Randt (Studios 301) and Grammy winning, Sydney-based producer Eric Dubowsky, and has worked with Flume, Odesza and Teskey Brothers.
"This speaker," Marroquin enthused about the Era 300, "is a true representation of what the future is about."
Read more here. 
The Music Network
Get our top stories straight to your inbox daily.