Michael Chugg on How Elton John's Farewell Tour Could Make History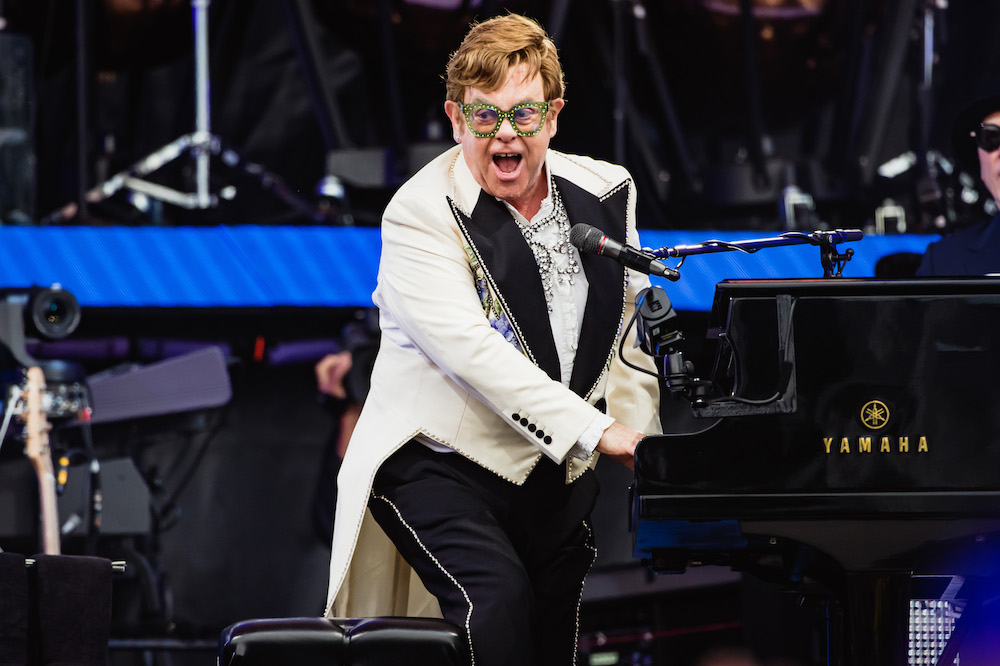 Image: Photographer: Ben Gibson / Supplied
The global Elton John Farewell Yellow Brick Road tour is on track to enter the live music history books in Australia and New Zealand, TMN can reveal.
Chugg Entertainment, Frontier Touring and AEG Presents this morning announced that he's doing a fresh run of dates in January 2023 in this part of the world.
In addition to two rescheduled Auckland shows – postponed from the first leg when John was struck with pneumonia – there are five new encore gigs in Newcastle, Melbourne, Sydney, Brisbane and Christchurch.
The first leg shifted 705,000 tickets in Australia and New Zealand, according to Frontier, from 34 Australian and six NZ dates over three months.
Michael Chugg told TMN that the new shows amounted to a further 170,000, bringing the Farewell Yellow Brick Road tally to 875,000.
He has no doubt that the shows will sell out, citing the loyalty of his audience.
"Elton's a great entertainer, his shows are fantastic. He delivers," Chugg said. "He has this incredible rapport with the audience where he thrives on them and they thrive on him.
"Once you see Elton, you most likely will go and see him again. People could have got refunds for those two postponed Auckland shows but 35,000 held on to their tickets."
The list of the biggest concert tours in Australia and New Zealand, in terms of ticket sales, is topped by Ed Sheeran who in 2018 played to 950,000.
Until then the record was Dire Straits' Brothers In Arms 1986 tour with 900,000 tickets.
John's tour would then slip into third place.
In 2017, Adele moved 730,000 tix, of which  600,000 were at eight Aussie stops and 130,000 at three shows at Mt Smart Stadium in Auckland.
AC/DC's Black Ice 2010 tour pulled 710,000, made up of 600,000 at 12 Australian shows and 110,000 at two NZ dates.
Pink's most successful local trek was in 2018 with the Beautiful Trauma World Tour totalling  559,361, according to Billboard.
By the end of this tour, John will have played 233 concerts in Australia – the third most for any country outside the U.K. and U.S.
With two rescheduled dates at Auckland's Mt Smart Stadium on January 27 and 28 2023, the piano man plays a final NZ show on January 24 at Orangetheory Stadium in Christchurch.
He starts his Australian encores, on January 10 at McDonald Jones Stadium in Newcastle.
"Weirdly he's played a lot of shows in the Hunter Valley but he has never in Newcastle," Chugg said. "So we decided on the Newcastle Stadium. It'll be the first concert there in 32 years since we did the Newcastle earthquake benefit concert."
The January 13 show at Melbourne's AAMI Park is his 56th concert in Victoria.
The Allianz Stadium on January 18, is his 86th concert in NSW and 75th in Sydney.
Finally, John will make his Australian curtain call at Brisbane's Suncorp Stadium on 21 January – his debut show at the venue and 36th  Queensland concert overall. ​
Farewell Yellow Brick Road began in September 2018 and winds up in London in April 2023.
He grosses U.S. $1.4 million per tour stop, according to Pollstar.
The initial 300 shows across five continents were alone meant to gross $420 million.
His management team, David Furnish and Rachael Paley, were recently lauded at the Music Week Awards 2022 in the Manager Of The Year category for their work on the tour.
The star is on the cover of the UK trade's August issue, declaring, "I want to go out in a blaze of glory."
Currently on the road in North America, he performs his final U.S. concert at Los Angeles' Dodger Stadium on November 20. ​
The show will be filmed for a Disney documentary titled Goodbye Yellow Brick Road: The Final Elton John Performances And the Years That Made His Legend directed by Furnish and R.J. Cutler.
He then heads to Australia with husband Furnish and their sons Zachary and Elijah.
"The reason he's coming is that (a) he had to honour those NZ shows and (b) he's bringing his children to Australia for Christmas holidays because they loved it so much", Chugg told TMN.
The Music Network
Get our top stories straight to your inbox daily.