Elton John and Britney Spears Duet 'Hold Me Closer' Debuts at No.1 on the ARIA Charts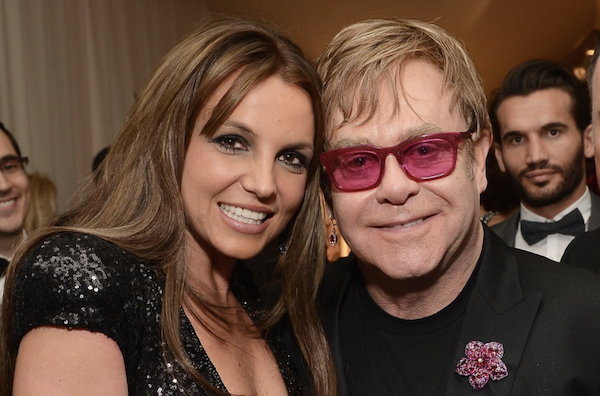 Elton John & Britney Spears' collab "Hold Me Closer" debuts at No.1 on the ARIA Singles Chart this week, notching up the Australian tally of chart-toppers for both.
A contemporary twist on John's "Tiny Dancer," it's the fourth No.1 for the piano man and his 21st Top 10, and the sixth for Spears.
John initiated the duet, saying he understood the trauma in her life after going through similar issues himself.
"Hello, Sir Elton John, we are, like, number one in 40 countries," Spears said in a message to John. "Holy shit! I'm in the tub right now, and I'm about to have the best day ever. I hope you're well."
John's latest achievement comes nine months after "Cold Heart" (PNAU Remix), with Dua Lipa, also bowed at the top spot, staying there for 10 non-consecutive weeks and achieving 6 x Platinum status.
John was then aged 74 years, 7 months and 14 days. It made him the oldest to hit the ARIA Singles summit, overtaking Paul McCartney.
"Cold Heart" (PNAU Remix) this week also goes back up the chart, to No.12 and marking 54 weeks in Top 20.
John's "Diamonds' Greatest Hits" collection also returns into the top 20; the "Platinum" album has stayed in the Top 40 since May 2019.
John's first Aussie chart-topper was "Don't Go Breaking My Heart" with English singer Kiki Dee in August 1976.
He and songwriting partner Bernie Taupin wrote it, under the pseudonyms Ann Orson and Carte Blanche, as a tribute to the great Motown duets.
They had Dusty Springfield in mind but ill health forced her to pull out.
In honour of their success, he gave Dee a gold heart necklace with the song title engraved on it.
In June 2013, 37 years after its original release, the single reached one million sales in the U.K.
John wouldn't hit the Aussie summit again until September 1997, with "Candle In The Wind 1997"/ "Something About the Way You Look Tonight".
"Candle In The Wind" emerged in 1974 on the "Goodbye Yellow Brick Road" album.
It was written about the short life of actress Marilyn Monroe, but it was inspired by an obituary headline for US blues singer Janis Joplin who overdosed on heroin in 1970 at the age of 27.
Coupled with "Bennie And The Jets", it reached No.5.
When "Candle In The Wind" was reworked after the death of Diana, Princess of Wales, it sold 33 million worldwide and by 2012 raised £38 million (AU$64.2 million) for her charities.
It went 14 x Platinum for sales of 880,000 in Australia, the biggest selling single at the time.
A live version with the Melbourne Symphony Orchestra, recorded at the Sydney Entertainment Centre on December 14, 1986, was issued on John's "Live In Australia" album which charted in Australia, the U.S. and the U.K.
Elton John almost had another chart-topper, reaching No. 2 with "Crocodile Rock".
"Nikita", "I'm Still Standing", "Don't Let The Sun Go Down On Me" (with George Michael) and "Lucy In The Sky With Diamonds" went to No.3.
"Blue Eyes", "Sad Songs (Say So Much)", Philadelphia Freedom", Goodbye Yellow Brick Road" and "I Guess That's Why They Call It The Blues" peaked at No.4.
Britney Spears' first Australian No.1 was with her blaze-of-glory debut single in 1999 with "…Baby One More Time."
She was 16, the video featuring her swishing around in a schoolgirl uniform helping it sell 30 million copies and reaching No.1 in dozens of places including the U.S.
It was first offered to girl band TLC, but they were uncomfortable with the "hit me" lyric.
Written by Max Martin and co-producer Rami Yacoub, they meant it to mean "call me."
The duo was also responsible for "Whoops! I Did It Again".
It was covered by everyone from Finnish death metal band Children of Bodom to a German cabaret rendition by Palast Orchester and a medieval take by guitarist Richard Thompson.
"Me Against The Music" (2003) with Madonna, about the joy of being on the dancefloor, receive mixed reviews but stayed on top for 2 weeks and took out Hot Dance Single of the Year at the 2004 Billboard Music Awards.
Kylie Minogue turned down "Toxic" (2004) when offered it for the "Body Language" album by Swedish writers/producers Bloodshy & Avant.
"Everytime" (2004) was written by Spears with backup singer Annet Artani in Lombardy, Italy.
According to Artani, it was written as a response to Spears' ex-boyfriend Justin Timberlake's "Cry Me A River".
The Music Network
Get our top stories straight to your inbox daily.