Ed Sheeran Smashes MCG Record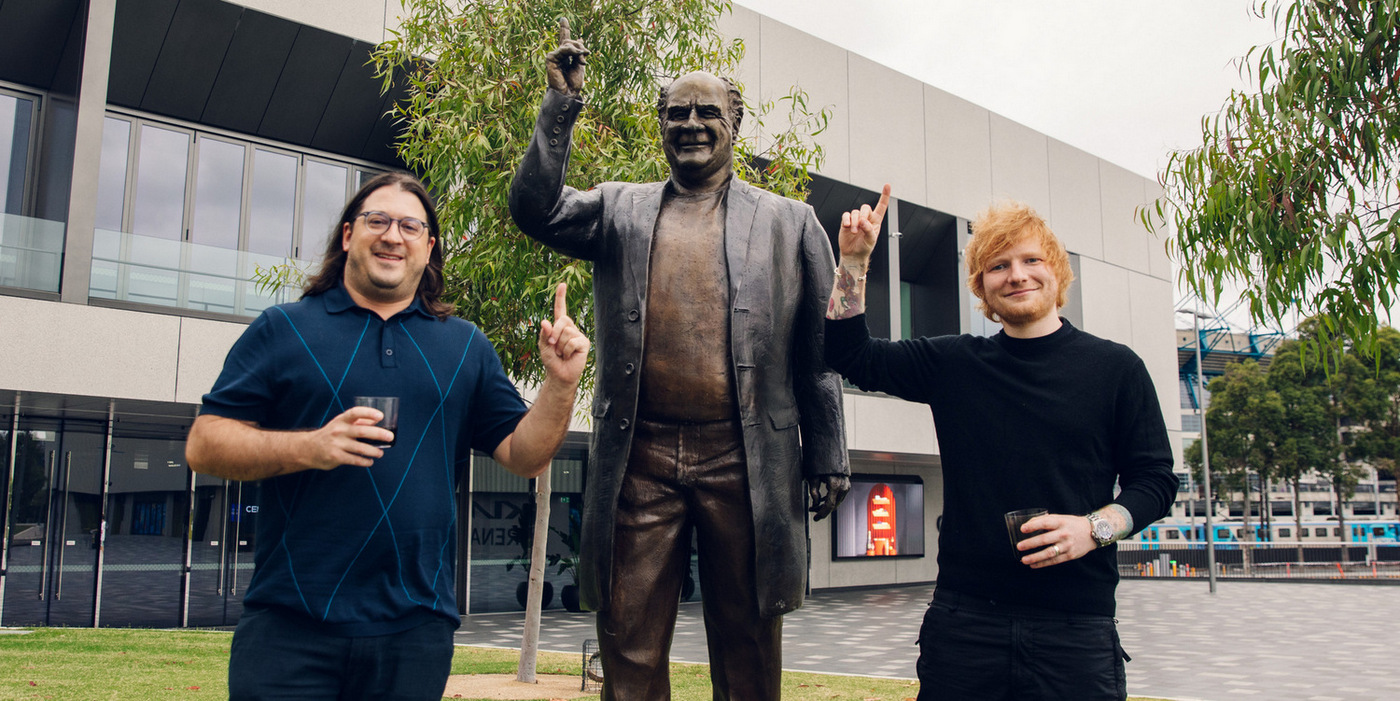 Ed Sheeran's latest tour of Australia is inked in the record books.
As the British pop phenomenon works his stuff in stadiums around the nation, he destroys the record for tickets sold to an Australian concert.
The venue is, of course, the imposing Melbourne Cricket Ground where Sheeran has shifted upwards of 107,000 tickets for Friday night's (March 3) concert.
That's the second of a two-night stand at The G, with Thursday night's show passing 100,000 tickets and counting.
"Ed loves to break a record and he's smashed this one," says Matt Gudinski, CEO of Mushroom Group, in a statement.
"It's phenomenal that more than 200,000 people will see this amazing show at our iconic MCG. Melbourne is set for two incredibly special nights with one of the greatest performers ever."
Every stadium act is looking for a unique stage configuration. #EdSheeran nails it with his Lazy Susan setup, his bandmates isolated at four points. Birthday bloke gave us a sweet moment Friday night with his tribute to MG, "Visiting Hours." Many sniffles where we was stood… pic.twitter.com/krbPByxLLO

— Lars Brandle (@larsbrandle) February 18, 2023
Sheeran and Gudinski celebrated the feat with a special visit to the permanent statue of Michael Gudinski and by raising a glass to the legendary, late Mushroom Group founder, one of Sheeran's besties and father of Matt.
The lifesize statue of MG facing Melbourne's Rod Laver Arena was unveiled in March 2022, and depicts the independent music giant in a familiar pose — giving his No. 1 salute.
"Toasting a 707 to the big man ahead of playing the biggest ticketed shows ever in Australian history this weekend. We miss you, you finally got me playing MCG in the round," writes Sheeran on his social channels.

When Sheeran is done entertaining the MCG, his + – = ÷ x Tour of Australia and New Zealand moves on to Adelaide Oval (March 7) and wraps up March 12 at Perth's Optus Stadium, the final in a 12-date trans-Tasman trek.
Frontier Touring, a division of Mushroom Group, is again producing the domestic leg of Sheeran's tour.
When both parties get together, records tumble.
Sheeran's Divide tour Down Under in March 2018 shifted more than one million tickets, smashing Dire Straits' decades-old record of an estimated 900,000 ticket sales from their 1986 Brothers In Arms tour, and set a new mark for the number of stadium shows on a single tour by a solo artist (14). 
Final tickets are now on sale for Sheeran's Thursday night show in Melbourne, according to Frontier Touring, with "very limited" tickets also still available in Adelaide and Perth.
The Music Network
Get our top stories straight to your inbox daily.