Digital Chart Wrap: FourFiveSeconds takes top spot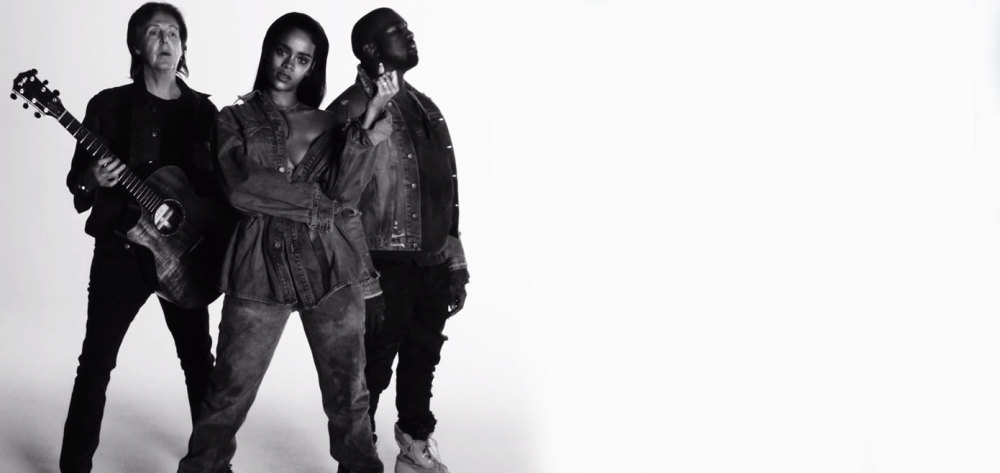 Replacing OMI's Cheerleader at #1 on the Shazam 100 this week is Rihanna, Kanye West & Paul McCartney's FourFiveSeconds, which moved up from its high debut point of #2 – OMI now sits at #2. Making the small but significant jump from #5 to #3 is Robin Schulz's Sun Goes Down featuring Jasmine Thompson, a new peak for the track. Philip George hits a new peak at #4 with Wish You Were Mine at #7 as does Hayden James' Something About You at #8 from #14 and Ellie Goulding with Love Me Like You Do, which is up at #9 from #30. The most notable new debuts in the Shazam 100 come from Gary & Carol Bibb's Real Love at #23, David Guetta's What I Did For Love at #27 and Mucles' Koala at #30.
Mark Ronson still holds #1 on the ARIA Streaming chart with Uptown Funk featuring Bruno Mars, though it is followed closely by OMI's Cheerleader,now up at #2 from #3. It's hard to say whether or not OMI's track can topple Ronson as it looks as if the recent hype around the track is dying down. The same can be said for Uptown Funk however, so we'll just have to wait and see. Up at a new peak of #4 is Sia's Elastic Heart. Also hitting a new peak this week is Chet Faker's Talk Is Cheap;still reapingthe benefits of his Hottest 100 success he's likely to climb even further with a national tour just around the corner keeping him even more relevant. Up at #8 from its debut position of #19 is Maroon 5's Sugar, which is seeingshared success across the sales and airplay charts. A new debut comes from Ellie Goulding at #10 with Love Me Like You Do,which will no doubt break the Top 5 in coming weeks if the airplay chart is anything to go off. Peking Duk's High is up at #16 from #28, also feeding off of the recent spotlight shone on it by the recent Hottest 100.At #29 is one other debut, this time from Chet Faker with Gold, which is followed by a string of re-entrys from Vance Joy at #32 with Mess IsMine, Faker again at #36 with1998 and Zhu's Faded at #40.
If you're already a Charts Pro subscriber, click here to view this week's Shazam 100 and ARIA Streaming charts.
Not a Charts Pro subscriber? You can upgrade your account here.
The Music Network
Get our top stories straight to your inbox daily.