Chart Wrap: Uptown Funk takes #1, Hellions debut highest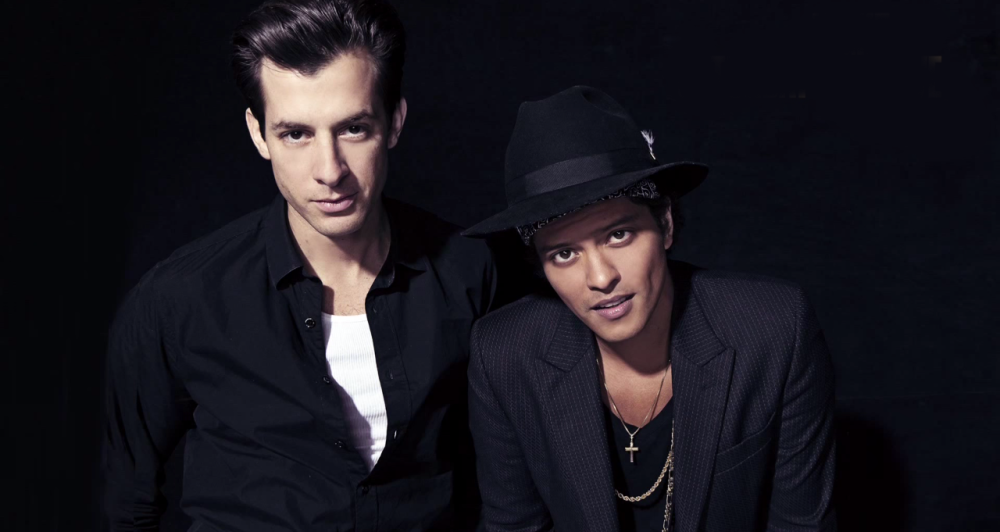 HOT 100
This week sees Mark Ronson's hard work battling it out in the Top 5 come to fruition with Uptown Funk featuring Bruno Mars. The track isthe new #1 on the Hot 100. After nine weeks in the chart, eight of those in the Top 10, the track has finally surpassed the likes of Taylor Swift's Blank Space(now at #5) and Hozier's Take Me To Church(pushed to #3 this week). At #2 this week however is the track likely to dethrone Ronson should the ridiculous amounts of airplay it's receiving continue through the next few weeks, and that is OMI's Cheerleader. Hitting the Top 10 and reaching a new peak this week is Sia's Elastic Heart which is at #7 from #17, her first single this year, and the first since Chandelier earlier last year. Also making an entry into the Top 10 is Rihanna, Kanye West & Paul McCartney's FourFiveSeconds which makes the leap from #44, one of this week's most moved tracks.
Other movers this week are Joel Fletcher's State Of Emergency,which hits #37 from #62 but still has some way to go in beating his previous singles Loco (HP #21) and Swing (HP#9). Chet Faker continues his success up the Top 50 this week landing at #42 from #53, the highest this track has hit on the Hot 100 as well as any other Chet Faker track for that matter with his previous best being #47 with his Flume collaboration, Drop The Game. Up at #63 from a debut of #88 is Tove Lo's Talking Body, which although serviced months ago, is looking like it will see at least some chart success in the coming weeks. The most moved track this week lands at #31 from #91;Ellie Goulding's Love Me Like You Dois only in its second week on the chart. Expect to see this track pop up quite a few times in the coming weeks.
The Hot 100 sees a healthy dose of new debuts as well this week. First, entering at #29 is The Veronicas' Cruel, followed by Nick Jonas' Jealous at #35, Troy Ave's Doo Doo at #40, Steve Aoki & Moxi's I Love It When You Cry at #50 and David Guetta's What I Did For Love at #60. Timomatic's Parachute reenters at #66,and Childish Gambino's Sober at #68.
ARIA Singles
This week sees OMI's Cheeerleader hold #1 for its third week in a row while Mark Ronson's Uptown Funk featuring Bruno Mars sits at #2 for it fifth week in a row. Up 10positions to #3 is Rihanna, Kanye West & Paul McCartney's FourFiveSeconds, a new peak for the track. It also becomes Rihanna's 21st time in the Top 10 as a lead artist. Up at a new peak of #11 is Taylor Swift's Style, up from #17. Should it break the Top 10 next week it will be third single taken off of 1989 to do so. Maroon 5's Sugar hits a new peak at #13 in its third week on the chart and is set for a Top 10 entry next week. Two new debuts dot the end of the chart with Something About You by Hayden James debuting at #49 and Daniel Johns' Aerial Love entering at #50.
ARIA Albums
For nine weeks interrupted now Taylor Swift's 1989 has sat at the top of the ARIA Albums chart. Ed Sheeran's Xpushes back up to #2 from #3 while Meghan Trainor takes its place at #3 up from #4. At #7 from #11 is Sia's 1000 Forms Of Fear which notches its sixth week in the Top 10. At #13 is a re-entry from Flight Facilities' Down To Each, becoming the Sydney electronic act's eighth week in the Top 50 and is no doubt related to the duo's recent tour across the country as one of Laneway Festival's headline acts. The first new debut this week comes from Western Sydney's Hellions with Indian Summer, the second LP to be released by the hardcore outfit becomes UNFD's second Top 50 entry for 2015. The finalnew debut comes from Title Fight's Hyperview, which enters at #50.
Click here to view the charts.
The Music Network
Get our top stories straight to your inbox daily.