Carol Hughes joins inaugural Australian Festival Industry Conference lineup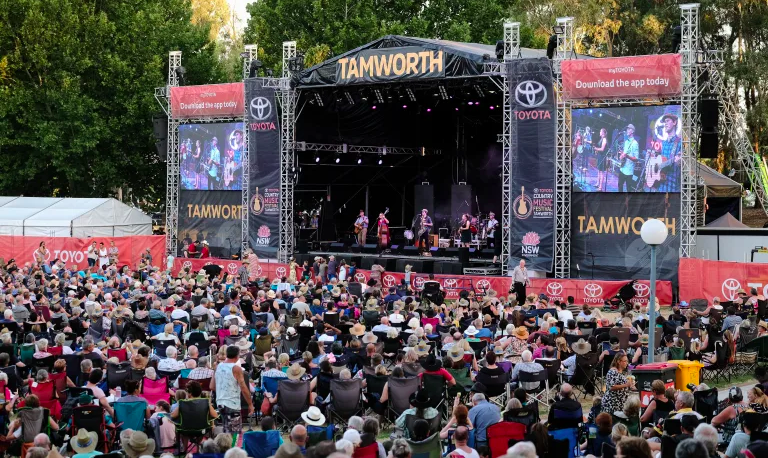 One of the largest and longest country music festivals in the world, the Tamworth Country Music Festival has joined the inaugural Australian Festival Industry Conference on October 24 & 25 in Coffs Harbour.
Carol Hughes, events officer at Tamworth Regional Council, will be presenting the festival's volunteer management program.
The program trains hundreds of volunteers to help coordinate and make it a pleasant experience for the
aggregated 300,000 visitors who come over ten days in January to see 700 artists performing at over 2,800 events across 120 venues.
The program provides many benefits and skills to its team, and Hughes will talk on how to the importance of volunteers at major events and how to source them.
TMN spoke with Hughes about the conference and how she sees the industry developing over the next 3-5 years.
---
Q: What are you most looking forward to at the inaugural Australian Festival Industry Conference?
Networking with other festival organisers, soaking up their best practice ideas, and learning as much as I can from them.
Q: What panels, performances or events are on your 'must-see' list for this year?
I have a long list but to narrow it down I would say: former SXSW coordinator) Phil Tripp because of his extensive experience in the festival industry; Jon Corbishley (The Safety Officer) because crowd safety management is of the utmost importance at any festival; Dan Heather (Coffs Harbour City Council's section leader, stadium and major events) due to his extensive experience not only running, but expanding major festivals, and his well-rounded knowledge of major event stakeholder management; and Sam Wild (Create NSW) because we're always trying to think of new ways to obtain funding!
Q: How important are events like AFIC to the continuing development of our industry?
I think the AFIC could be a huge contributor to pulling together the vastly different festivals we each work on. 
Potentially lobbying to create a high standard level for festivals that follow the rules. 
By this happening it might be easier to attract sponsorship and funding. 
"AFIC going forward could potentially be a voice to enhance all festivals and events in Australia.
Q: What are the biggest challenges facing Australian festivals today?
A: I would put obtaining sponsorship and funding as the biggest challenge, along with safety of festival-goers.
Q: How can we future-proof the Aussie festival industry?
A:  I think conferences such as the Australian Festival Industry Conference is a great place to start.
Q: What new technologies or innovations should we be celebrating or looking forward to?
A: Innovative ticketing and registration systems – digital entertainment and live streaming to name a few.
Q: What are your big predictions for the festival industry over the next 3-5 years?
A: An increase in collaboration and connection among festival organisers and industry associations.
---
To view the full AFIC program or to purchase tickets, visit australianfestivalconference.com.au.
The Music Network
Get our top stories straight to your inbox daily.