Money at work! Australia's most alluring music-based lawsuits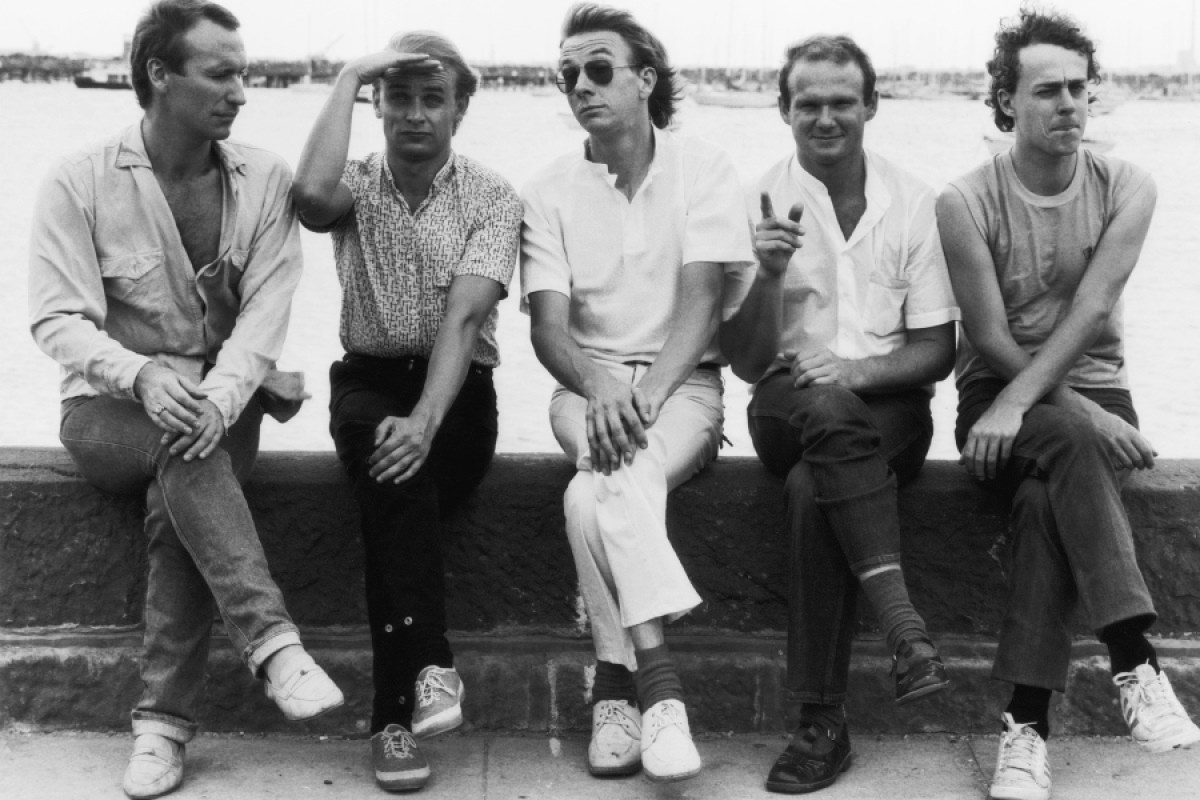 We live in an increasingly litigious society, and the music industry has seen more than its fair share of high profile legal cases in recent years, often based on the merest resemblance to a three-note hook, or a common drum pattern. 
Not all music lawsuits are so boring. I've decided to highlight a few of the most interesting lawsuits in Australian music. This is just a sample shot; a few interesting stories you may or may not recall. 
Here's a bonus one about Katy Perry being sued by an Australian fashion designer, after a decade of tussling over a name that neither of them owns. 
---
MEN AT WORK VS. THE CORPORATE OWNERSHIP OF YOUR CHILDHOOD MEMORIES
"What children's song is contained in the song 'Down Under'?"
The answer is 'Kookaburra Sings In The Old Gum Tree' or 'Kookaburra' as it's officially titled.
This question was posed by Adam Hills on an otherwise inconsequential 2007 episode of Spicks and Specks, the ABC music quiz show. It referred to the song's prominent flute riff, which does bear a passing resemblance to the children's classic. None of the contestants on the show, including members of both Hi-5 and The Wiggles, could answer the question correctly. 
Soon after the episode aired, this little trivia nugget came to the attention of Larrikin Music's manager director Norman Lurie. Now, Lurie probably wouldn't have been able to answer the question correctly, either, but his company did own the rights to 'Kookaburra.'
'Down Under' was released in 1981, and sold two million copies in America alone. It went to #1 in Australia, New Zealand, the UK, Canada and the US, and is a staple of Australian culture. It had earned a lot of money for its two songwriters, Men At Work's frontman Colin Hay and guitarist Ron Strykert, and continues to be a valuable asset. Lurie felt that, given the flute line's supposed origins, Larrikin Music was entitled to a piece of this asset.
Larrikin bought the rights to the song back in 1990 for just $6,100. It was part of the deceased estate of Melbourne school teacher Marion Sinclair, who wrote the song in 1932, and debuted it at a Girl Guides Jamboree two years later. It wasn't until 1975 that she officially registered it with APRA, and she never chased royalties for the song, which had been part of the national fabric for over half a century; widely used and rarely paid for.
This is where Larrikin came in. They swooped on the rights and started tracking down companies who had mistakenly assumed the song was in the public domain. It was a fairly small-time operation for years, with Lurie mostly hitting up companies who had published the song's sheet music in books teaching primary school kids to play the recorder. That was until Spicks and Specks exposed a more lucrative income stream for the song. 
Larrikin was initially after 60% of Down Under's copyright, which writer Colin Hay called "a ludicrous thing."
In a 2015 documentary about his life, Hay said: "Surely we could have figured it out without going to court. But then I think about it and well, if somebody wants 60% of your song and there's two bars of their song, it just didn't make any sense. So you have to defend it."
Larrikin ended up being awarded 5% of the song's profits, only backdated to 2002. Given the album featuring the track sold six million copies back in 1982, things could have gone a lot worse. 
Men at Work appealed the decision and lost. Larrikin won an estimated $100,000 in royalties, although Hay estimates they spent millions in legal fees.
"So they didn't really win, they just lost less than us."
Unfortunately, the ramifications weren't merely financial. Greg Ham, the flautist who unconsciously copped the Kookaburra riff took the decision hard, sliding into heavy drug use and depression. In 2010, Ham was openly concerned about his legacy, telling The Age, "I'm terribly disappointed that that's the way I'm going to be remembered – for copying something."
In April 2012, Ham's body was found in his North Carlton house. He was 58.
"Gregory felt terribly guilty about having played the line, unconsciously or not, he goes downhill and can't seem to conquer whatever demons were going on," Hay remembered in 2015.
"And he goes, he dies. It's blood, it's people you love who you're losing over this litigation."
---
TAME IMPALA'S MISSING MONEY 
During a 2015 Reddit AMA, Kevin Parker answered a question about fans stealing his music with a winding story about the declining financial value of music, and his formative years spent listening to burnt CD-Rs and dodgy MP3s. He then pivoted.
"You want to know a story? Up until recently, from all of Tame Impala's record sales outside of Australia, I had received … zero dollars. Someone high up spent the money before it got to me. I may never get that money. Then Blackberry and some tequila brand or something put my song in an ad. Then I bought a house and set up a studio".
Could this be true? Zero dollars in international royalties. 
At that stage, Currents had sold half a million copies in American alone. 2012's Lonerism had reached the top 40 in the UK and the US, and the album sold well across Europe.
The seemingly tossed-off anecdote was picked up by the international press, and soon it emerged that BMG had filed a lawsuit against the band's ex-label Modular, seeking $450,000 for missing royalties owed to Kevin Parker. 
Speaking to Billboard's Lars Brandle, Modular founder Steve 'Pav' Pavlovic explained:
"The issue arose out of an unfortunate misunderstanding due to their being different ways of calculating and paying mechanical royalties in the US compared to the process we were used to in the U.K. and Australia. We didn't realise that the different statutory process in the US required Modular to deduct and pay the artists' mechanical royalties directly."
He also spoke about "substantial advances" paid to Tame Impala over the four year period at the start of their career, adding, "it is simply not correct to say that Kevin has never received a cent from sales internationally because advances are just that– an advance payment against future royalties and Kevin has been the recipient of considerable international advances from BMG, Universal and Modular."
The suit was settled out of court for an undisclosed amount, "a fraction of what has been reported in the press", Pavlovic noted.
"Now that his international mechanical accounting has been resolved I remain committed to doing whatever I can to move my side of things forward as speedily as possible," he added.
"I've obviously got a lot of regard and respect for Kevin and think he's one of the most talented musicians I've ever had the pleasure of working with. I also appreciate that these matters are complicated and often not well-captured in the press and passing online commentary."
So there!
---
AUSSIE METAL BAND'S ENTIRE CD SHIPMENT SEIZED BY CUSTOMS
Let me introduce you to Tasmanian metal band Intense Hammer Rage.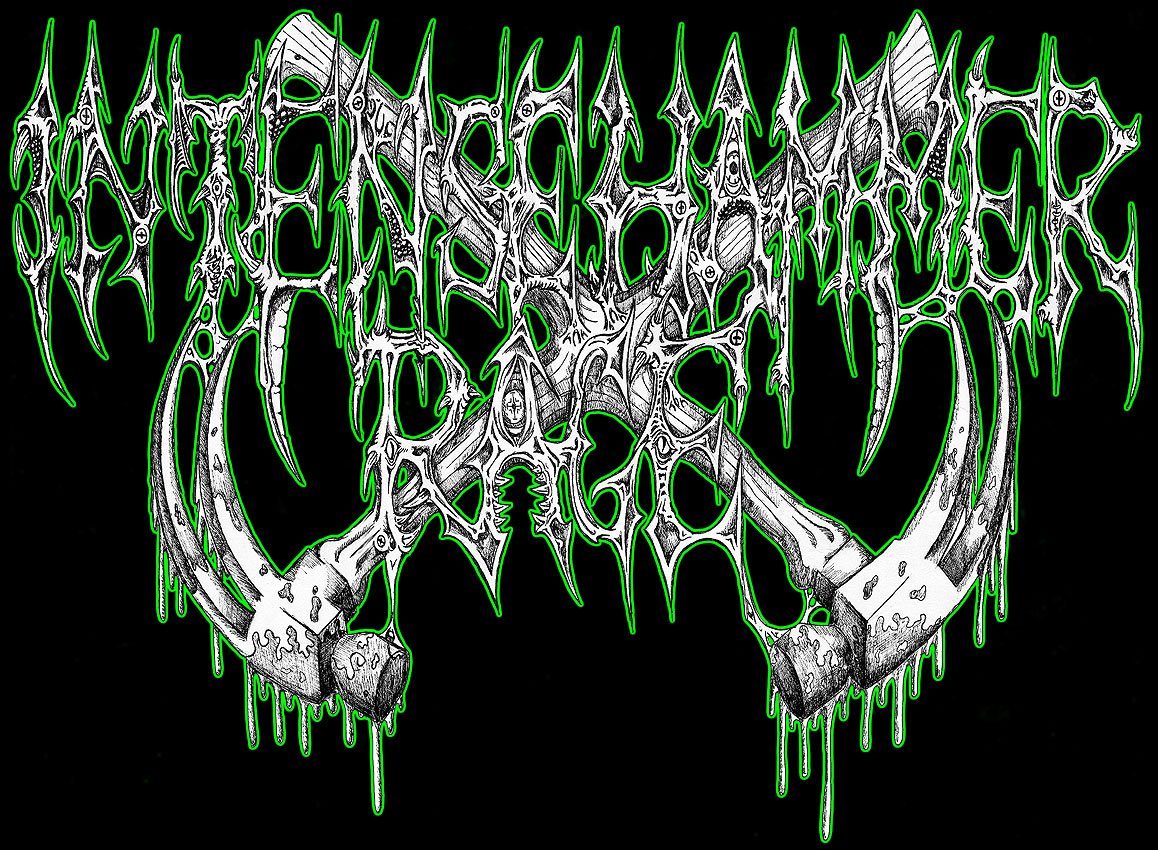 That's their logo above, harder to read than the Voynich Manuscript, looking like something a teenager would absentmindedly carve into a school desk with a compass. They have been playing since 1993, releasing albums with charming names like Devogrindporngorecoreaphile, DeathChunkCoreGrind, and In Gore We Grind. 
Their 2001 album Ayagoyamugs was manufactured and released by New York label Razorback Recordings, who sent 207 copies over to the band, for distribution in Australia. Customs officers took one look at the CD – which featured songs named 'The Corpse In Question Didn't Say No', 'Homesick Abortion', 'My Fist Her Face Same Time Same Place', and 'The Art Of Fucking Kids' (Pedophile In Practice)' – and promptly said "fuck, no".
The descriptive lyrics printed in the booklet didn't help matters either. Customs seized the albums, and the band later pled guilty to importing a prohibited product. One of the members of the band was also charged with "possessing a child abuse product", which no doubt limits future job opportunities.
Their lawyer argued unsuccessfully that the CDs were able to be bought over the counter in the US, so should be available in Australia, too – not a solid argument given you can buy firearms at Walmart. The three members were fined $500 each and the CDs were destroyed. 
This misfortune didn't stifle the creativity of Intense Hammer Rage. They released two further albums since, which feature tender songs such as 'Ballad Of A Burn Victim' and 'Reach Out And Cut Somebody'.
---
FLO RIDA SINKS A LONG-STANDING AUSSIE TOURING COMPANY
In 2011, Newcastle's Fat As Butter was riding high as one of the biggest regional festivals in the country. Eleven thousand eager punters were surging towards the stage to watch the Fat as Butter headliner Flo Rida. Then, a few minutes after he was scheduled to perform, Flo Rida just pulled out of the event.
An announcement boomed out from the speakers. "Flo Rida has slept in and will not be able to make the concert." Not surprisingly, this excuse didn't exactly placate the furious fans, who demanded refunds.
Promoter Mothership Music decided to sue Flo Rida, (real name: Tramar Dillard) for $380,000 in lost revenue and reputation, plus $20,000 in court costs. Problem was, they served him the court summons via email and Facebook. 
Not surprisingly, Dillard didn't turn up to the appointed date, and Mothership were awarded the full $400,000 in damages. Flo Rida simply didn't pay. The decision was later overturned, and Mothership found themselves sinking. After the ruling, Mothership released a defiant statement, which read in part.
"Flo Rida is still a prime dickhead, and it would take a lot more than someone like him to stop this awesome festival."
Unfortunately, this didn't prove to be true. Mothership Music soon went into voluntary liquidation, with tax debts of close to $200,000 – plus smaller debts to various creditors, and despite announcing a 2014 Fat as Butter would go ahead – it didn't. 
---
JAY-Z IS NOT ABOUT LITTLE HOMIE, HOMIE.
As he told us himself, Jay-Z is not a businessman, he's a business, man. And a key component of his business strategy is protecting his intellectual copyright. So when he became aware of an Australian online store selling a hipster-friendly children's book named AB to Jay-Z, he wasn't having it at all. 
Jay-Z filed suit in Victoria's Federal Court last November, claiming that Sydney-based one-woman operation The Little Homie infringed his intellectual property. The book features a bastardised version of his '99 Problems' lyrics on the back cover, as well as literal use of his name and likeness.
The lyric in question reads "If you're having alphabet problems I feel bad for you son, I got 99 problems but my ABCs ain't one." Cute, but illegal.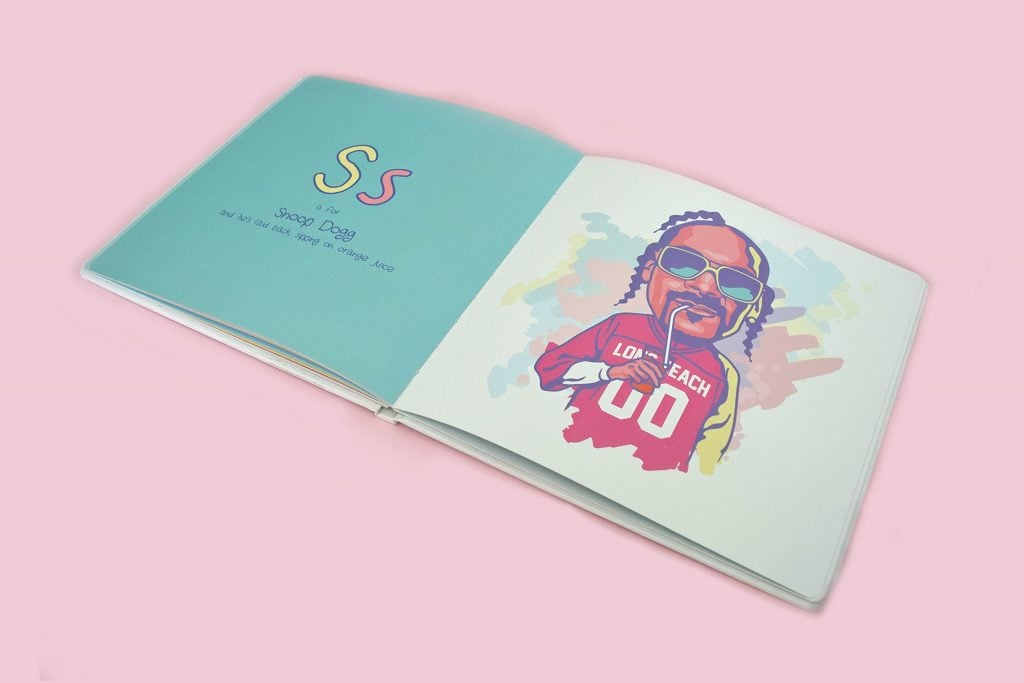 The Little Homie was set up by Jessica Chiha shortly after she became a mother. She sells a range of cute hip hop-themed clothing and books, aimed at "the next generation of hood rats" – or, more accurately, at their parents.
The suit claims that cease and desist letters have been sent to the online book and clothing retailer since 2017, but Chiha continued to sell the book.
The lawsuit claimed the book was "calculated to injure, has injured and is continuing to injure the reputation and goodwill of Mr Carter", which seems heavy-handed. 
A month later, Chiha's lawyers filed a defence calling the lawsuit "embarrassing in its present form."
The case is still pending, and the book is still available online with the disclaimer: "Any reference contained in this book to celebrities or public figures and their works does not constitute or imply the endorsement, recommendation or approval of those persons."
No doubt, Chiha's lawyer will explore the fact that Jay Z actually lifted the hook in question from Ice-T's '93 song '99 Problems', which is literally a laundry list of Ice-T's various 'bitches' and their defining attributes. It's not romantic.
Even if Chiha manages to dodge this suit,  I won't be surprised if we are soon tipping a 40 to the kerb for The Little Homie, considering other available titles include 'First 50 Words With 50 Cent' and '123 With The Notorious B.I.G'. 
---
LOVE IS MOST CERTAINLY NOT IN THE AIR
At 1977, during the peak of disco fever, hit songwriting team Harry Vanda and George Young wrote 'Love Is In The Air'. Popstar John Paul Young took it to #3 on the ARIA charts, #5 in the UK, and #7 in America. The song enjoyed a second wind in 1992 when it was featured in Strictly Ballroom, again reaching #3 in Australia. The song has since become a perennial gay pride anthem, a disco classic, and one of the most recognisable Australian songs of all time.
French audiences are probably more familiar with 'France Is In The Air', the hooky jingle from carrier Air France's 2015 media campaign. A memorising minute-long television ad features an altered version of 'Warm In The Winter', a 2011 single from Portland duo Glass Candy. Their song begins with the lyrics "love is in the air" in a similar melody to the 1977 classic. The jingle substitutes the words, "France is in the air."
"We say the material was deliberately copied" a barrister acting for Vanda and Young said in court, "with writers very familiar with 'Love Is In The Air', who had that song in mind when they composed 'Warm In The Winter'.
"There is also some evidence that the subsequent chordal structure of both songs is the same," Justice Nye Perram conceded. "I have listened to both songs and doing so arguably supports that view. I am satisfied, therefore, that there is a prima facie case."
The case is still pending. In the meantime, judge for yourself below.
The Music Network
Get our top stories straight to your inbox daily.