60 companies pledge support for Ausmusic T-Shirt Day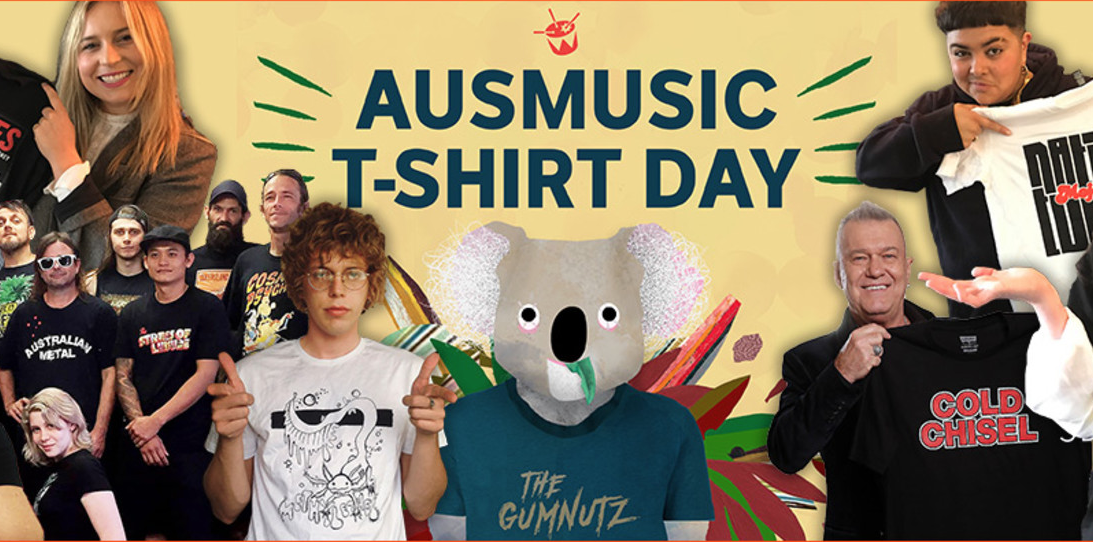 Over 60 companies in the Australian music industry have pledged support for Ausmusic T-Shirt Day this Friday (November 16) and raise funds for Support Act Ltd.
Regular supporters ARIA, PPCA, APRA AMCOS, Sony/ATV Music Publishing, Universal Music Australia, Chugg Entertainment and Live Nation have been joined by Jaxsta, Cooking Vinyl Australia, Creative Victoria, Media Entertainment and Arts Alliance, the Australia Council, Levi's, Young Henrys and major Melbourne live music venue, The Corner Hotel.
Artists and music workers such as Jimmy Barnes, Jack River, Julia Zemiro, Ruel, Fanny Lumsden, Not a Boy's Name, Mojo Juju, Isaiah Firebrace, KLP, Howard Freeman and The Rubens have also endorsed the campaign.
"This is an incredible initiative and one that everyone at EMI and Universal music is proud to support," said John O'Donnell, MD of EMI Music Australia.
"We live and breathe Australian music every day, but we don't often get the opportunity to demonstrate the commitment we have to the health and wellbeing of each other and the music makers who inspire us.
"We are delighted to come together with all facets of the music and wider business communities to support Ausmusic T-Shirt Day".
Sally Howland, chair of Support Act and advisor with APRA AMCOS added: "We are also really happy to see how our own staff, and the many artists we represent, are embracing Ausmusic T-Shirt Day.
"Not just as a way to celebrate Australian music and rep their favourite t-shirt, but as a way of ensuring that vital services such as the Support Act Wellbeing Helpline can continue to provide much needed counselling support for the many people struggling with anxiety and depression".
There is still time to show how much Ausmusic means to you and make a real difference to people in need.
Visit the Ausmusic T-Shirt Day website to make a donation or create a team and then post and share pics using the tags #ausmusictshirtday and @supportact.
Anyone who doesn't already have a band t-shirt is encouraged to jump online and quickly buy one from: BandTShirts, Sound-Merch, Mofoisdead, Support Act Store or the merch site of your favourite band.
The funds raised will help Support Act expand its new Wellbeing Helpline and continue to provide crisis relief to artists and music workers in need.
Ausmusic T-Shirt Day is an initiative of triple j, ARIA and Support Act.
The Music Network
Get our top stories straight to your inbox daily.