5 Seconds of Summer Light up For U.K. No. 1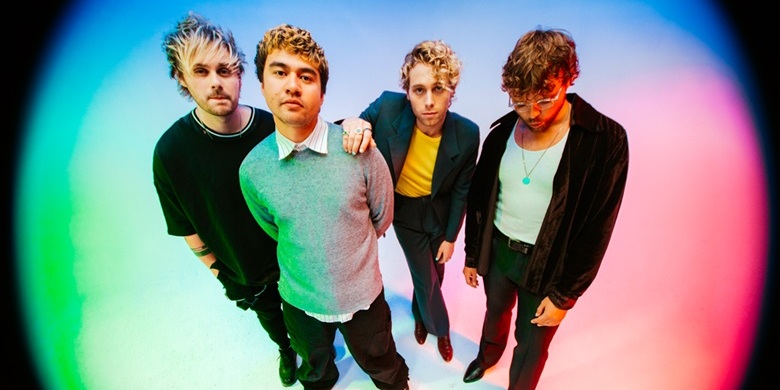 5 Seconds of Summer are the new kings of the U.K. albums chart, as 5SOS5 roars to No. 1.
It's the third time 5SOS has led the Official U.K. Albums Chart, after Sounds Good Feels Good (from 2015) and CALM (2020), their most recent effort.
The Australian pop-punk band completes a "photo finish" on the U.K. chart, which saw just 1,600 combined sales separate 5SOS5 from D-Block Europe's Lap 5, the No. 2-ranked title.
It wasn't a done deal on the midweek chart, which showed 5SOS5 had drifted to third place in a tight race.
The lads, however, came home with a wet sail.
Physical sales (78%) were the winner for 5SOS, the band's first album to be issued independently via BMG.
Luke Hemmings, Calum Hood, Ashton Irwin and Michael Clifford become the first Aussies to lead the U.K. chart in two years.
The last to do so was AC/DC, with Power Up from November 2020, and Kylie Minogue, whose Disco reached the summit a week earlier.
"What's up U.K.! We did it! We're the f*cking Number 1 album! We honestly just can't believe it," the lads told the Official Charts Company from Los Angeles. "Thank you everyone, so much. We love you. You're amazing. I'm going to cry now."
It's a similar story in their homeland, as 5SOS5 hits No. 1 on the ARIA Chart for the group's fifth consecutive leader.
With that feat, 5SOS continues an unbroken streak with all their studio albums, including 5 Seconds of Summer (from 2014), Sounds Good Feels Good, Youngblood (2018) and CALM, while their live album LiveSOS reached No. 7 in 2014. 
"What an incredible three weeks for Australian albums," comments Annabelle Herd, ARIA CEO, a nod to recent best-sellers from Meg Mac (Matter of Time) and Parkway Drive (Darker Still).
"And congratulations to 5 Seconds of Summer on the success of their new album and an incredible decade of music loved across the world. We are so proud of 5SOS and the success they continue to have globally, and we can't wait to see them back touring in Australia later this year."
The U.K. has been a happy hunting ground for the band, where they've landed 10 top 40 singles including a No. 1 for their debut record, 2014's "She Looks So Perfect."
Recently, 5SOS performed an exclusive global livestream "The Feeling of Falling Upwards" at the prestigious Royal Albert Hall in London.
The OCC promoted the new album with a competition, with the lucky winner scoring a pair of tickets to a listening party in London, and entry for the sold-out Royal Albert Hall show.
5SOS return to Australia in November and December for a run of open-air shows, culminating in two shows at the Sydney Opera House forecourt, on Dec. 9 and 10.
The Music Network
Get our top stories straight to your inbox daily.