Will livestreaming become the new business model for venues in the post coronavirus landscape?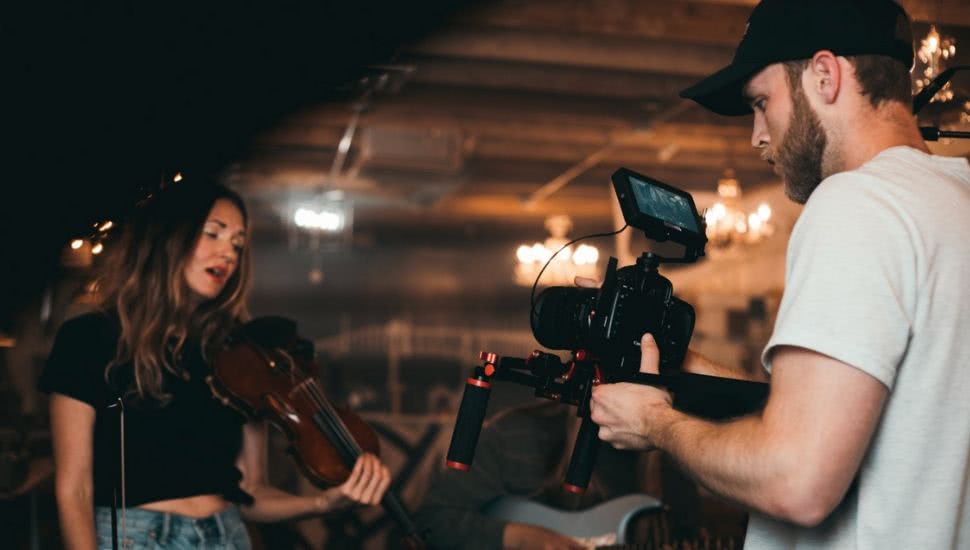 Image: Kyle Loftus
Livestreaming is increasingly the fuzzword as Australian musicians and venues find ways to connect with self-isolating patrons, and tap into new revenue.
On March 16, the Melbourne Symphony Orchestra played its first ever livestreamed show, at an empty Hamer Hall. It drew 5,500 people from around the world – double the capacity of the venue.
Last weekend saw SOL-AID festival take place online. Over Saturday and Sunday, 74 artists – including Angie McMahon, Julia Jacklin, Stella Donnelly, Alice Skye, Didirri, Hayley Mary, Spacey Jane and CLEWS – played 20 minute sets "from bedrooms, lounge-rooms, studios or wherever they are self-isolating" streamed live on their Instagram accounts, and then tag-team the next artist to play.
Obviously, such events are expected to escalate in Australia.
So much so that when Live Performance Australia and other music industry leaders met with federal arts minister Paul Fletcher for a $850 million survival package, among the calls was funding for a "new funding to enable performances to be delivered through innovative online or digital platforms."
Overseas livestreaming companies report being swamped with business. One, the nine year old Hollywood-based "digital venue" Stageit, which has its own currency for paying and tipping, counted its best month in 2014 when it generated US$274,000.
This month, it made nearly $100,000 in a single day.
New Online Industry
The livestreaming boom has triggered an instant new online industry, from webinars on how to livestream a show to VR tech companies offering visual features to make streams more interesting. But will it remain a boom after the virus disappears, and people go back to watching gigs as part of a social experience?
Some Australian executives believe that the virus is not only turning livestreaming into a hyper-activity, but what we're seeing is the evolution of a business model as global businesses – not just in the entertainment sector – adapt to doing things differently.
"Livestreaming is going to be a huge thing regardless of coronavirus," says David Grice, programmer for BIGSOUND's tech program BIGTECH.
"But the current issues of people getting together are already pushing it to the forefront for artists, as they grapple to find ways to make an income."
Grice believes the spectacular changes in concert technology has already created a change in mindset, especially with younger consumers who want to be active participants of the show and get a better experience than simply having the best seat in the house.
Via virtual technology they could go backstage to hang with the act, touch their equipment, walk on stage with them to experience that exhilarating roar of welcome. They could stand next to them during the show to share their view of the crowd, or mix the sound to make the bass louder than the guitar.
Says Grice, "The fans' expectation is that they are instantly gratified as opposed to being progressively gratified the way it used to be. They want to be physically, visually and mentally stimulated.
"There is going to be an emergence of some really interesting technology."
He sees the music industry collaborating with other sectors to create new experiences and new business models.
"The music industry has the ability to be a leader in this, rather than wait for the technology to hit and be scared of it like we initially were with Spotify.
"The models are continually changing, and we as a music industry have to be pro-active in making sure we are at the head of the change – and dictating what that change can be, rather than allow technology to dictate it for us."
Grice points out that a lot of new live music technology is coming from Australia – and notes that at the forefront of livestreaming is a global company called Netgigs which is based in Adelaide.
Netgigs was founded in 2018 by South Australian musician Joe Ward.
Ward says, "We saw the need for this two years ago and have been working on it full-time getting the licensing and contracts in place and ensure artist get paid royalties for every song."
Netgigs was originally to cater for fans in regional areas, had physical disabilities not always catered for by venues, or night time workers.
Now the demand has changed dramatically for an obvious reason.
"With venues now restricted to 100 people, bands can film can film shows wherever they are – (in their homes, smaller venues and closed recording studios – and sell tickets to their music fans all over the world through the Netgigs platform."
Two years ago, Ward set up a studio in his backyard and iwith an early version of Netgigs, streamed six gigs by Adelaide bands.
They charged $10 to $20 each, depending on additional features such as length of the stream, how many cameras and production crews are used, and extra offerings as interviews and backstage shenanigans.
These reached 500 punters.
"We wanted to prove the concept, and we did," he states.
Netgigs then struck a partnership with Adelaide venue Fowler's Live, introduced itself to the music industry at BIGSOUND 2018, and streamed the Queensland segment of the National Live Music Awards.
Now with laptop and mobile apps in Australia, New Zealand, the US, UK and Ireland, and production teams in 100 countries, it plans a global launch.
Music licensing deals with major international music rights agencies ensure musicians receive royalties for every single Netgigs ticket sold.
Perth-based SpectrumTV works mostly with corporate clients, but since 2009 has been livestreaming the WA Symphony Orchestra.
Watch: Asher Fisch Conducts Strauss' Alpine Symphony
One of these shows reached 100,000 fans around the world – ten times more than the crowd at Perth Concert Hall – and now use eight cameras as opposed to the original one.
"We haven't had a lot of rock bands but we're certainly be open to that," relates company director Harry Miller.
Aside from reaching global audiences, the benefits of livestream include watermarking them with logos, adding sponsors, providing extra income from later releasing them on SVOD or DVD, and real-time analytics of who's watching and from where.
Rather than cannibalise from concerts, a Live Nation study found 67% of livestream viewers are more likely to buy a physical ticket to the act, and even be motivated to check out similar acts.
This article originally appeared on The Industry Observer, which is now part of The Music Network.
The Music Network
Get our top stories straight to your inbox daily.