Revealed: The Australian songwriter behind the Zayn ft. Nicki Minaj track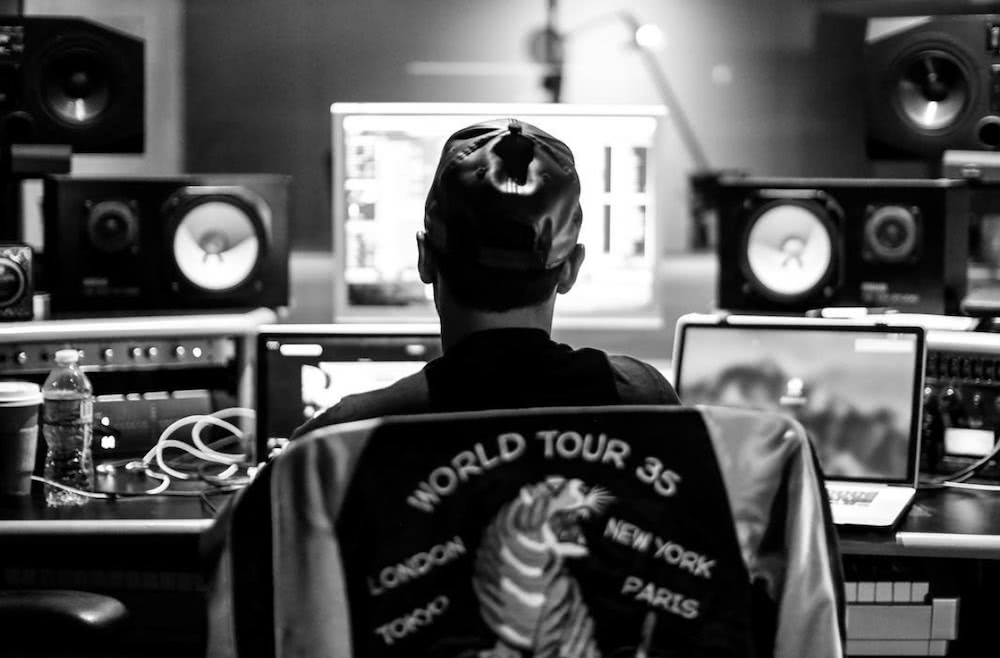 Tushar Apte had no manager, no agent, no publisher. He had applied for an APRA SongHubs writing camp in Toronto but with hitmaker names like The Monsters & Strangerz (Kanye West, Rihanna, Britney Spears), Sean Douglas (David Guetta, Jason Derulo) and Simon Wilcox (Nick Jonas, 5SOS, Tinashe) set to attend, he was less than hopeful.
He was living in a one bedroom in Culver City, West LA, and living off Ramen noodles and tuna. He had been in LA for four-and-a-half years and he had hit rock bottom.
Four years later, 32-year-old Australian Tushar Apte has penned some of the biggest hits to ever grace the Billboard and ARIA chart. And as of last week, has one of the biggest pop songs on radio in the form of ZAYN and Nicki Minaj's 'No Candle No Light'.
"You know my love ain't free/ Why do you make believe? / Why do you sell me dreams?" The track is an EDM-pop gem from the outset. It flexes with braggadocio and an ill-fated lyrical undertone that's already been picked up by Rolling Stone, Billboard and Pitchfork.
The juggernaut publications jumped on fast after Nicki Minaj teased the track earlier this month and referred to it as, "My favourite song of all time".
Stream 'No Candle No Light' below:
The track's release today could be seen as a landmark, career-altering record for the Newcastle-born artist, and it will be. But it's not Tushar's only high-profile work.
Tushar Apte might just be the most popular Australian songwriter no body knows. He's behind some of the biggest tracks in pop and R&B in recent years; including hits for Demi Lovato, Noah Cyrus, Chris Brown, Matoma, Cheat Codes, Steve Aoki, Charli XCX, Maroon 5's Adam Levine.
Leaning back in his seat at APRA AMCOS' Sydney office, Tushar is telling the story of how 'No Candle No Light' came about. When asked about its theme he says it's more than a man singing about a woman.
"What it's really is about is the moment when that candle burns out on a relationship, it's about that moment."
Tushar's eyes widen when asked about the songwriters behind 'No Candle No Light'. He gushes about close friend Brian Lee (Lady Gaga, Camilla Cabelo) – "the last of the true rockstar songwriters" – Warner/Chappell signed writer TJ Routon (Nick Jonas, JoJo), and NOVA, who recently wrote four tracks on Jay Z and Beyonce's joint album Everything Is Love.
An unassuming, studiously ambitious songwriter, Tushar Apte couldn't be farther removed from the megastar world of fame which ZAYN and Nicki Minaj welcome.
"It's cool to be part of a big catalogue," says Tushar. "Like being in Chris's catalogue and Nicki's catalogue, Demi's catalogue, it does a whole different thing for your career. Forgetting about that though, its more exciting for me to be a part of a record that breaks an artist or brings someone fully to their potential."
From psychology student to LA native
At 22-years-old Tushar Apte was living a life that wasn't his own. A psychology student in Sydney, it was as if decades of familial success far outside the creative sector unwittingly shaped his decisions.
While his parents are supremely easy-going, his mother is a UNSW Medicine Professor who was recently awarded a Distinguished Researcher Prize, and his father is a chemical engineer.
Eventually, playing keyboards in local musicals and dabbling as a bedroom producer just wasn't feeding the fire flickering inside him. But it wasn't until he'd changed career paths entirely and completed a Masters in Journalism that life in Sydney became near impossible.
"Slowly I realised [music] was the only thing that was really making me happy," he says.
"I had to figure out how to do it as a full-time thing […] I felt a lot of pressure to do things a certain way, get some type of job, or whatever it was."
Tushar says he hated LA when he first visited. His interactions seemed shallow. His small town upbringing railed against the idiomatic dialogue of LA locals; but he also knew he had to live there.
"I hated the place but there was something about it," he says. "It was quite obvious that in those [entertainment industry] fields there was a lot of activity going on.
"You don't know how much of it is real and how much of it's fake, and how much of it is actually profitable how much is not […] but you just get this sense that there is a lot more stuff happening there."
Tushar lived on his cousin's couch for a year after his move to LA. He played piano at a dive bar in South Central LA, taking on small gigs with bands to get by. He cold called just about every music venue and artist manager in the city with little knowledge of how it all even worked.
He was living from cheque to cheque; but it wasn't about the money. For the first time in a long time, he was happy.
"To be fair, I was still in the stage where I wanted to do something in music, but I also didn't know what," he remembers. "I just never grew up in the environment where I really knew what careers were in music; I just didn't know. All I knew was I just wanted to play."
How a TV music score lead to a Chris Brown co-write
Tushar was in New York when he got his first big break. A friend's cousin – a film composer named Manon Dave who was working on the hit NBC TV show Heroes at the time – let Tushar work on a few small scores for trailers. One day, while Tushar was visiting a friend in New York, he had something else in mind.
"He called me one day and said, 'Hey, I've got like this thing for you, it's like, but I need you to fly back to LA to finish it, and it's not really a film thing, it's more like a song production thing'."
The song was 'Heavy' for Maroon 5's Adam Levine and PJ Morton. As the lead single for Morton's debut solo EP, Following My First Mind (2012), it was released when Maroon 5 were still riding the wave that was 'Moves Like Jagger' and had reinvented themselves with the Platinum-selling LP Overexposed.
Watch the clip for PJ Morton's 'Heavy' ft. Adam Levine:
Manon Dave, the same friend who had brought him into the inner circle with 'Heavy' called him with another job a few months later. This time for an Apple commercial that would be placed on the 2012 London Olympics soundtrack.
Tushar wrote the lyrics and music to 'Shotgun', a dark mix of neon-coloured noir and '80s refrain – but the track needed a vocalist. Through a series of messages on Instagram, he managed to get Gary Pinto from '90s boy band CBD to sing on the track.
"Gary is such a selfless champion of people, and he's one of the critical people at least in my career for sure. He referred me to Leonie Conley [of Specific Music] and Milly [Petriella, APRA AMCOS], when they were putting together the first 50 Songs in 5 Days [songwriting camp]."
50 Songs in 5 Days – Australia's largest songwriting event hosted in partnership with Specific Music and APRA AMCOS – became Tushar's first window into the Australian music industry.
"I didn't even know about publishing, about writing splits, about how songs get placed, I didn't know any parts of this system," remembers Tushar, a newly appointed APRA AMCOS Ambassador.
Tushar was placed in a writers' room with Australasian greats like Joel Little (Broods, Lorde) Alex Hope (Troye Sivan, Tove Lo), and Hayley Warner (Tina Arena, Nickelback). While none of those cowrites have made it to public consciousness yet, it sparked a long-running friendship with APRA AMCOS' Director of Member Relations, Milly Petriella.
"That was the first time I met Milly and immediately when I met her for whatever reason, she really, really was, from that day on, my absolute champion."
Tushar is now at a point where he could place his global publishing royalties wherever he likes. It wouldn't come as a surprise if they were serviced from his now home of America. But he maintains his relationship with Milly is what made him choose APRA AMCOS.
"All the publishing companies and performing rights societies ultimately do the same thing, they register the song, they collect the royalties…" he explains. "[…] I'm with ASCAP in the US and for the rest of the world I'm with APRA. As much as I love ASCAP, I don't have that relationship like I have with Milly here, so I'm always going to stay by her. As long as she's here, I'm here."
Tushar has now had multiple Billboard 200 entries and a slew on the way. His credit list features some of the biggest earworms at radio, scores for hit TV shows like The Biggest Loser and Masterchef, and tracks in almost every genre, even C-Pop.
Yet, some might be surprised to know that before he got his big break penning a global hit for Chris Brown, he was actually packed and ready to give up on his career entirely.
"I felt like I just kept hitting this wall, something was stopping me from getting to the next place," he recalls. "I kept trying and doing stuff and for some reason, it just wasn't happening, but I knew that I had to wake up everyday and I had to try and do something with the day.
"I hit this bottom point where I thought 'I think I'm going to pack up and move back to Australia', just leave, just leave…"
The call that changed it all
"I started packing my bags. It was the afternoon and I was like, 'I'm going to take a little nap and I'm going to book my flight when I wake up'," says Tushar. "The second that my head hit the pillow, I got a call from Milly and she said that I had been chosen for the spot on the Toronto camp. They listened to a couple of things and they liked the Adam Levine song and were looking for an up-and-coming guy."
On the second day of the week-long camp at Revolution Studios in Toronto. Tushar co-wrote Chris Brown's RIAA Gold-certified hit single 'Zero' in 25 minutes.
Within six months of releasing 'Zero' in 2015, Tushar Apte has inked a management deal with Peter Coquillard at Milk & Honey, and a publishing deal with Marc Wilson at Warner/Chappell Music.
Watch the video for Chris Brown's 'Zero':
From Zero to 100
Tushar says it all moved quite quickly after that. Notably, he and Noah Cyrus wrote the track 'Good Cry', which she named her current tour and EP after, and in 2017 his co-write 'Roleplay' for LuHan sold two million physical copies in 24 hours, setting a national record in China.
Listen to Noah Cyrus' 'Good Cry' below:
"In a writing sense, things can spiral pretty quickly," he notes. "And if you're in a room with three people and those three people like you, they will tell someone else and then people hear about you fairly quickly."
One thing that doesn't traditionally happen quickly in the publishing world is song releases. Some writers can wait years for their works to reach the world, while some tracks never see the light of day and accumulate digital dust on hidden hard drives. But Tushar's career has been anything but traditional.
His recent Billboard Top 50 hit, Demi Lovato's 'Sober', was written after an APRA SongHubs funded spot at The Bali Invitational songwriting camp and was released less than three months later on June 21. It hit #1 on iTunes #1 in 37 countries.
"I stayed in Indonesia an extra three days to work with an Indonesian artist and by chance, Demi's team was looking to have her create outside of LA and do a retreat somewhere and just work," says Tushar.
Demi Lovato's team had set up a house with groups of songwriters simultaneously at work in three writing rooms. Tushar was bunkered down with fellow Australian M-Phazes and UK songwriter Romans (Alicia Keys, John Legend). When Demi stopped by their room she added a second verse to their opus.
"Some days the song just comes to the room and that is really truly what happened that day […] She hung around and she talked with us for a little bit then she left, and we thought we would just continue; we got her voice on it and we were good with that," says Tushar. "[…] We weren't expecting her to come back at all that day. The about an hour later, she came downstairs.
"She basically had the whole chorus, lyrically the whole chorus there in her head, it was something she wanted to talk about. She wanted to get it out."
'Sober' is Demo Lovato's bare-souled confession about addiction, recovery and her relapse after six years of sobriety. On it she sings: "I promise I'll get help / It wasn't my intention / I'm sorry to myself." It was dubbed her most honest single to date and was released days before a suspected drug overdose and ensuing rehabilitation treatment.
"I feel like we created such a safe place for that song to happen and she was so brutally honest about everything," remembers Tushar, his eyes now downcast. "She wanted to talk about it a […] at the end we all kind of hugged and she left the room; we all knew we had something really special."
Listen to Demi Lovato's 'Sober' below:
This is typical of Tushar's work; his works thus far aren't even the limit of his talent and yet, he's able to see an artist's vision before it's even been crystallised in their own mind. This is undoubtedly why he was chosen to co-write 'No Candle No Light' and to compose one of the biggest music productions to hit the small screen, The Bobby Brown Story.
Based on Brown's autobiography, the BET miniseries made its premiere in September as a retelling of one of the most iconic, and infamous artists in music history. With Tushar scoring the entire four-hour series alongside Kenneth 'Babyface' Edmonds, he's forever embedded in music history himself. The biopic is a signifier for how far he's come and the breadth of where he's going.
Watch the trailer for The Bobby Brown Story below:
Always the career pragmatist, Tushar says his role in the film is akin to having two LPs out at the same time.
"The way the math is in TV – and this is why composers earn so much more than songwriters – in this show I have 36 pieces of music, throughout the whole thing. Every time any part of that music plays, you make a little bit on the back end," he details.
"Now, if they syndicate that show everywhere around the world, so it exponentially builds, it's like having 32 songs out in one block – and then on top of that there is a sync fee," he adds. "Composers are really the richest guys in the game, that's like the worst kept secret."
It's a curious feeling that reoccurs throughout the conversation. Tushar is the irrefutable writer of his own career, with an unwavering hunger usually reserved for extroverts and those sitting in corner offices.
He understands the strength of Tushar Apte The Entrepreneur and isn't afraid of the hustle, but he's also Tushar Apte the reverist, who's able to write our emotions better than we could ever hope to feel them.
This article originally appeared on The Industry Observer, which is now part of The Music Network.
The Music Network
Get our top stories straight to your inbox daily.