Check out the trailer for Netflix's new Fyre Festival documentary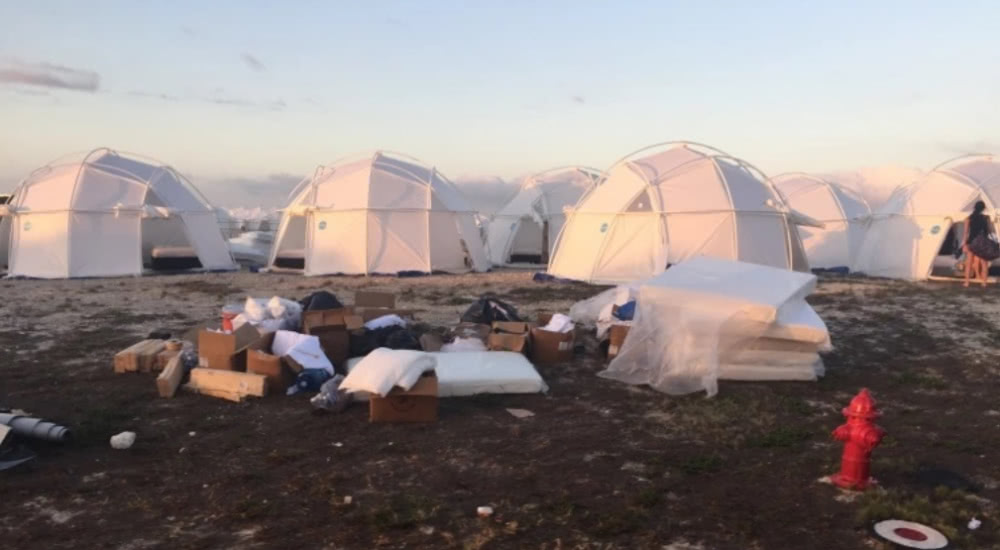 Netflix has unveiled the trailer for its newest documentary, focusing on the absolute shambles that was 2017's Fyre Festival.
Early last year, the Fyre Festival made world headlines when it spectacularly failed before it even began. Described as a luxury concert of sorts, the festival was intended to be held on the Bahamian island of Great Exuma, and was supposed to have been headlined by the likes of Blink-182 – who famously pulled out before it was due to start.
Sadly, it quickly became clear that the whole thing was a mess from the start, with chartered flights not arriving or even taking off as anticipated, and accomodation for attendees being woefully inadequate. Attendees who actually made it to the event (which by that point had been cancelled), described the entire situation as a "shit show".
Ultimately, Fyre Festival founder Billy McFarland was found guilty of defrauding investors out of a total of $26 million.
While festival has since become an example of how not to run an event, we're about to get a closer look at the whole ordeal, with Netflix dropping the trailer for its new documentary today.
Get your exclusive first look at FYRE — a revealing new doc about the insanity and rapid unraveling of Fyre Festival: the greatest party that never happened. Premieres January 18. #NetflixNewsWeek pic.twitter.com/B4iaR3UJwM

— See What's Next (@seewhatsnext) December 10, 2018
As Pitchfork reports, the new documentary is set to premiere on January 18th, and will cover "the insanity and rapid unraveling of Fyre Festival: the greatest party that never happened."
Directed by Chris Smith (Jim & Andy: The Great Beyond), the documentary appears to use footage from those who were unlucky enough to be at the event, in addition to information gleaned from social media.
Surprisingly though, this isn't the only documentary of the festival in the works, with Cinemart, Billboard, Mic, and Hulu announcing plans last year to tell the story in a new series. As Pitchfork noted earlier this year, that one's set to premiere some time in 2019.
Despite currently serving a six-year prison for a number of charges, disgraced promoter Billy McFarland recently spoke to People, where he apologised for the damage he's done.
"I've always sought – and dreamed – to accomplish incredible things by pushing the envelope to deliver for a common good, but I made many wrong and immature decisions along the way and I caused agony," McFarland began.
"As a result, I've lived every day in prison with pain, and I will continue to do so until I am able to make up for some of this harm through work and actions that society finds respectable."
FYRE is set to premiere on Netflix on January 18th.
Check out a recap of the failed Fyre Festival:
This article originally appeared on The Industry Observer, which is now part of The Music Network.
The Music Network
Get our top stories straight to your inbox daily.