Tones And I, Hilltop Hoods win big at 2020 Virtual APRA Awards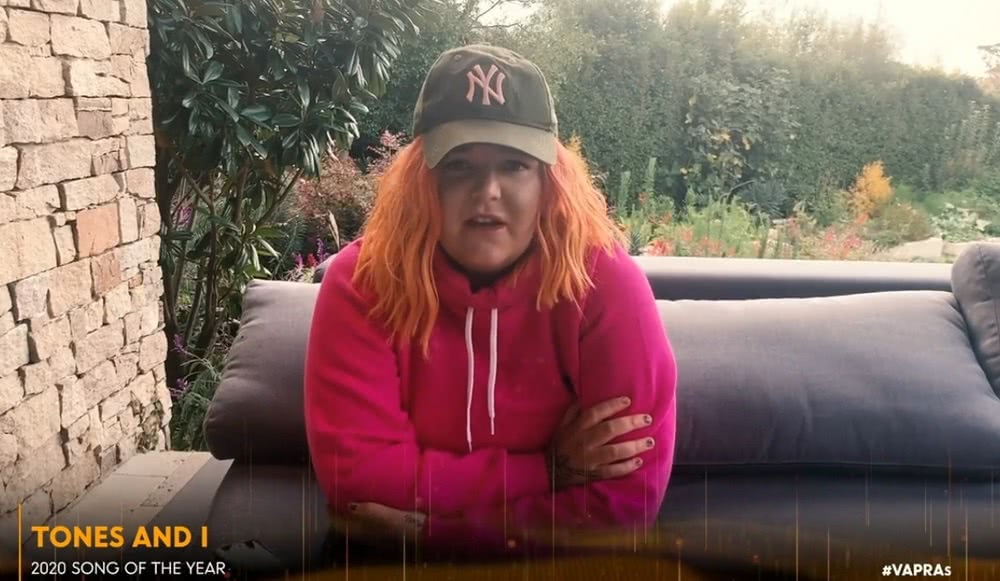 Tones And I keeps on kicking goals. On Monday night (May 25), Tones came up big with two wins at the Virtual APRA Music Awards, including the night's big honour, the peer-voted Song of the Year for 'Dance Monkey'.
Tones (real name Toni Watson) also scored Breakthrough Songwriter of the Year, thanks to her all-conquering hit which has surged past seven billion global streams and led the sales charts in at least 30 countries.
"That's really huge," Tones said after collecting Song of the Year. 'Dance Monkey' "has really grown for me and really helped build my career and I just want to say thank you for the recognition."
Also bagging a pair of awards were Hilltop Hoods, as the trio of Barry Francis (DJ Debris), Matthew Lambert (Suffa) and Daniel Smith (Pressure) snagged Songwriter of the Year and Most Performed Urban Work.
It's the second successive year the Hoods have taken out the latter category, this time for 'Leave Me Lonely,' lifted from 2019's The Great Expanse, their record-setting sixth No. 1 album.
Co-writer Leigh Ryan (aka Plutonic Lab) shared in the win.
Teenage star-in-waiting Kian Brownfield — better known as KIAN — and co-writer Jerome Farah were among the plaudits, winning Most Performed Australian Work and Most Performed Alternative Work for 'Waiting.'
The winner's circle this year included Morgan Evans (Most Performed Country Work for 'Young Again'), John Butler (Most Performed Blues & Roots Work for 'Just Call'), Dean Lewis (Most Performed Pop Work for '7 Minutes') and Troy Cassar-Daley (for Most Performed Rock Work for 'Shutting Down Our Town' performed by Jimmy Barnes).
Watch Tones And I's 'Dance Monkey': 
And APRA regular Sia extended her streak to three years for the Most Performed Australian Work Overseas category, winning again for 'Cheap Thrills', her Billboard Hot 100 chart leader co-written with Greg Kurstin.
As expected, the virtual ceremony featured special performances of the five Song of the Year nominations by John Butler and Mama Kin; Kira Puru and Mo'Ju; Nikka Costa and Justin Stanley; The Dawn of MAY and William Crighton.
For the first time, the APRAs took place this year in a virtual format, due to the health crisis. Watch the #VAPRAs here.
Visit APRAAMCOS.com.au for the full list of winners. 
This article originally appeared on The Industry Observer, which is now part of The Music Network.
The Music Network
Get our top stories straight to your inbox daily.