The speech that gave #TIOawards attendees shivers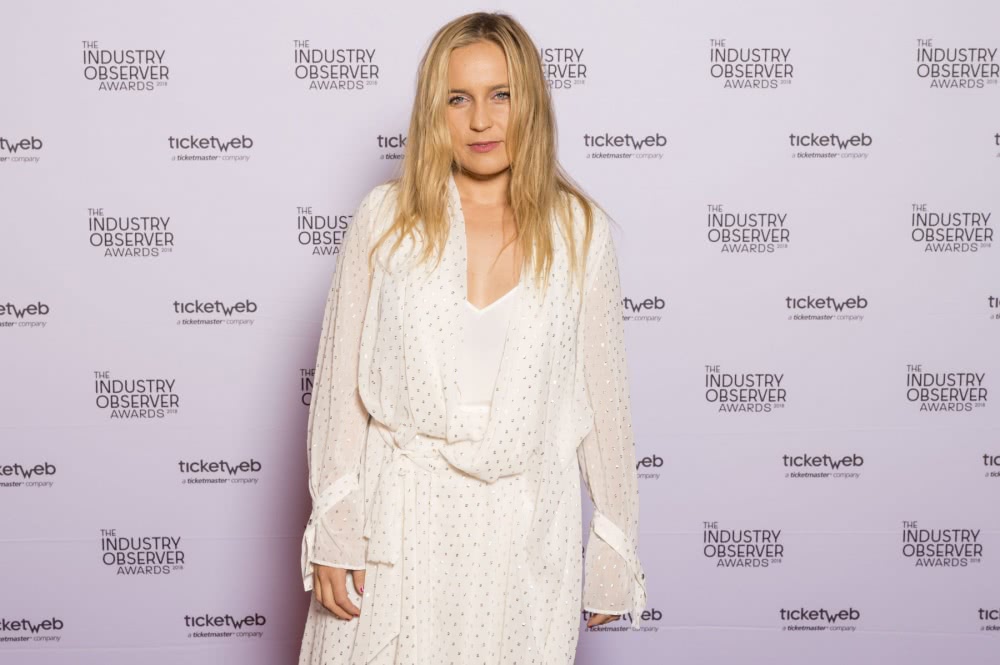 Image: Georgia Moloney
The inaugural TIO Awards started out beautifully last night as Holly Rankin — who you may also know as excellent musician Jack River — delivered a powerful keynote speech, in which she applauded the Australian music industry, slammed the sadly pervasive tall poppy syndrome that infects a lot of our overseas success, and pointed to a more positive, safe, equal future for our artists and industry people.
Watch the entire thing below, and then pre-order her debut album Sugar Mountain, 'cos it's gonna be one of the best records of 2018 – or any year.
---
TRANSCRIPT:
Good Evening & welcome to the inaugural Industry Observer Awards.
It is a huge and surreal honour to be opening the first ever Industry Observer awards which seek to shine a light on the machine behind the sparkle.
In case you are wondering who on Earth I am and why I am making this address; my name is Holly Rankin, and I'm the woman behind the project Jack River & the founder of Electric Lady & Grow Your Own, two small Australian festivals. And as to why I'm speaking, I cannot tell you confidently, but in my ongoing life experiment of being a part of this industry, I have been lucky enough to work with so many people in this room in different capacities in my eight-year long journey into music.
As an artist I get to work with labels, publicists, booking agents, radio promoters, journalists, radio presenters, publishers and marketing teams. As a festival owner I get to be on the other side of the conversation working with radio, artists, event teams, marketing teams, booking agents. As a music lover, I try to absorb every note and word from my favourite artists and carefully stalk the teams around them that contribute to their successes.
Luke, in all his genius thought I could offer some thought on why this night, and this idea is so important. Granted, it feels extremely strange to be up here speaking to a room full of my music business idols, many of whom would likely have emails from an 18 year old me asking for a meeting – buried in their junk folders, and many of whom have done what I have done a million times over.
To begin, I would like to extend a huge thank you to Luke Girgis and his team for creating the Industry Observer awards from scratch and delivering ultimate badassery and an opportunity for self celebration to this industry – whether it likes it or not.
Anyone who knows Luke and sees him for the brilliant entrepreneur that he is would know he is responsible for injecting extreme passion and innovation into music media, tech and business in unprecedented form.
Luke drives his vision forward with a sense of business acumen that doesn't wait around for approval, a quality that lacks in an industry obsessed with opinion to the point of destruction.
These awards are a reflection for The Industry Observer's vision for a collaboration and innovation driven future, one that sees skill and information sharing as a positive thing, and one that realises the power of peer celebration.
As an Artist (albeit early in my career), I find it extremely hard to stomach public attention and celebration of my project when at every milestone, I know that moment is the product of months of work of a team.
The exhilaration I feel playing to a sold out crowd is the product of the blood, sweat and tears of my agent, my managers, my band, my label, my publishers, my friends and my family. You all know this, but I swear it is really hard to convey thanks in the moment, and before you know it you're in another tour van, posting another picture or onto the next release.
Tonight is a moment to log out and look around at the sea of amazing humans we all work with, and perhaps think about the kind of industry and culture we want to build moving into an unpredictable future.
Because I don't live under a digital rock, I know that it may have been hard for the music industry to swallow the idea of appreciating itself in the form of these awards. However, as soon as I heard about them, I smelt the fertiliser being poured across the poppy's and the sun coming out to make them grow taller with no scissors in sight.
For some convict ridden reason, we find it so damn hard to claim our successes, and by nature – in our beginnings – we have a real knack for tearing down great things before they even start. In an age where the strange, the authentic and the bold are excelling in music – it would be ridiculous to inherit the tall poppy syndrome that has tried to strangle so many great acts, and that is lethal to the health of art in general.
Times have changed, the industry we work in is less and less constricted to our own country. In order to innovate toward growth, we must forget the idea that local competition is our only competition, and collaborate toward keeping Australia firmly on the map as the fluorescent pool of talent and innovation that it is.
It always confuses me why in such a small industry here in Aus, we don't get metaphorical Christmas cards from some of our grandest 'exports' – Iggy Azalea, Sia, Hugh Jackman, Chris Hemsworth, 5 Seconds Of Summer and the likes of Keith Urban.
For some reason, our greatest commercial acts couldn't feel further from the grass roots of our industry, and I can't help but think they have their own stories of feeling left out in their time of mass growth. We don't seem to celebrate them or reference them in the same way we are obsessed with judging them.
But I feel like this is changing. In a wave of new stories we are waiting in the wings to see what Gang Of Youths do next, I cried with happiness when Amy Shark played Jimmy Fallon, we're all stoked to see what surf spot Flume will be at next, I'm patiently awaiting Nick Cave's next tour and we are all hungry for a ticket to Dune Rats or Vance Joy at Hordern Pavillion.
On our industry level we are witnessing a mass 'coming together' of women, which is extinguishing the age old weird  cultural idea that poses women against each other or subliminally infers that there can only be one female star of the show, or the line up or the playlist.
We're obsessed with the stories and perspectives of Susan Heymann, Linda Bosidis, Mardi Caught and Gerry Bull who are defining what it means to be a women at the top – they are inclusive, imaginative and powerful by nature.
We're equally as obsessed with the stories of UNIFIED, Mirror Music, the rise of Troye Sivan, the celebration of Artists like Kardajala Kirridarra and the rise and rise of positive festival culture.
On top of all this – the power of music has never been more tangible nor more needed.
Our world is in a state of political and social confusion, our media is becoming less and less trusted by the intelligent masses and the core streams of culture that held us together are crumbling before us like an Inception dream.
When I was 15 I wanted to be the first (elected) female Prime Minister of Australia, I wanted to find a cultural voice – perhaps in politics or journalism, that job requires the trust of the people, that they understand your language.
When I was 15 I didn't know that the world was about to change – that Myspace (which was ultimately a music platform) would inadvertently birth Facebook, which would inspire Twitter, Soundcloud, Spotify and Apple Music and that in 2018, the voices that power cultural conversation, are strangely but beautifully, the voices of musicians.
I'm not professing that cultural voice equals power or that it garners a sense of control, but when Katy Perry has 15 million more followers than Barack Obama, it is fair to say that the cultural voice of musicians has never been more relevant and exciting.
Standing here tonight I can confidently profess that to me, there is no greater cultural power than the power of music, and nothing more important than the people who have the artistic and industrial power at their fingertips – that is this industry and all of you in the room tonight.
This industry has the power to contribute to cultural conversation, to political and social change like never before. Whether it's in your business processes, the way you book a festival, why and how you sign an artist, or what you encourage your talent to post about – you in this room have so much space to recreate how stories are shared and what they are about.
So here is to you, and the celebration of the people behind one of the most insane, exciting and change making industries on the planet. May you find inspiration in some form, may you throw fertiliser onto the poppy sitting next to you, may you recognise the brilliance and tomorrow – may tell someone younger in your company a good story of someone else's successes.
This article originally appeared on The Industry Observer, which is now part of The Music Network.
The Music Network
Get our top stories straight to your inbox daily.