Did The Eels rip off Kiwi band Goodshirt with their new music video?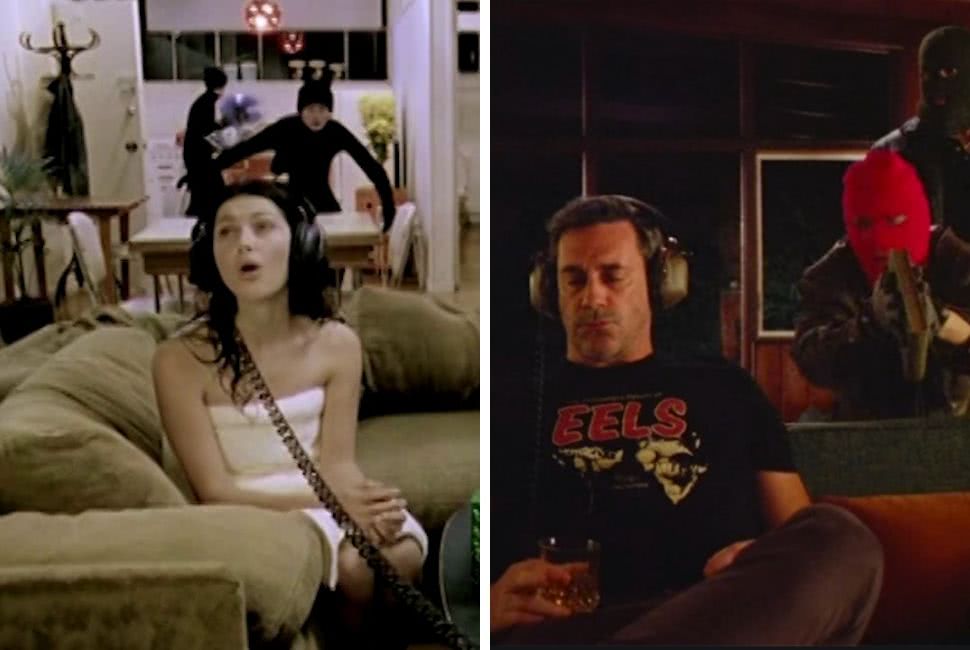 Update: The Eels have made a public statement and have called the similarities "purely coincidental". Check out the full statement on Tone Deaf.
The Eels have some seriously perplexed music fans on their hands following the release of their new music video for 'Are We Alright Again'.
Staring Mad Men actor and Eels fan Jon Hamm, the treatment for the video is this: Jon Hamm puts on headphones to listen to the track, and while he's completed engrossed in the song he has no idea of the home invasion chaos going on behind him, where all his possessions are being taken away.
Sound familiar?
Those playing at home will remember the MTV hit video for 'Sophie' by Auckland alt-rockers Goodshirt.
Released in 2002 and pushed globally through a deal with EMI Music out of Australia, the track hit #1 in New Zealand and was the 18th highest-selling single of the year. The video was so lauded it was played consistently across Rage in Australia and New Zealand and MTV worldwide, including a notable pick-up in Japan.
Furthermore, in 2019, a six-part TV series titled Anthems: New Zealand's Iconic Hits detailed the conceptualising and making of the 'Sophie' video.
Goodshirt frontman Rodney Fisher told TIO, "We were absolutely shocked to see the video! As fans of The Eels ourselves this is particularly buzzy."
The memes and call-outs from Goodshirt fans are coming in thick and fast:
Many Goodshirt fans who have replied to The Eels' post of the video on Instagram have had their comments deleted. One person said they are "no longer an Eels fan because of it", others are calling it plagiarism.
Goodshirt's 'Sophie' video was conceptualised and directed by Joe Lonie (Supergroove, Flying Fish). Lonie tells TIO he vividly remembers exactly how the concept for the 'Sophie' video came about.
"I had done two videos for Goodshirt at the time and we were beginning to roll," Lonie says. "The moment they played Sophie to me I knew it was special. So sweet, catchy and original. I have this weird thing where the better the song, the tougher I find it to imagine a good video for it. I think it's about doing a standout song the justice it deserves.
"Because I loved the Sophie song so much, I really struggled," he adds. "Then, something happened that gave me a way into it. I was informed by the band that Gareth, the singer of the song, would be out of the country and would not be appearing in the video. This unusual limitation sparked an idea."
Because Goodshirt's Gareth Thomas wasn't available to appear in the visual, Lonie decided to cast someone to play Sophie in the shoot and have her mouth along to the song, essentially becoming the frontperson.
The 'Sophie' video is reminiscent of Lonie's past two directed clips for Goodshirt too. Both 'Blowing Dirt' and 'Green' were filmed in one continuous take.
"I was keen to keep that theme going," Lonie tells TIO. "At the time I was obsessed with visual expression of the concept of change. I was always on the lookout for ideas where something starts off one way and is drastically, inexorably changed by the end […] I thought, what if we could change an entire apartment?"
The 'Sophie' clip sees Sophie's apartment eventually stripped clean by burglars wearing balaclavas. The Eels clip for 'Are We Alright Again', released yesterday, does exactly this, balaclavas and all.
"[Sophie is] so into the song that she's completely oblivious to the burglary going on behind and around her. Boom. Clean, simple, original concept. Never been done before. Could be tricky to execute, but let's see what happens," Lonie tells TIO.
"I pitched it to the band, and they all burst out laughing instantaneously," he adds.  "Now, I've made over 60 videos. I can tell you, no matter how good a video concept is, this NEVER happens. It was an easy 'yes' and we were away."
It didn't take long for Rodney Fisher of Goodshirt to contact Lonie regarding The Eels' apparent rip off of 'Sophie'.
"My first thought honestly was, 'Maybe they improved it?' A director is never satisfied," says Lonie. "That's one of the tough things about the job. No matter how successfully a project might have turned out there are always things you could have done better."
Lonie says he's not impressed by The Eels' version, but that's not for the reason you may think. Lonie doesn't mention the alleged plagiarism at all. Instead, he is unimpressed with director Greg Barnes' execution.
"I'm sorry to say that in my opinion they have not improved on our video. I find this version corny, hammy and unsatisfying," Lonie says. "I don't believe for a second that Jon Hamm wouldn't notice the burglars. They aren't even making an effort to be quiet, and they are throwing shadows across his face throughout. Who wouldn't notice that?
"I don't buy it, and because I don't buy it I can't find it funny. I could go on but I won't. I'll just say that if my concept had been elevated somehow I would be less annoyed. It hasn't been. It's a step backwards."
Check out both clips below and see for yourself:
Check out Goodshirt's clip for 'Sophie':
Check out The Eels's clip for 'Are We Alright Again':
The Industry Observer has reached out to The Eels' team for comment.
This article originally appeared on The Industry Observer, which is now part of The Music Network.
The Music Network
Get our top stories straight to your inbox daily.