The tech trends taking events to the next level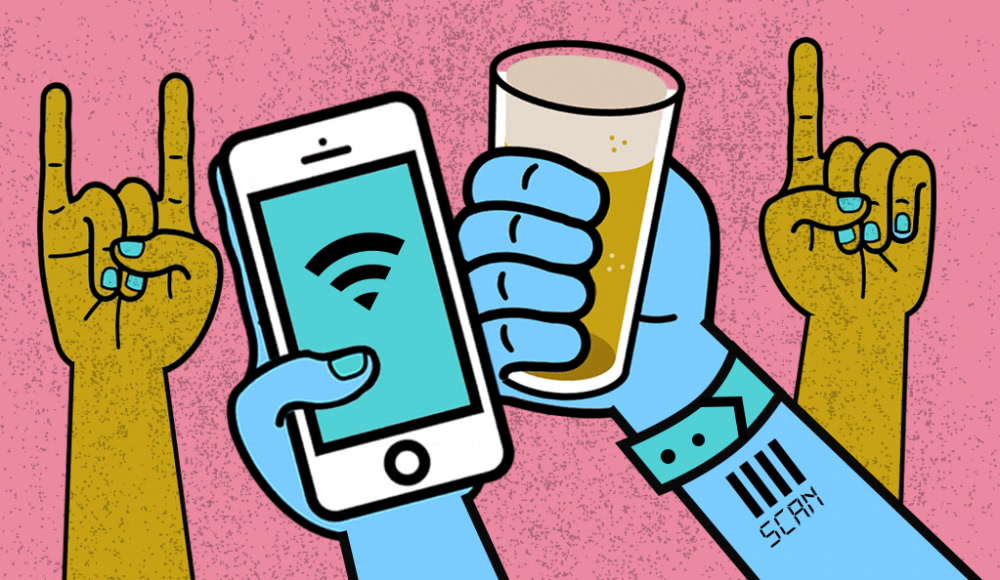 Illustration: Sarah Bryant
A lot has changed since the old days of seeing a poster, buying a ticket and going to see a band play a rock show. These days, cutting-edge technology is playing an increasingly active role in enhancing events for the modern music-lover, from campaign engagement beforehand to the actual onsite experience at concerts and music festivals.
Jared Kristensen is one of the people utilising technology in Australia to change the way concert-goers experience events, and improve how event organisers and promoters reach and engage their audience and sell tickets.
His company, Audience Republic, uses tech to power the marketing for music festivals and concerts, helping them boost ticket sales by amplifying word of mouth and providing insight into their audience. A team of five based in Surry Hills, their platform has been used by festivals such as Electric Gardens, Beyond the Valley and Lost Paradise as well as events featuring artists including Chance the Rapper and Schoolboy Q.
The digital revolution starts before the event even begins
The pre-event campaign process is one of the most significant ways the advent of the digital revolution has changed live music. Kristensen points to the way Audience Republic helps event promoters reward fans that 'invite' friends, increasing word of mouth.
"We've had a lot of success around this, and one great example is pre-sales. Fans can earn points for referring their friends that register for the presale. The top point scorers unlock incentives which can be access to cheaper tickets, free tickets or awesome prizes – think artist meet and greets, Glamping packages. Rhythm and Vines is a great example of this, where they were 25% sold out 12 months in advance as a result".

Watch the Rhythm and Vines 2016 Aftermovie
At the end of the month, Kristensen will facilitate a panel around tech in events as part of this year's Electronic Music Conference. Guests speaking on the panel also include Chris McDonnell from Eventbrite, Hamish Pinkham of Rhythm & Vines Festival, Austin Gavlak of Top Tap Tech and Leko Novakovic from Novatech, who'll be discussing how they and their teams are making the most of tech for and at events.
"We're really lucky to have such a great panel of speakers," he says. "Hamish Pinkham is from Rhythms and Vines festival, who are one of the most innovative festivals I've seen when it comes to implementation of new technologies.
"We've also got Chris McDonnell from Eventbrite, which is a leading ticketing provider when it comes to innovation, especially with their API that allows developers – like us – to build on top of their platform. I'm really excited to hear where they see technology having the biggest impact on events moving forward."
Tech is changing the on-site experience
In addition to marketing and audience engagement beforehand, tech has also significantly improved aspects of the onsite experience when it comes to events. Perhaps one of the most immediately visible ways this has happened concerns the actual production qualities of concerts and festivals.
"The level of production of events, including the lighting, video and visuals, has rapidly improved over the last decade", he says.
For instance, LED screens are an integral part of many live shows nowadays, and have facilitated an enhanced visual element when it comes to concerts and festivals. "10 years ago there were very few LED screens being used on events", says Kristensen.
Onsite payments are another area where there's been a marked improvement. A number of companies have popped up around cashless payment and RFID such as Top Tap Tech, AWOP and Glownet – a welcome reprieve from spending an eternity in a queue to buy drink cards.
In a lot of ways, particularly with regards to the onsite experience, tech is being used to enhance what is ultimately a very human thing – people enjoying great concerts and festivals surrounded by hundreds or thousands of fellow music lovers.
"One fascinating company in that space is Hurdl", says Kristensen. "They provide fans LED wristbands worn by the audience that can be controlled by the lighting operator for the event. Coldplay used a similar type of wristband for their tour, and the photos looked pretty incredible.
"I think this type of thing is only the beginning and we'll see some other really innovative things like this moving forward. Hurdl went through the Techstars Music accelerator in LA, and I think that program is going to help facilitate many more music and event tech companies."
As far as the future is concerned, augmented reality is an area that's likely to be huge for events in the coming years.
"I think AR is going to have a significantly greater impact than virtual reality," says Kristensen, who admits there's still a long way to go before it's able to really take off the ground.
"For AR to really get mass adoption, I think it needs to go beyond mobile and into wearables, like glasses, and we're certainly not there yet. But once the technology exists there is huge potential, everything from enhancing the visuals of a show, to onsite communication with fans, to replacing mobile apps for set times and directions, to user generated content. For me, AR is the #1 technology I see impacting the future of events, and I think it will have a very positive impact."
Electronic Music Conference 2017 visits Sydney's Redfern for a two-day program seeing international music leaders and industry experts appear across an array of panels, talks, workshops, parties and masterclasses on November 29-30. Tickets are on sale now via electronicmusicconference.com, with Hit The Power Button: How Tech Is Supersizing Events tickets available HERE. 
The conference is again hosting EMCPlay, which has been curated by Triple J Unearthed's Dave Ruby Howe, and sees the likes of Miss Blanks, Various Asses, Tiber, Annie Bass, Matka & more all playing. Buy tickets here.
This article originally appeared on The Industry Observer, which is now part of The Music Network.
The Music Network
Get our top stories straight to your inbox daily.