Success in the Hottest 100: Is it better to release early or late in the year?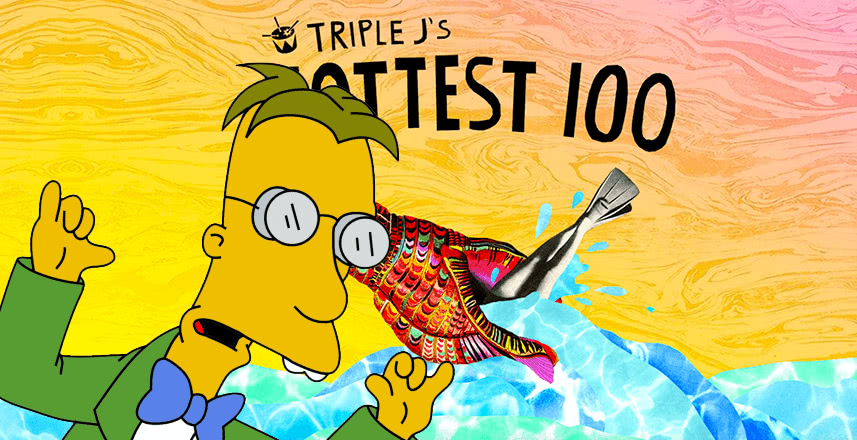 There's a phenomenon called 'recency bias' that plagues a lot of end-of-year lists, sports rankings, and Best Things Ever countdowns. It also impacts current behaviour, future predictions, habit forming, and a host of other behavioural biases, but let's not focus on those aspects. You're getting sidetracked!
Recency bias is why during Robbie Williams' '90s peak, the HMV customer-voted Best Albums Of All Time list included Life Through A Lens alongside the likes of Sgt. Pepper, What's Going On, Highway 61 Revisited, and Pet Sounds.
The album seemed important to people, and they assumed it would naturally be an all-time classic. Needless to say, it has dropped out of those lists. Ed Sheeran would totally get up there these days, if HMV was still around to conduct such polls.
It's why Steph Curry is currently considered one of the top five NBA players ever. (Although he probably is.)
It's why Oz then The Sopranos then West Wing then The Wire then Lost then Mad Men then Breaking Bad were each hailed as the greatest TV show ever. (Even though it's clearly Home and Away.)
It's why comedy writers go to such pains to remember the gut laughter a joke initially induced in them long after the joke has stopped being funny.
It's why the Foo Fighters insist each studio album is their finest, heaviest work to date. They truly believe this to be true. They have forgotten the initial buzz of 'Hey, Johnny Park!' They are high on the buzz of 'Rockin Rock City Sound' or whatever their newbie is called.
I had always assumed this recency bias spilled over into the Hottest 100; considering voting occurs in December and January, it's only natural that people would vote for the songs that are captivating them at that moment in time.
A year is a long time, so aside from forgetting tunes that you loved dearly at the beginning of the year, voters may also have worn these into submission. "I'm sick of that song", etc. etc.
Of course, this was merely a hunch, based on intuition and healing crystals alone, so I decided to do some research on this after a friend suggested we actually, ya know, test this theory.
I looked at the release dates of the top ten from this recent countdown to see if it is better for a song's chances for it to be fresh, or to have the familiarity of months and months of airplay, car-play, kitchen-play, and drunken karaoke nights when you deftly avoid rapping the N-word.
We'll have the results after this commercial.
And we're back.
Here is the top ten, and the related release dates. These are the on-sale release date for the singles. Keep in mind, in various cases the album will have been out earlier, or triple j may have started spinning it prior to release.
#10: 'What Can I Do If The Fire Goes Out?' – Gang Of Youths (Feb 10)
#9: 'Lay It On Me' – Vance Joy (July 12)
#8: 'Sally (feat. Mataya)' – Thundamentals (March 3)
#7: 'Go Bang' – Pnau (Oct 27)
#6: 'Green Light' – Lorde (March 2)
#5: 'The Deepest Sighs, The Frankest Shadows' – Gang Of Youths (August 9)
#4: 'Ubu' – Methyl Ethel (Jan 23)
#3: 'Chateau' – Angus & Julia Stone (August 24)
#2: 'Let Me Down Easy' – Gang Of Youths (May 26)
#1: 'HUMBLE.' – Kendrick Lamar (March 30)
As you can see, the most recent single in the top ten came out in late October. The majority of the list came out in the first half of the year, with two August releases.
No recency bias.
Now, let's look at the top three from the past three years.
2016
#1: 'Never Be Like You' – Flume (Jan 16)
#2: 'Adore' – Amy Shark (July 25)
#3: 'Jungle' – Tash Sultana (May 4)
2015
#1: 'Hoops' – The Rubens (August 11)
#2: 'King Kunta' – Kendrick Lamar (March 24)
#3: 'Lean On' – Major Lazer (March 2)
2014
#1: 'Talk Is Cheap' – Chet Faker (Feb 11)
#2: 'High' – Peking Duk (Feb 14)
#3: 'Cosby Sweater' – Hilltop Hoods (Oct 26/album out Aug 8)
It would appear familiarly breeds Hottest 100 votes, not contempt. Months of extra airplay seems to be the key to reaching the heights of the chart.
Has this always been the case, though?
Let's put out Double J jackets on (the denim one with the Grinspoon patch on the back) and check out the top ten from twenty years ago: 1997.
Again, these are the release dates for the singles, or in the case of 'Back Door Man' — which was never released commercially due to a court injunction — the first time it was played on triple j (WE LOVE NEW MUSIC).
1997
#1: 'No Aphrodisiac' – The Whitlams (Dec 14)
#2: 'Song 2' – Blur (April 7)
#3: 'Tubthumping' – Chumbawumba (Nov 9)
#4: 'Bitter Sweet Symphony' – The Verve (June 16)
#5: 'Back Door Man' – Pauline Pantsdown (Sept 1)
#6: 'Dammit' – Blink-182 (Sept 23)
#7: 'Paranoid Android' – Radiohead (May 26)
#8: 'The Beautiful People' – Marilyn Manson (Sept 22)
#9: 'Karma Police' – Radiohead (August 25)
#10: Leaving Home – Jebediah (June 27)
As you can see, these results are quite different, with the majority of the songs being released in the latter half of the year. The reasoning for this could be that, in 1997, you had to physically vote on a piece of paper, picked up at all good ABC bookstores and retailers, and then actually remember the songs.
There was no online list to jolt your memories; no groupthink via people uploading their votes to social media. You had to rely upon memory and your CD rack – and whatever triple j is currently spinning, back when they were actually playing things that spun.
Of course, these results could also be because — traditionally speaking — priority singles and albums were released in the latter quarter of the year to take advantage of Christmas trade.
—
CONCLUSION: Statistics can prove anything, your memory is a faulty computer, and 1997 was a fucking great year in music. Woo-hoo.
This article originally appeared on The Industry Observer, which is now part of The Music Network.
The Music Network
Get our top stories straight to your inbox daily.