Sleep Talk signs with UNFD: Exclusive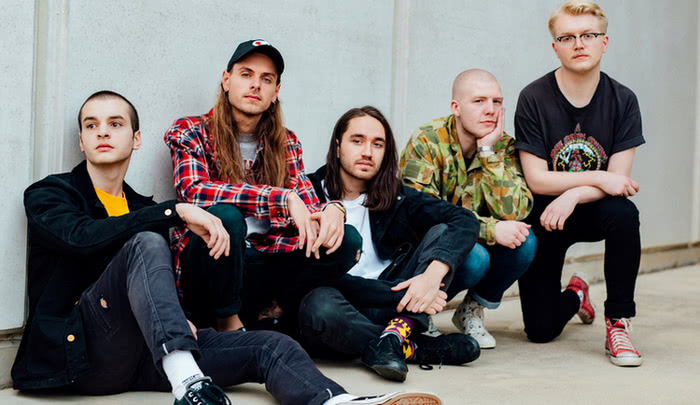 Rising rockers Sleep Talk have joined the UNFD roster, TIO can exclusively reveal.
Emerging from Adelaide's heavy music scene, the five-piece got the ball rolling in 2016 with the release of the six-track Growing Pains EP. Its lead single 'Sorry' has amassed more than 328,000 streams on Spotify and more than 253,000 hits on YouTube.
Through this new deal with UNFD, Sleep Talk will release their soon-to-be-announced debut LP on May 3.
Speaking with TIO after signing with UNFD, Sleep Talk bass player and vocalist Josh Healey said, "We have been so excited to share our debut album with the world and teaming up with the UNFD family to release this record is a very humbling and special time for us all."
Watch Sleep Talk's video for 'Sorry':
With the UNFD deal in place, Sleep Talk has completed the jigsaw puzzle that is a music industry support team. They've separately tapped Harbour Agency as booking agents and Five Four Entertainment are on board as management.
It's early days in their career, though Sleep Talk has already enjoyed recognition from their peers. They were name-checked in the AU Review's "17 Artists from Australia and the world to watch in 2017," shortlisted for two SA Music Awards in 2018 (Best Heavy Band and Best Music Video) and nominated for South Australia's Live Act of the Year at the National Live Music Awards.
A solid-as-all-hell live act, the group caught the attention of UNFD's team with their energy on stage, which has seen them tour with Stick to Your Guns, Citizen, Turnstile, Turnover, Knocked Loose and The Story So Far, and showcase for the industry at last year's Bigsound.
"The UNFD crew take great pride in our mission to unearth the best heavy artists from Australian and the world," explains UNFD chief creative officer Luke Logemann.
"When we found Sleep Talk and saw them perform live, we had no doubt that this is the next band we want to preach from the rooftops about. Their work ethic, their creativity and their talent make this crew a privilege to work with already."
Originally scheduled for release in late 2018, the debut LP traces "details of everyday life and elevates them into something eccentric, exciting and artistic," reads the blurb on the band's Unearthed page. It's a "commentary on the every-day struggle of modern routine, and how we all cope through this confusing and fascinating thing we call life."
Sleep Talk joins a UNFD roster that includes In Hearts Wake, Architects, Northlane and many more.
While the title of the upcoming LP hasn't been released just yet, the title track will be released tomorrow. According to Logemann, the video for it "never gets old no matter how many times we watch it."
Watch Sleep Talk's clip for 'New Tradition':
This article originally appeared on The Industry Observer, which is now part of The Music Network.
The Music Network
Get our top stories straight to your inbox daily.