Royal Mint celebrates AC/DC's 45th anniversary with special edition coins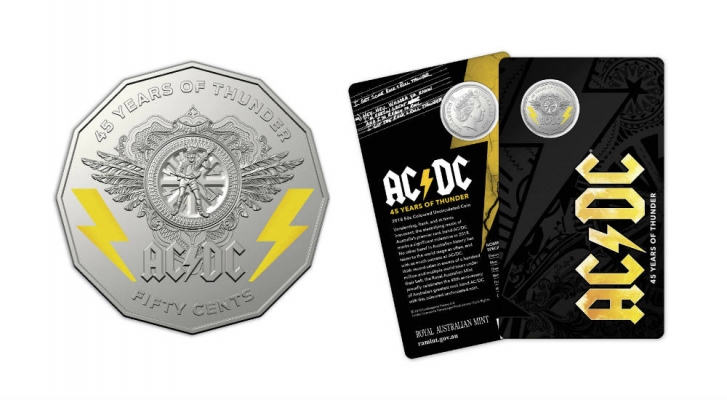 The Australian Royal Mint has issued AC/DC 50 cents, $1 and $5 coins to celebrate the band's 45th anniversary.
The band was formed in November 1973 by Malcolm and Angus Young in Sydney.
The original lineup included bassist Larry Van Kriedt, vocalist Dave Evans, and one-time Masters Apprentices member Colin Burgess on drums.
They played their first show at Chequers nightclub on New Year's Eve that year.
The three coins, issued this month, are:
$5 Fine Silver Triangular AC/DC Coloured Nickel Plated Proof Coin – $130.00 RRP
2018 50c Uncirculated Coloured AC/DC Coin – $15.00 RRP
2019 $1 Silver Proof Coin – Kangaroo at Sunset – $60.00 RRP
30,000 copies of the 50 cent coin have been made, and 10,000 of the $5 coins.
They will not be circulated but only available online from the Royal Mint at eshop.ramint.gov.au or by phoning the Contact Centre on 1300 652 020.
They are an official part of AC/DC merchandise.
According to the Mint, "Turning the volume up on our numismatic tribute to AC/DC we have inverted the triangular blank and present this intricate design oriented like a guitar pick.
"Nickel plated black and featuring the high voltage logos in vibrant colour print, this is a must-have piece for fans of the band or collectors alike."
The Music Network
Get our top stories straight to your inbox daily.