Round 'em up: The Australian stampede in Nashville is real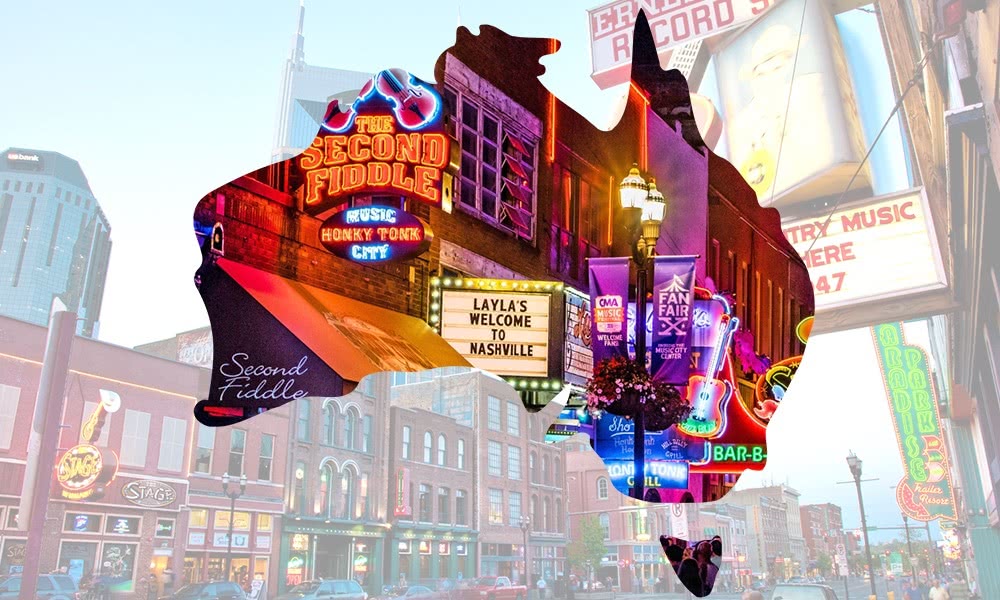 Country music. You either love it, or run from it. But you can't dismiss it. Country's dusty image is as dated as a John Wayne film, but the reality in 2018 is something else. It's an evolving genre and, in the United States, it's a multi-billion dollar powerhouse where country's stars shine as bright as any.
A cadre of Australians are at the heart of it all, shaping hits in Nashville and quietly carving out impressive careers. You might not know their names, but you'll know the songs. And they wouldn't want it any other way.
If there's a dream for country music professionals, Lindsay Rimes is living it
Lindsay Rimes was hardly at the crossroads of his career. The songwriter and producer's career was headed in the right direction in his native Australia, where he was signed to EMI Music Publishing (later Sony ATV) and working in the rock, pop and country genres.
For anyone working at the elite end of country, Nashville generates a planet-sized pull. And Rimes, having completed about ten long hauls to Music Row, had a big decision to make. On the sound advice of his wife, country artist and songwriter Danielle Blakey, Rimes made the move.
"It was absolutely a risk," he recounts. "My career was developing. And to be a small fish moved to a big tank, it's hard. But you know in your gut that you want to match it with the best in the world and that's where I really wanted to be."
Three years on, Rimes has zero regrets. His talents were rewarded in mid-2016 when he signed a new deal with Sony/ATV Music Publishing Nashville, whose president and CEO Troy Tomlinson and senior VP A&R Josh Van Valkenburg have been steady champions.
In recent months, Rimes has worked with many stars in the scene, including Kelsea Ballerini, Tyler Rich, Locash and Kane Brown, whose "Heaven" last month hit No. 1 on the U.S. Country Airplay and No. 2 Hot Country Songs charts and No. 15 on the Billboard Hot 100, ahead of tracks by Marshmello, The Weeknd and Post Malone.
It's a seven-day working week for the in-demand music man, who mined precious metal with Kylie Minogue on Golden, the Aussie pop star's new album going on to top the charts in the U.K. and Australia and perform well across Europe.
He's just returned from Kylie 50th birthday party in London. "It was a great hang," he quips. If there's a dream for country music professionals, Rimes is probably living it. And he's not the only one.
The likes of Rimes, Phil Barton, Morgan Evans, Kylie Sackley and Chris DeStefano are all playing their part in a border-crossing success story, which recently hit a zenith when around 10 tracks featuring credits from Aussie songwriters and producers impacted the U.S. Hot Country and Airplay charts, according to data supplied by APRA AMCOS.
If it's under the radar back home in Australia, never mind
Rimes and others hold confident attitudes, and tastes will change. "All we can do is keep working hard and try to matter," says Sackley, who co-wrote Walker Hayes' "You Broke Up With Me," which hit No. 9 on the Hot Country tally in February. "I don't do it for the recognition. I do it because it's in my blood."
Stream Walker Hayes' "You Broke Up With Me" below:
"It's a huge achievement," notes singer-songwriter Morgan Evans, "and the ultimate validation in the self-belief it requires to make that decision to leave everything you knew behind to chase that dream."
After his buzzed-up CMA Fest performances, Evans is making all the right noises Stateside. And his Tennessee-native wife Kelsea Ballerini, who has also collaborated with Rimes, is tipped for big things.
"I've never seen anyone work as hard, or as passionately," Evans says of his compatriot Rimes. Talent helps, sure. But without the hard work, the passion and commitment, best think small."
Connections help, and that's where APRA AMCOS' SongHubs initiative comes into play
Evans and DeStefano got down to work after meeting at a "50 Songs" songwriting camp under the banner of SongHubs, which partners emerging and established songwriters with high-calibre, internationally-experienced counterparts.
DeStefano worked the desk on Evans' upcoming debut album via Warner Music Nashville and co-wrote its single "Kiss Somebody," which hit No. 23 on the Hot Country chart last year. The SongHubs program has "done so much for me," enthuses Evans.
Watch Morgan Evans' video for "Kiss Somebody" below:
SongHubs played matchmaker for Rimes and Evans, who came together at a Nashville event to co-write Dylan Scott's "Hooked," with U.S. writer Seth Ennis. "Hooked" made a splash at No. 24 on the Hot Country list and is a "Songhubs success story," notes Barton, who has called Nashville home for 10 years.
The SongHubs initiative "opens opportunities for Australian writers to open doors into a new market. And the Nashville ones have been very successful," explains Barton, who has enjoyed a string of credits in recent months, including Haley & Michaels' "High Note" and Locash's "Don't Get Better Than That," which he co-wrote with Rimes.
There's nothing peripheral about the country genre in the United States
"Sometimes, it takes a while for Nashville to get in line after the first domino falls," explains Chuck Dauphin, a veteran music and radio journalist who won the 2014 Country Music Association (CMA) Media Achievement Award.
Keith Urban was "the first to really kick in the doors," he notes, though the next wave didn't crash through immediately.
"When you look around and see fresh and talented names like Kylie Sackley and Lindsay Rimes working in the industry, you see that America is opening its doors a little wider."
Dauphin also has high hopes for singer, songwriter and producer Jedd Hughes. "He's due another shot, which I think he will get."
It's the No. 4-ranked style of music behind R&B/hip-hop, rock and pop, and ahead of Latin, according to Nielsen's 2017 Music's Year-End Music Report for the U.S. Country accounted for 7.7% of a market which saw total music consumption rise 12.5 percent to 636.65 million units, up from 566.1 million.
Country still lags behind other genres in terms of overall streaming consumption, a result that should only pick up. According to the market researchers, Aussie-bred recording artist Keith Urban had the year's third-best selling country album with Ripcord, which shifted almost 600,000 units.
Barton, too, has been lassoing success in the U.S. country scene for some years. He has enduring hard proof, having snagged the Overseas Recognition Award at the 2016 APRA Music Awards.
"I definitely sense that through our success's we have created a feeling that making it on the global stage is possible, and has given Australian writers and artists a limitless possibility to dream big."
Rimes, like his fellow Aussies, chased his dream all the way to Nashville. His advice for others is simple: take the leap.
"There's so much talent here. It's so competitive, it's terrifying," he says. "You just feel very small, and that can work for you or against you. Fortunately, I let it work for me and made a jump here.
"Obviously I made some relationships and luckily made enough to help me progress here, perhaps quicker than someone else if they were to move here. It all comes down to having the right attitude and showing you're serious about being a part of the industry here."
Watch Kylie Minogue's video for 'Golden' below:
APRA AMCOS have desk space and office amenities including writers' rooms and performance spaces available in Nashville for travelling songwriters and industry. Contact Mark Moffat on [email protected] for more information. 
This article originally appeared on The Industry Observer, which is now part of The Music Network.
The Music Network
Get our top stories straight to your inbox daily.