Olivia Newton-John presented with Japan's Order of the Rising Sun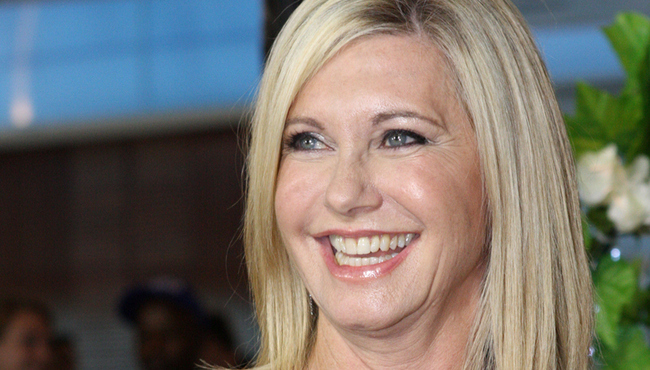 Olivia Newton-John adds another piece of silverware to her imposing collection, this time from the government of Japan.
The Australian pop icon is awarded the Order of the Rising Sun, one of Japan's highest honours, for her contribution to developing musical culture in Japan and promoting friendly relations with Australia.
Newton-John's profile in Japan isn't just pegged on Grease, Xanadu and "Physical."

There's also an element of respect.
In 2015, she became the first foreign artist to perform in prefecture of Fukushima, following the nuclear power plant disaster four years earlier that forced a mass evacuation of the area. 
"As an Australian I feel very honored," she says of her award, in a taped message. "I heard that my music is so well loved by the people of Japan and to know that my cover of 'Take Me Home, Country Roads' was used in a famous Japanese film and even appears in textbooks. Makes me feel very close to you all."
Congratulations, Olivia Newton-John DBE AC @olivianj. My favorite singer was awarded the Order of the Rising Sun, the Government of Japan announced today.
Here is a video message from her! pic.twitter.com/lNAcLTuwOR

— Ambassador YAMAGAMI Shingo (@YamagamiShingo) November 2, 2021
She continued, "I first visited Japan in 1972 and since then I've been back more than 10 times, one of my favorite countries and favorite people. A particularly memorable moment was my Pray for Fukushima concert in 2015. I was deeply touched by the resilience of the people affected by the disaster and it was a heart-warming experience. I so look forward to visiting Japan and seeing you all again soon, thank you so much."

Olivia's career has been nothing short of magic. She has bagged four Grammys; starred in several hit movies; was glorified by The Goodies; scooped 10 American Music Awards; and scored nearly 40 entries on the U.S. Billboard Hot 100 chart, including five No. 1s.

The biggest of the lot is 'Physical,' which logged 10 weeks at No. 1 on the U.S. chart in late 1981 and early 1982, for the biggest No. 1 hit of the entire 1980s decade.
No other song spent as long atop the U.S. singles chart in the '80s.

Newton-John also represented Britain, her country of birth, in the 1974 Eurovision Song Contest (for the record, ABBA won that year with 'Waterloo'), and she's twice been honored with an Order of the British Empire
In 2002, she was inducted into the ARIA Hall of Fame and in 2006 was named an Officer of the Order of Australia (AO) for "service to the entertainment industry as a singer and actor, and to the community through organisations supporting breast cancer treatment, education, training and research, and the environment".
In 2019, she was feted with the Companion of the Order of Australia for her long career as a performer, and her eminent service to community health, particularly for people living with cancer. 


This article originally appeared on The Industry Observer, which is now part of The Music Network.
The Music Network
Get our top stories straight to your inbox daily.