Nirvana are suing Marc Jacobs for ripping off their iconic smiley-face logo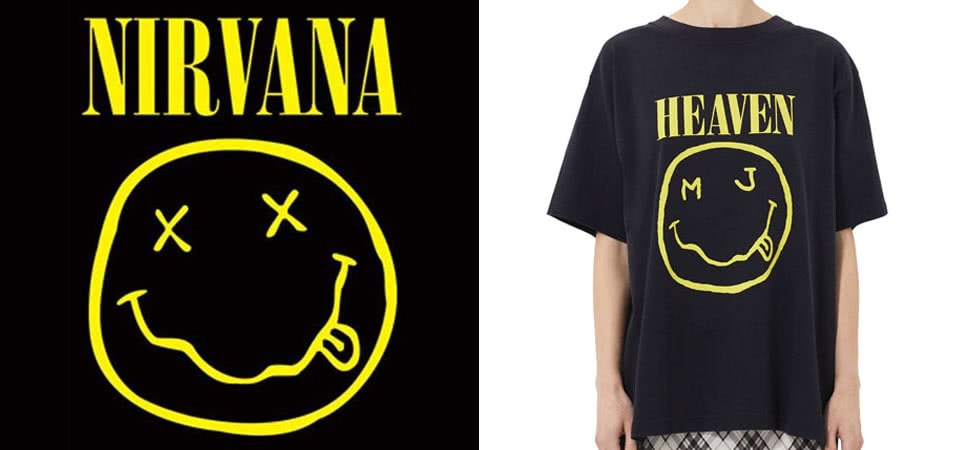 The surviving members of seminal grunge outfit Nirvana are suing fashion label Marc Jacobs, claiming they ripped off one of their most famous logos.
Take even the slightest glance at crowd of the next big rock show you attend, and you'll most likely find someone wearing a Nirvana shirt. No, not necessarily one featuring a photo of the band's members, but rather one that features their iconic 'smiley-face' logo.
According to Nirvana historians, the logo first appeared in September of 1991, adorning a flyer that invited fans to a Seattle listening party for the band's second album, Nevermind.
The next year, the Kurt Cobain-designed logo could be found on t-shirts the world over, with the words "Flower Sniffin, Kitty Pettin, Baby Kissin, Corporate Rock Whores" often plastered on the rear of the shirt.
Since then, it's become an iconic image of grunge rock, with the dazed-looking smiley face instantly evoking memories of the early '90s alt-rock era. Now, Nirvana claim that Marc Jacobs are ripping them off.
As TMZ note, the surviving members of Nirvana have filed a lawsuit against fashion label Marc Jacobs, who they allege ripped off their logo for a new design.
The item in question is a shirt which has been launched as part of Marc Jacobs' 'Bootleg Redux Grunge' collection, and features a reworked image of Nirvana's logo. Instead of 'Nirvana', the shirt says 'Heaven', and in place of the smiley-face's eyes are the initials MJ.
The rear text has also been altered, now reading "Redux Grunge Collection 1993/2018 Marc Jacobs". However, the most shocking part of all this is possibly the fact that the shirt retails for the completely un-grunge price tag of $115USD.
Even though the collection is described as "the precise reproduction of twenty-six looks", the collection has raised the ire of Nirvana's surviving members, who claim the design is far too similar to their own.
Likewise, the lawsuit claims that Nirvana are responsible for the term 'grunge', meaning that even the collection's name should be attributed to the band.
At this stage, Marc Jacobs have not taken down the item or responded to the lawsuit.
Check out Nirvana's 'Smells Like Teen Spirit':
This article originally appeared on The Industry Observer, which is now part of The Music Network.
The Music Network
Get our top stories straight to your inbox daily.