Aussie music fans turn to classic countdowns over long weekend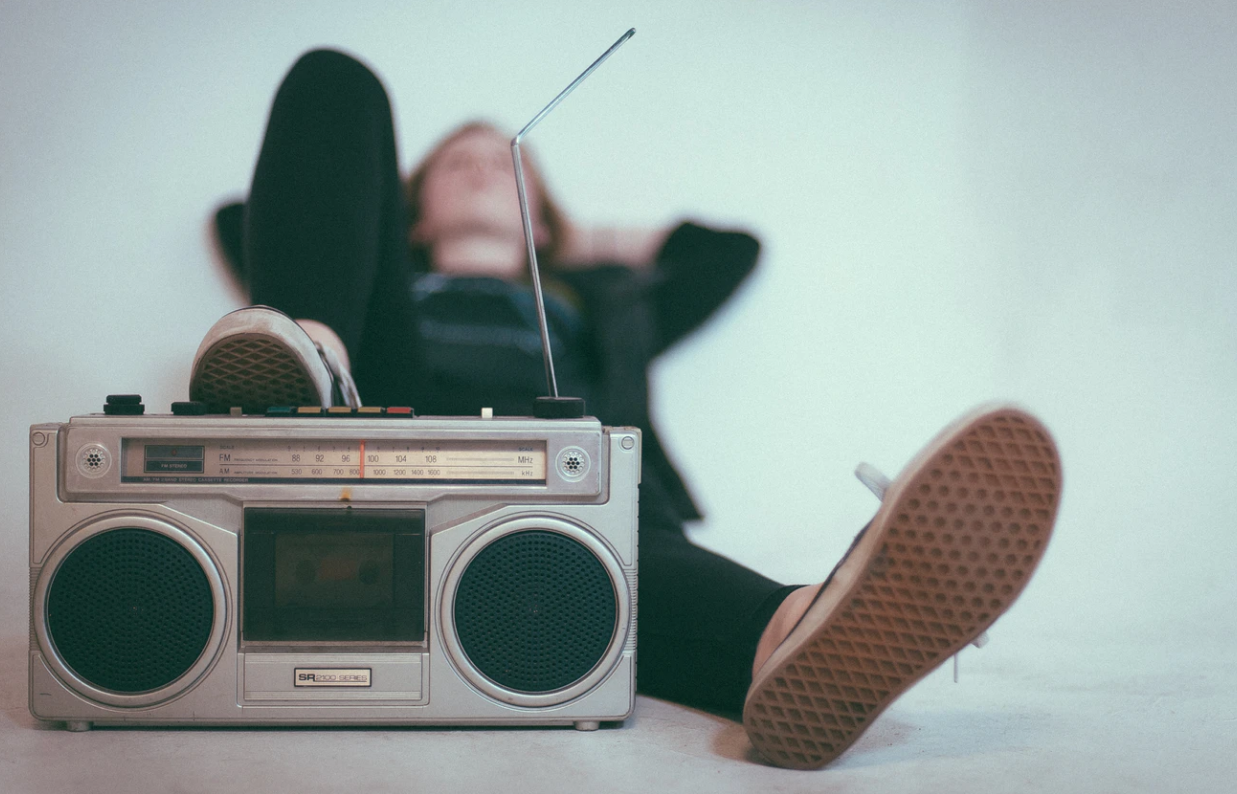 Aussies replaced buffering live streams with throwback countdowns over the four-day weekend, as radio and television networks capitalise on a surge in audience figures.
The tried and tested countdown format is frequently wheeled out over public holidays, providing a soundtrack to beach-side barbeques from Bondi to Byron Bay.
This year, however, consumption was mostly indoors as the population self-isolates during the pandemic, with music providing a much-needed escape from the chaos.
The undisputed leader in the countdown arena might be triple j's Hottest 100, but over the Easter break Aussies turned on The 1000 Greatest Songs Of All Time on Foxtel's MAX music channel and smoothfm's All Time Top 500 Countdown.
Foxtel says The 1000 Greatest Songs Of All Time was compiled from the MAX Music Facebook group, feedback from industry peers and experts, chart ratings and song popularity.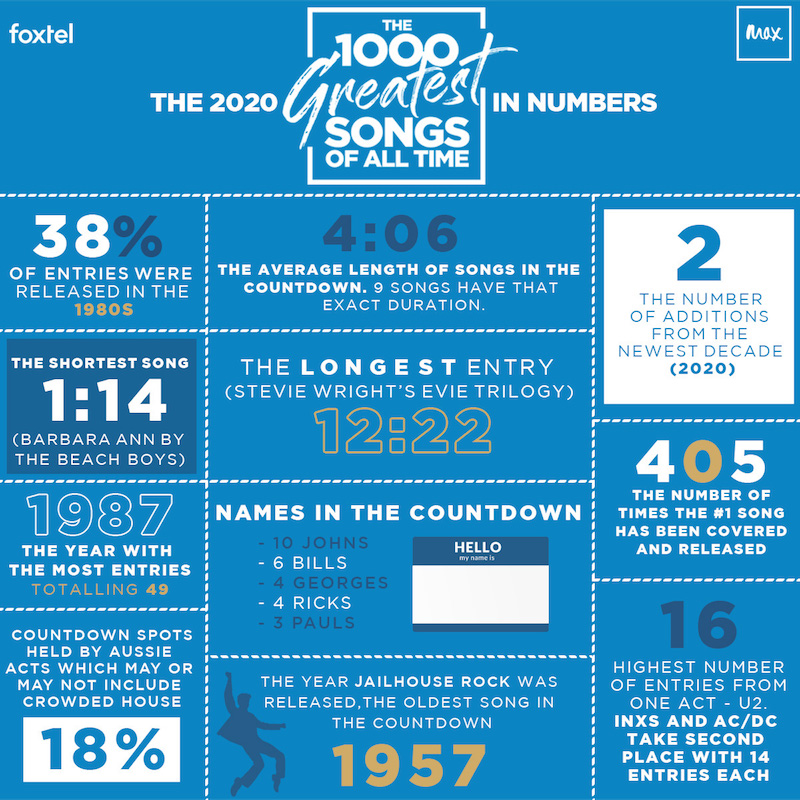 Looking at the audience-voted tracklisting across the two, only one song from the dusty classics cupboard crossed over into the coveted Top 10 on both the MAX and smooth playlists.
John Lennon's 1971 smash 'Imagine', the best-selling single of his distinguished solo career, landed at #1 on MAX and #7 on smoothfm.
The lyrical message imagines a world at peace, without the barriers of borders or the divisions of religion and nationality, free from the material possessions that too often define us.
It's a rather fitting tune of the moment given the current health crisis facing the world, and one that was thrust back into the pop charts after Wonder Woman star Gal Gadot enlisted 23 celebrity friends – including Natalie Portman and Sia, to cover the classic for a viral video.
Gadot's intention, inspired by seeing a man playing the song on trumpet during the lockdown in Italy, was to spread a message of hope as the coronavirus disrupts our daily lives.
Unfortunately, that effort was labelled "cringe" by the internet but is a reminder of the importance of music to provide comfort and spark conversation during troubles times.
NOVA Entertainment's programming and marketing chief, Paul Jackson, says music has never been more important during these uncertain and unprecedented moments.
"A song's ability to help people escape and feel good was evident with listeners choosing up-tempo and singalong classics," he said.
Smoothfm listeners were asked to vote for the songs that pick them up, with another British rocker also claiming #1, courtesy of Elton John's 1983 hit 'I'm Still Standing'.
"A number of Elton John's hits featured in the Top 500 and in true Aussie spirit, our listeners' attitude is clearly that 'they will be true survivors' and will remain 'positive' throughout all the uncertainty," said Jackson.
"'I'm Still Standing' epitomises this attitude and demonstrates the power of brilliant timeless music, bringing us all together and creating moments of strength and unity."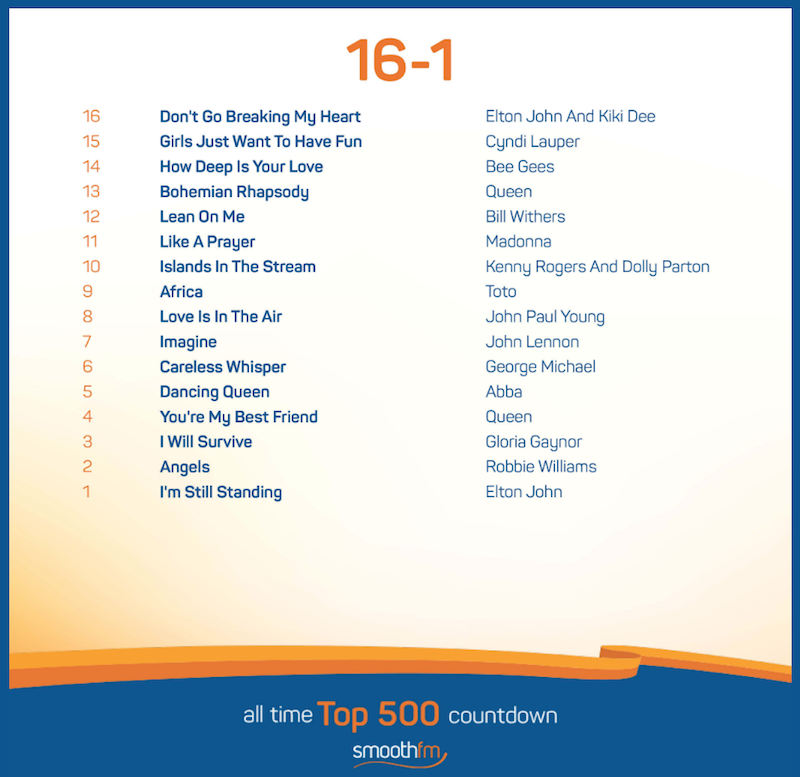 Like much of the music industry, commercial radio networks are facing challenging times with advertising revenue down. The silver lining, however, it a welcomed spike in listening.
72% of Aussies are listening to as much or more radio during the COVID-19 pandemic, according to new figures compiled by GfK and released today by Commercial Radio Australia.
It's the first set of data commissioned by CRA since the radio industry body announced it would hit pause on surveying listeners after next this Thursday's results are released.
CRA says Australian audiences are turning to radio as a critical source of information, entertainment, and connection during the COVID-19 crisis, with close to three in four Australians 18+ listening radio the same amount or more during isolation.
From a sample size of 426 radio listeners, 23% of Australian adults are now listening to more radio, with the greatest increases in listening seen in younger audiences.
Southern Cross Austereo, Nine Radio and Australian Radio Network have also shared sats from their digital assets, showing consumption spikes across podcasts, on-demand and web traffic.
Over Easter, Nova also counted down the Top 300 Throwbacks, 97.3FM Brisbane aired the Easter Countdown of a Thousand Hits, and ABC TV's Rage offered up a workout-themed countdown.
The Music Network
Get our top stories straight to your inbox daily.