Matt Gudinski, Dion Brant and Adam Wilkes talk Frontier's future: Exclusive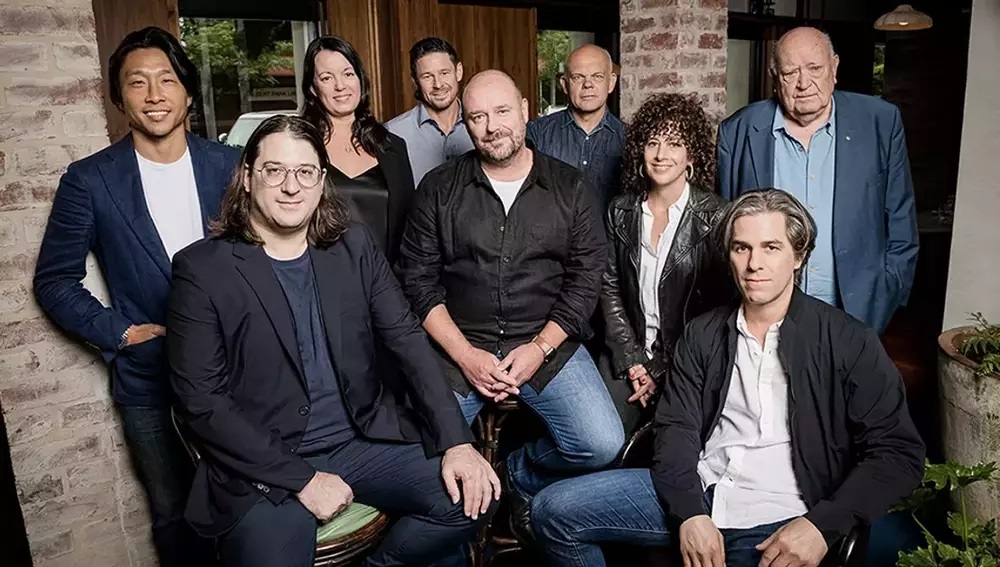 March Madness is a frenzy of sport in the United States, a weeks-long college basketball tournament when team colours are splashed about, faces are painted in garish tones, and the hordes bellow for their team until voices croak.
Mushroom Group is having its very own March Madness, one that started early.
On Feb. 28, the company built by Michael Gudinski, now run by his son, the Chairman and CEO Matt Gudinski, announced the launch of an artist management division, Mushroom Management.
Then, on March 17, a partnership between Mushroom and Virgin Music, the label and artist services division of Universal Music Group, the world's leading music company.
Concerts are back, the calendar is filling fast. As Frontier Touring marches into a period of activity not seen since for several years, the concerts powerhouse announced a new leadership structure on March 22, further integrating the Mushroom Group business with its partner AEG Live.
Mushroom Group is also behind Always Live, the Victoria-wide "reinvigorating" concerts initiative that kicked off March 4 with Foo Fighters at Geelong's GMHBA Stadium.
TIO spoke exclusively with three of the executives who are steering the live music juggernaut that is Frontier Touring, while keeping the spirit of Michael Gudinski well and truly alive.
TIO: Adam, congrats on the new role within Mushroom Group. You'll now have a mushroom on your business card.
Adam Wilkes, President and CEO, AEG Presents Asia Pacific, Frontier Touring Chairman: I'm super excited professionally and personally. It's not about my title change but the structure, it's a long time in the making.
Our relationship and our history with Michael and Matt Gudinski dates back well over a decade.
AEG's partnership was a handshake. There were so many things we did together. When we got to the point of formalising a joint venture structure in 2019, we'd already been doing so much together, really all the parties were deep in business together, very close friends, and it was just formalising something that was always meant to be.
Obviously, what followed 2019 was completely beyond anybody's control and challenging on so many fronts. What we felt with great conviction was, what Michael had built was all about the team and all about the people.
And while going forward, you can't replace Michael and that was never the intention, what you have is an incredible group of talented people who've mostly been at the company for many years prior.
We're incredibly excited about how it looks going forward and the team that's been put together and how the sum of the parts make for a very strong organisation.
TIO: The structure also has the layer of expertise where you can rely on wise heads like Michael Chugg.
Dion Brant, Frontier Touring CEO: Absolutely having a leadership group with Chuggi and Gerard (Schlaghecke) there, the experience gives us an extra layer of experience to draw on.
He's one of the legends of the industry and one of the first people to give you advice and back you up if you need it.
Matt Gudinski, Chairman and CEO, Mushroom Group: The Mushroom group is built on great people and to be able to announce the new executive team at Frontier with such a strong group of four people to drive the company forward, it's something we're really proud of.
It's great to move Dion into his new position and elevate Reegan (Stark) who has been with the company for nearly 20 years, along with Andrew (Spencer) and Susan (Heymann).
Our initial plan to partner more closely with AEG, something that was interrupted by COVID, is finally coming to fruition.
With Adam Wilkes more involved in the operation of the company, it's good times.
TIO: How is business shaping up?
MG:  There's lots of stuff going on.
It's good to have the live industry really active again, Frontier is leading the way at the moment. We've had the Foo Fighters gig, a massive Foo Fighters tour is coming, I'm so happy to have the Ed Sheeran launch and a number of others. 
It's really great to see gigs again, live music is back, and seeing tour announcements not just from us but by everyone.
There's a lot of energy and good things going on around the group at the moment. To be able to make all these announcements is really exciting.
Hopefully it's onwards and upwards.
DB: Post-pandemic, everything is really revving up for us. The Foo Fighters the other week in Geelong, that was amazing. To pull it together in three weeks was both great for the confidence of the industry, but great for the team as well.
Those were the types of things the great Michael Gudinski would pull off regularly.
The confidence that comes out of doing something like that is really good for us. All the things we've announced in the last couple of weeks, and all the things we have coming, we have a huge summer. Coming out of the pandemic its great.
TIO: So how did the Foos show come together?
DB: Dave Grohl said it himself, he woke up, saw that Australia was opening up — they love Australia and wanted to get down here and be the first international band to come back.
We got the call from there, swung into action. We've been talking about Geelong for years and trying to get a show down there.
Victoria had just opened up, the planets aligned really nicely to make that happen the way it happened.
My favorite moment on stage was when Dave said something along the lines of, 'when I said lets go to Australia I was thinking a club or a theater. Because it's Australia they can play a stadium.'
I think it was a great call for our team to put something like that together.
TIO: Would you say it's one of the stronger years since you joined the company in 2013?
DB: Definitely. It's definitely shaping as one of the strongest years. 2018 was a great year for us as well, this is shaping up as on-par with that at least, maybe even bigger.
There's a lot of pent-up demand with consumers, a lot of pend up demand with acts. Its good to be in a position to be bringing back some of the favorites and have that sort of summer.
This article originally appeared on The Industry Observer, which is now part of The Music Network.
The Music Network
Get our top stories straight to your inbox daily.