Mark Pope Talks Lismore Concert: 'The Most Gratifying Thing in My Career'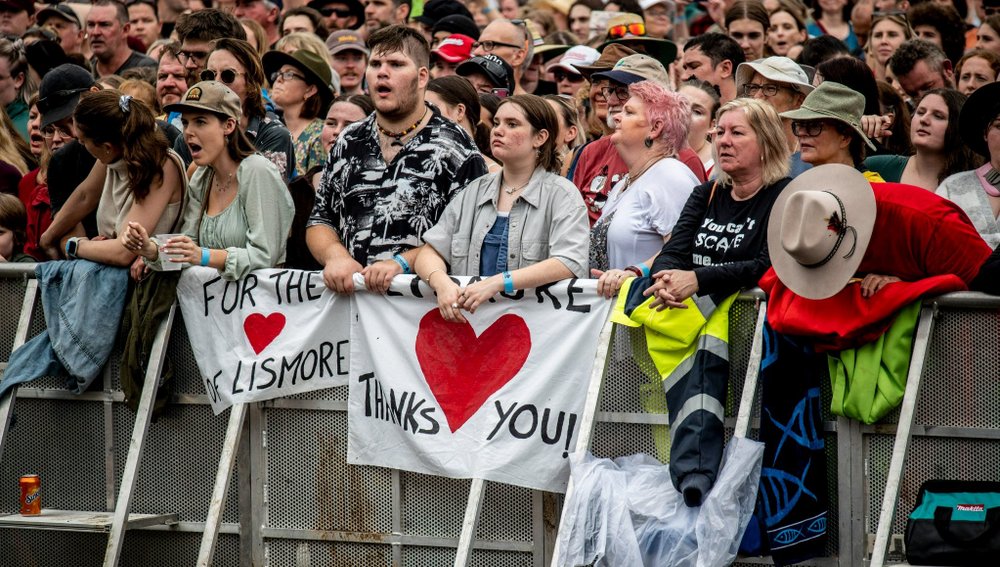 Mother nature has punished Lismore and its residents too many times of late. Last weekend, the music community gave something back.
Local legends Grinspoon, Jon Stevens, Lime Cordiale and Sheppard led the line-up for "One From The Heart," a one-off free concert held at Lismore Showgrounds, with the singular mission to raise spirits.
With the Northern Rivers region of New South Wales experiencing unprecedented weather conditions in recent months, and Lismore, in particular, devastated by flooding, locals sure needed a lift.
The music community, at it has done many times, moved fast. From concept to clean-up, the team behind it had just one month to pull it off.
According to reps, all 10,000 allocated tickets for the show were snapped up within 12 hours of the onsale. An additional 2,000 tickets were put on sale April 28 and were exhausted within two hours, and a final round of 1,000 tickets were issued and snapped-up.
Michael Chugg's Chugg Entertainment joined forces with Helium chief Mark Pope and Lismore City Council to create the May 15 show, which also featured performances from Daryl Braithwaite, Paul Kelly and Dan Kelly, The Buckleys and Darlinghurst.
TIO caught up with Pope for a look at the obstacles and outcomes of Lismore's feel-good gig.
Mark, congrats on the Lismore concert. What were the biggest challenges along the way?
It was 31 days from the moment Chuggi called me to the actual show itself. And at one stage Michael had to go overseas.
Basically the master's apprentice was given the car keys, and I was very grateful for that. I was very inspired by it all. The name Chugg carries a certain cache about it, it's gilt-edged. The name is one of authority, it allows you to cut through things and get things done fast and with credibility and respect.
The other was melding two teams, one from council one from the music industry. Four guys who I'd never met before doing the staging and production.
The miracle was that we could pull a team rowing in the same boat in the same direction at the same time, we did that. We just didn't have time for any bullshit.
We got an email 3.30 on Monday afternoon (before the show), the show was pretty much over.
The reason being we couldn't get the 29-tonne onto the venue without it bogging.
We managed to convince Lismore Showgrounds to pull down a section of fence and we built the mobile stage on the outside of the track, on high ground.
Still, the stage truck got bogged and we had to get a haulage tow-truck from Bangalow, it took four hours. It had to be winched 9 meters in. And later, it had to be winched back out again.
You wouldn't talk miracles, but Jesus, we had to defy every challenge possible to make it happen.
The heavens opened and stayed open.
The heavens opened every freaking day up until the day itself. I was driving home from the venue on Friday night in the teeming rain and something inside me said its going to be ok. And it was.
It didn't rain, only a light rain fell on Grinspoon on the final performance of the day. But the field was in a state, it was a quagmire.
It sounds awful but if anyone can handle inclement weather it's the people in the Northern Rivers region, and they had a smile on their face.
That smile was so infectious. It worked for all of us. It's one of those ecumenical moments were music and the audience come together as one. Its sounds like a real hippie thing to say but that's what it was.
You've had a few days to process it all. What are you thoughts on the experience?
One of the things I said in a note to everyone afterwards was, with festivals and with music, normally its about big moments, and there were big moments, musically.
Personally, there was 100 "small" moments of the connection on a very human basis with a whole range of people leading up to the event itself.
For me, it's probably the most gratifying thing in my career.
It worked on every level. It defied the odds and gods to pull it off.
No heroes in our bunch, the heroes are the people of Lismore. They just inspired us to do our very best, which is what we did.
We all recognised why we were doing this. It wasn't about raising money, it was about raising spirts.
From the mayor down we achieved that.
This article originally appeared on The Industry Observer, which is now part of The Music Network.
The Music Network
Get our top stories straight to your inbox daily.