The Living End have just signed a global publishing and record deal with BMG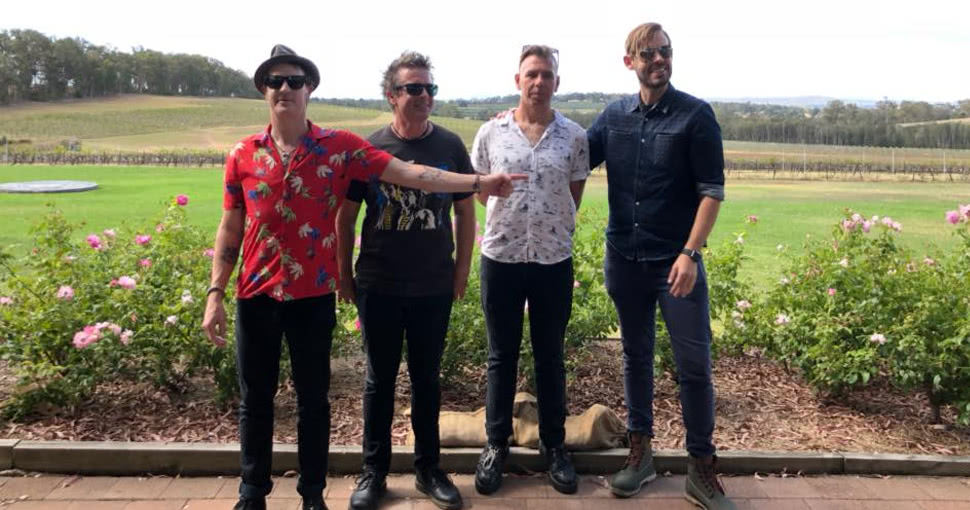 They've been one of the most beloved Aussie rock acts for more than 20 years, selling countless records, spearheading sold-out tours, and helping to spread the message of our local music to the world, but now, The Living End have just added another notch to their belt, signing a global publishing and record deal with BMG.
Announced prior to their performance at the Hunter Valley leg of the current A Day On The Green festival, BMG's Managing Director Heath Johns spread the good news with those in attendance. "The Living End have signed a worldwide deal with BMG, both publishing and records, which we're pretty excited about," said Johns with great pride.
"They've returned from Berlin where, by all reports, they've made 'the best record of their career'," which was soon confirmed by the band as "the best record [they've] written".
The Living End also gave lucky punters at yesterday's performance a sneak peek of the new record, premiering 'Drop The Needle' to an eager audience.
Currently, it's been just under two years since The Living End released their seventh album, Shift. Depending on how quickly the new record drops, it could mark the shortest wait between albums for the group, following a five-year gap between their last two.
This news of The Living End's deal comes only days after famed producer and triple j favourite KLP also signed a global publishing deal with BMG. With a roster that contains the likes of Peking Duk, AC/DC, Matt Corby, Meg Mac, The Cat Empire and much more, BMG are fast becoming the place to be for a huge number of Aussie musos.
The Living End are currently on tour with the A Day On The Green festival, where they lead an absolutely stellar lineup of '90s rock. Featuring the likes of Spiderbait, The Lemonheads, Veruca Salt, Tumbleweed, and underrated gems The Fauves, the festival is set to make stops in Queensland, Tasmania, Victoria, and South Australia over the coming weeks. Check out the A Day On The Green website for more details.
A Day On The Green 2018 tour
Featuring…
The Living End
Spiderbait
Veruca Salt
The Lemonheads
Tumbleweed
The Fauves
Tickets on sale now through Ticketmaster

Saturday, 24th February
Bimbadgen, Hunter Valley, NSW
Sunday, 25th February
Sirromet Wines, Mt Cotton, QLD
Saturday, 10th March
Josef Chromy Wines, Launceston, TAS
Sunday, 11th March
Mt Duneed Estate, Geelong, IVC
Saturday, 17th March
Leconfield Wines, McLaren Vale, SA*
*The Lemonheads will not be appearing
This article originally appeared on The Industry Observer, which is now part of The Music Network.
The Music Network
Get our top stories straight to your inbox daily.